Russia Ends Ukraine Gas Discount As NATO Plans War Games
@AFP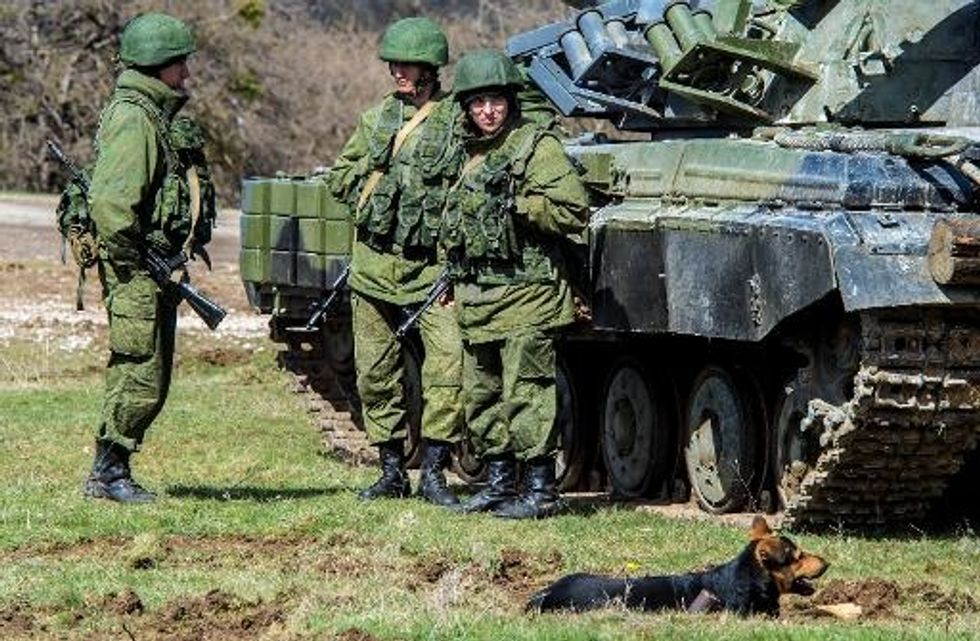 Moscow (AFP) — Russian gas giant Gazprom on Tuesday announced it was ending a discount enjoyed by Kiev in a major blow for the Ukrainian economy, as Ukraine approved the holding of joint military exercises with NATO close to Russia's newly-annexed region of Crimea.
Ukraine has reported a partial withdrawal of Russian troops from its eastern border, amid tentative signs of a calming in the worst East-West standoff since the Cold War. However NATO said it could not confirm the retreat.
Ukraine's parliament meanwhile met one of Moscow's key demands by voting unanimously to disarm all self-defense groups that sprang up across the country during its political crisis that first erupted over a ditched E.U. alliance in late November.
But tensions still remained high over two weeks after Moscow formally annexed Crimea, as NATO foreign ministers prepared to forge a response to Russia's intervention and emboldened foreign policy.
The crisis is at a critical juncture as Ukrainian politicians jockey for position ahead of May 25 presidential elections and tentative diplomacy gets under way between Moscow and the West to find common ground after the fall of president Viktor Yanukovych.
With Moscow able to use gas as a lever to pressure Kiev, Gazprom chief executive Alexei Miller said Ukraine will now pay $385.5 dollars per 1,000 cubic meters of gas from the previous cut rate of $268.5.
"The discount will no longer apply," he said in a statement. "This is due to the inability of the Ukrainian side to pay for debts from 2013 and realize full payments for current deliveries."
The discount had been agreed between Yanukovych and President Vladimir Putin in December 2013 as a form of financial aid to the former regime.
The price hike — although widely expected — is a new blow to the Ukrainian economy which needs an international rescue to stave off the risk of default.
But meeting a key demand posed by both the West and Russia, Ukraine's parliament Tuesday voted to disarm all self-defense groups that had sprung up across the country during its political crisis.
"The Ukrainian people are demanding order," acting president Oleksandr Turchynov said. "Those who carry arms — besides the police, the security services and the national guard — are saboteurs who are working against the country."
The move came after a member of the radical Ukrainian nationalist group Pravy Sektor opened fire in central Kiev late Monday.
Three people, including the deputy leader of the capital's administration, Bogdan Dubass, were wounded, the interior ministry said. Interior Minister Arsen Avakov said the gunman was apprehended two hours after the incident.
The maneuvers approved by Ukraine's parliament on Tuesday would see Ukraine conduct military exercises with the United States and other NATO countries in areas including the Black Sea where Crimea is located.
Ukraine is not a NATO member but it did form a "distinctive partnership" with the Alliance in 1997 and has been staging joint exercises with its state members ever since.
"This is a good opportunity to develop our armed forces," acting Defense Minister Mykhailo Koval told parliament. The exercises would partly occupy a 25-day span between July and October based around two Odessa ports and "along the waters of the Black Sea."
The announcement came as NATO foreign ministers were gathering in Brussels on Tuesday as the defense alliance seeks to reinforce its eastern frontier to respond to Russia's assertive foreign policy.
In a regular two-day meeting of the 28 ministers, including U.S. Secretary of State John Kerry, NATO will confirm the suspension of cooperation with Moscow, a decision made on March 5 after Russian troops grabbed Crimea from Ukraine.
NATO has not ruled out the possibility of placing permanent military bases in the Baltic countries — breaking a promise made to Russia in the 1990s that it would keep permanent troops out of new member countries that border Russia.
"We cannot do business as usual with Russia," said Douglas Lute, the U.S. ambassador to the Brussels-based Western alliance.
Ukraine and the United States have accused Russia of massing thousands of troops near the border and have expressed concern that Moscow intends to seize southeastern parts of Ukraine with large populations of ethnic Russians following the Crimea takeover.
But German Chancellor Angela Merkel's office said Putin had personally informed her of the troop pullback in a telephone conversation on Monday, while her Foreign Minister Frank-Walter Steinmeier called the move "a small sign that the situation is becoming less tense."
Ukraine's defense ministry said the start of the Russian drawdown appeared to coincide with a phone call that Putin had unexpectedly placed to U.S. President Barack Obama on Friday evening.
Russia's defense ministry confirmed on Monday it had relocated one battalion — usually made up of about 500 soldiers — that had been stationed near Ukraine back to its permanent base, but reported no other troop movements.
But NATO Secretary General Anders Fogh Rasmussen said he was unable to confirm the pullback. "This is not what we have seen," he said.
Russia wants Ukraine be turned into a federation in which the regions enjoy broader autonomy from Kiev and have the right to declare Russian as a second official language.
AFP Photo/Dmitry Serebryakov