Russia Says U.S. Astronauts Could Be Hurt By Ukraine Sanctions
@AFP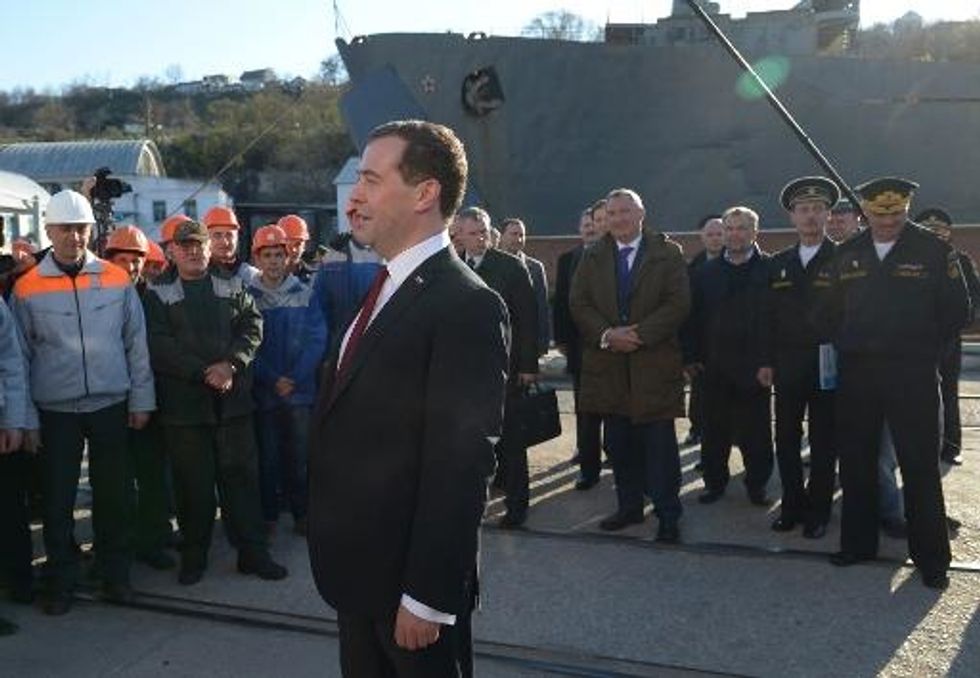 Moscow (AFP) – Russia warned Tuesday that American astronauts on the International Space Station could be hurt by new U.S.-led sanctions over the escalating crisis in Ukraine, where pro-Moscow militants seized more public buildings in the east.
Washington was resorting to "Iron Curtain" policies from its Cold War-era playbook with the new Western sanctions, which were driving the Ukraine crisis towards "a dead end," Moscow raged.
A day after the United States and its EU and Japanese allies unveiled fresh punitive measures for what was seen as Russian interference in Ukraine, violence worsened on the ground.
Thousands of pro-Moscow protesters in the city of Lugansk near the Russian border seized control of the regional administrative building, trapping around 200 riot police in the complex's courtyard. Militants in the city already held the local SBU security services building.
Ukrainian media reported that rebels also seized the town hall in the nearby town of Pervomaisk, adding to more than a dozen sites held by pro-Kremlin insurgents. On Monday, gunmen took control of the town of Kostyantynivka.
There was also no sign of progress in negotiations by the Organization for Security and Cooperation in Europe to free seven of its inspectors being held by pro-Kremlin rebels.
The U.S. embassy said the OSCE abductions and a violent attack Monday by pro-Russian militants armed with knives and bats on pro-Kiev demonstrators in the east Ukraine city of Donetsk were acts of "terrorism, pure and simple."
Moscow reacted with fury to the inclusion in the sanctions of high-tech exports to Russia and threatened reprisals.
"If their aim is to deliver a blow to Russia's rocket-building sector, then by default, they would be exposing their astronauts on the ISS," Russian Deputy Prime Minister Dmitry Rogozin said, according to the Interfax news agency.
"Sanctions are always a boomerang which come back and painfully hit those who launched them," added Rogozin on a visit to Crimea, which Russia annexed from Ukraine in March.
The International Space Station is operated jointly by Russia, the United States, Europe, Japan and Canada. Astronauts and cosmonauts depend on Russian Soyuz rockets to ferry them between it and Earth, ever since NASA scrapped its space shuttles in 2011.
A Russian deputy foreign minister, Sergei Ryabkov, admitted in an interview with online newspaper Gazeta.ru that the U.S. curb on high-tech exports was a "blow."
"This is a revival of a system created in 1949 when Western countries essentially lowered an 'Iron Curtain', cutting off supplies of high-tech goods to the USSR and other countries," he said.
Russia's foreign ministry also slammed the European Union for "doing Washington's bidding" as the bloc included General Valery Gerasimov, chief of the general staff of the Russian armed forces and the country's deputy defense minister, on a list of 15 Russians and Ukrainians targeted by an asset freeze and travel ban.
And it vowed that Japan's decision to deny visas for 23 Russian nationals "will not be left without a response."
The EU and Japanese blacklists are part of a G7 sanctions assault started by Washington on Monday with measures announced against seven Russian officials and 17 companies close to Russian President Vladimir Putin.
Washington and its allies accuse Russia of fomenting and controlling the separatist insurgency in eastern Ukraine to prevent the new Western-backed government in Kiev exercising its authority.
The EU's top foreign policy official, Catherine Ashton, voiced alarm at "the downward spiral of violence and intimidation" in Ukraine.
As fears continued of an imminent Russian invasion, NATO Tuesday said there was no sign tens of thousands of troops on the border were withdrawing despite the Russian defense ministry claiming they had pulled back to barracks.
Ukraine and EU countries dependent on Russian gas, meanwhile, were worried Moscow's reprisals could hit the vital energy supply.
The U.S. embassy in Ukraine denounced a "savage" attack on Monday by pro-Moscow militants wielding bricks, bats and knives against a rally in the city of Donetsk calling for Ukrainian unity. Fourteen people were wounded, some seriously.
Meanwhile, a mayor in east Ukraine's biggest city of Kharkiv, Gennady Kernes, critically wounded when shot in the back Monday by an unknown gunman, was flown to Israel for medical treatment.
Russian Defense Minister Sergei Shoigu repeated assurances that Moscow had no plans to invade in a telephone conversation with his US counterpart Chuck Hagel, the Pentagon said.
Shoigu urged Washington to tone down its rhetoric.
But Hagel called for an end to Russia's "destabilizing influence inside Ukraine" and warned more pressure would be applied if it continued.
The U.S. defense secretary also asked for Moscow's help in securing the release of the seven OSCE inspectors held by pro-Russian militants in Slavyansk.
An AFP journalist in Slavyansk said early Tuesday there was still no sign of the captive inspectors leaving the occupied town hall, where they were being kept under armed guard.
Kiev's soldiers are surrounding the flashpoint town in a bid to prevent reinforcements reaching militants there.
The fresh Western sanctions are a response to Russia's perceived failure to implement an April 17 deal struck in Geneva to defuse the crisis by disarming militias and having them vacate occupied public buildings.
"Russia has so far failed to implement any part of the Geneva agreement," said British Foreign Secretary William Hague, who plans to visit Ukraine as well as Moldova and Georgia next week.
Among those targeted by the U.S. sanctions is the president of Rosneft, Russia's top petroleum company and one of the world's largest publicly traded oil companies.
The EU said talks with Russia and Ukraine will take place in Warsaw Friday to try to resolve a $3.5-billion gas bill Gazprom calculates Kiev owes. Putin has threatened to cut off the gas flow to Ukraine if it is not quickly paid.
The crisis has accelerated since February, when Ukraine's Kremlin-backed president Viktor Yanukovych was forced to flee after months of increasingly bloody mass street protests by pro-Western demonstrators.
Photo via Alexander Astaryev