Russia Tightens Economic Noose On Ukraine As Armed Showdowns Persist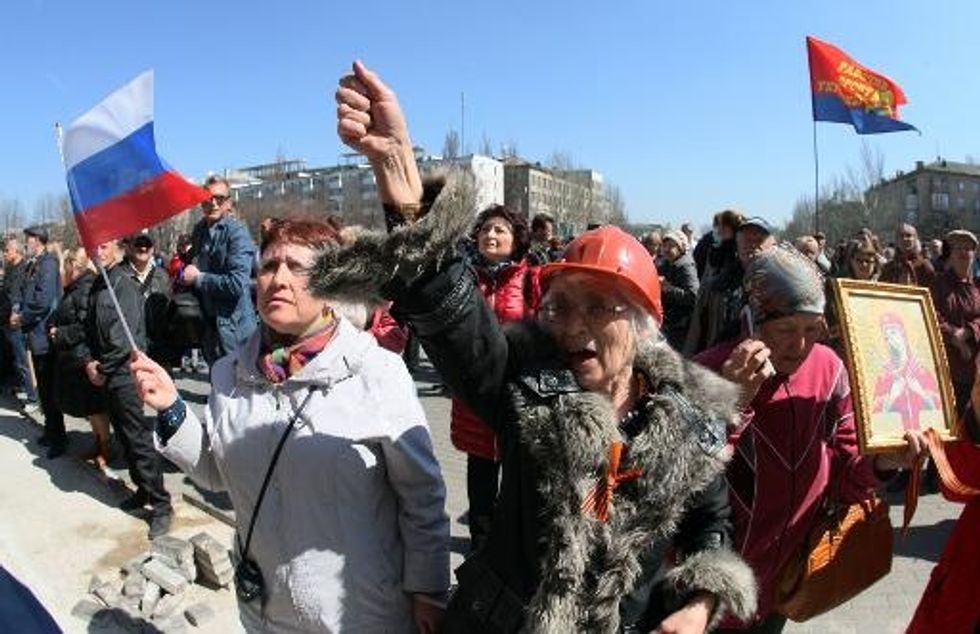 By Carol J. Williams and Sergei L. Loiko, Los Angeles Times
MOSCOW — As armed standoffs persisted in eastern Ukraine, Russian President Vladimir Putin tightened the economic screws on his impoverished neighbor Wednesday by warning that Ukraine may have to pay in advance for its gas imports from Russia.
The predominantly state-held Gazprom energy behemoth last week raised prices for Ukrainian purchases of its natural gas by 80 percent, canceling a discount that had been extended to Kremlin-allied former President Viktor Yanukovich last year.
Russian lawmakers also voted last week to revoke another discount on gas exports to Ukraine that had been in place as part of a lease agreement between the two former Soviet republics that gave Moscow control over the Sevastopol naval base until 2042. That trade consideration was no longer necessary, the Russian lawmakers decided, now that the entire Crimean peninsula on which Sevastopol is located has been annexed to Russia.
Together, the moves have boosted Ukraine's costs for natural gas from $268.50 per 1,000 cubic meters to $485 — a policy that Ukraine's acting Prime Minister Arseny Yatsenyuk denounced as "aggression against Ukraine."
At a Cabinet meeting outside of Moscow on Wednesday, Putin said any demand that Ukraine pay in advance for gas supplies would be in accordance with the two countries' energy trade agreements. Russia "continues to provide economic support and subsidize Ukraine's economy with hundreds of millions and billions of dollars," Putin said, adding that "this situation, of course, cannot go on forever."
Russian Prime Minister Dmitry Medvedev said Ukraine was already in arrears to Moscow to the tune of $16.6 billion for energy imports.
The threatened financial squeeze added to the pressures Moscow is believed to be applying through surrogates in eastern Ukraine in seizing government buildings in cities with large populations of ethnic Russians and Russian speakers.
Armed standoffs persisted at the regional government headquarters in Donetsk, the center of Ukraine's mining region, and at the Ukrainian Security Service building in Luhansk.
Acting Ukrainian Interior Minister Arsen Avakov gave the separatists 48 hours to surrender weapons and leave the buildings, warning that the Kiev government was prepared to use force if the militants didn't leave by that deadline.
In Donetsk, several hundred militants who have proclaimed an independent "Donetsk Republic" and demanded a referendum on secession have fortified their position with barbed wire and tire barricades since seizing it on Sunday. Donetsk regional Gov. Sergei Taratuta held negotiations with the occupiers on Wednesday in the hope of resolving the standoff peacefully, the UNIAN news agency reported.
Armed pro-Russia demonstrators occupying the security office in Luhansk released all but a few of the 56 hostages taken Monday but continued to demand a referendum on annexation to Russia, as occurred with Ukraine's Crimean peninsula last month. News agencies in the eastern city reported crowds of Russia supporters surrounded the security headquarters and shouted: "Putin! Putin!"
Serhiy Tyhipko, a Luhansk-area lawmaker who was a supporter of Yanukovich before he was ousted from the presidency by a rebellion in February, insisted in a post on his Facebook page that the protesters weren't demanding a Russian takeover, rather that the Ukraine leadership change the form of government to a federal structure where regions have more autonomy in trade and political alliances.
Ukraine's interim leaders have rejected that demand from Moscow for fear that restructuring the country into state-like components would be a prelude to the breakup of Ukraine and further annexations by Russia.
AFP Photo/Alexander Khudoteply