Russia And Ukraine Reach Deal Over Aid Convoy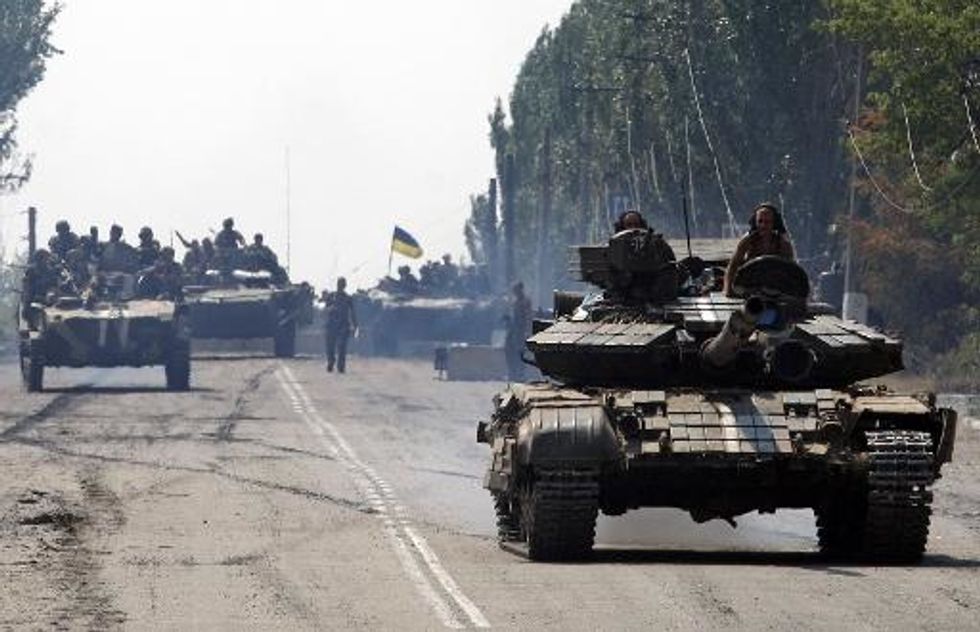 By Nikolaus Von Twickel, dpa
MOSCOW — Russia and Ukraine have reached an agreement on sending humanitarian aid to the embattled city of Luhansk, Ukrainian President Petro Poroshenko says.
"Thanks to the support from the international community, we managed to avoid an escalation regarding the humanitarian aid from Russia," Poroshenko says.
Finnish President Sauli Niisto says that Russia, Ukraine, and the International Committee of the Red Cross have reached an understanding.
"We heard that the humanitarian convoy is going forward," he says after a meeting with his Russian counterpart Vladimir Putin in Sochi.
Ukraine, which sees Russia as an aggressor, had insisted that the convoy can enter the country only under the auspices of international organizations, such as the ICRC or the Organization for Security and Co-operation in Europe.
Moscow denies supporting the pro-Russian separatists and has rejected accusations that the vehicles could be carrying weapons.
Earlier Friday, reporters were shown some of the trucks from inside. They contained sacks with food aid and many of them were not even half full, a photographer for the European Pressphoto Agency said.
Ukraine also said that a Russian military convoy had entered its territory late Thursday.
Military spokesman Oleksiy Dmytrashkovsky said that the convoy headed from the Izvaryne border crossing to Molodohvardiysk, a city roughly half way between the Russian border and Luhansk, local media reported.
NATO Secretary General Anders Fogh Rasmussen confirmed media reports that Russian military vehicles have crossed the border into Ukraine, his office said Friday.
"Last night we saw a Russian incursion, a crossing of the Ukrainian border," Rasmussen told journalists in Copenhagen, adding, "It just confirms the fact that we see a continued flow of weapons and fighters from Russia into the eastern Ukraine."
"It's a clear demonstration of the continued Russian involvement in the destabilization of eastern Ukraine," he says.
Rasmussen called on Russia to "pull back its troops from the Ukrainian border, to stop the flow of weapons, fighters and money into Ukraine, to stop the support for armed separatists in eastern Ukraine and engage in a constructive dialogue with the government in Kiev."
The Russian border guard service said Friday that it could not confirm the incident, the Interfax news agency reported.
The Ukrainian government has complained for months that Russian military units are crossing into its territory.
EU foreign ministers, who discussed developments in Ukraine at emergency talks in Brussels, said they were alarmed at the reports.
British Foreign Secretary Philip Hammond said that if there are any Russian military personnel or vehicles in eastern Ukraine, "they need to be withdrawn immediately or the consequences could be very serious."
Swedish Foreign Minister Carl Bildt said that an incursion would be a "gross violation of international law." His Lithuanian counterpart, Linas Linkevicius, accused Russia of using its humanitarian convoy for "distraction and covering" while escalation continues.
"The most efficient aid from Russia to Ukraine would be to call back all these terrorist leaders, to stop supporting them by weapons, by tanks, rocket launchers (and) heavy weapons," Linkevicius said.
The fighting in eastern Ukraine continued unabated. Lysenko said that five soldiers were killed in fighting during the past 24 hours.
Authorities in the rebel-held city of Donetsk said Friday that 11 civilians had been killed during heavy artillery shelling on Thursday.
Authorities in Luhansk said that the city was cut off from electricity and mains water for the 13th day and that medical supplies were running short.
Ukraine sent its own humanitarian convoy to the region. Iryna Herashchenko, an aide to President Petro Poroshenko, said that trucks with 300 tons of aid have arrived in the Luhansk region and that Red Cross workers had begun unloading them.
AFP Photo/Anatolii Stepanov
Interested in world news? Sign up for our daily email newsletter!