Russia Unperturbed By Olympic Boycott Threat
@AFP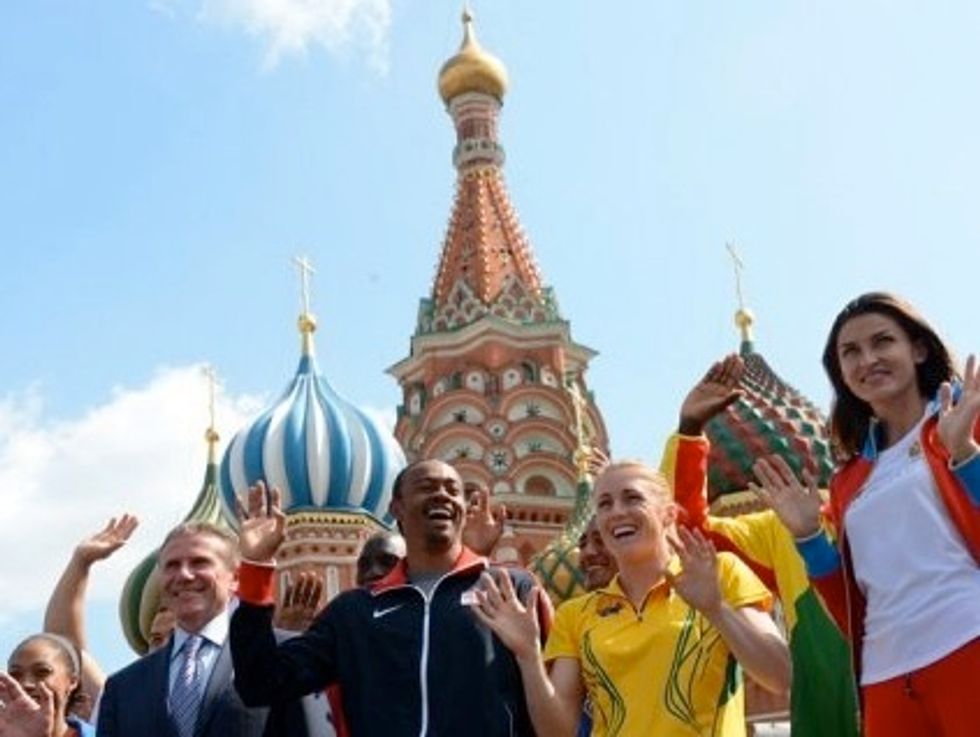 MOSCOW (AFP) – Russia on Friday said it was unperturbed by threats of an Olympic boycott over a controversial law banning "homosexual propoganda", despite wide-ranging criticism of the legislation from athletes to U.S. President Barack Obama.
President Vladimir Putin passed the law in June as part of a wider political crackdown but it has cast a shadow over the build-up to the world athletics championships which start in Moscow this weekend and next year's Winter Olympics in Sochi over claims it infringes fundamental rights.
The country's sports minister Vitaly Mutko on Thursday stoked the issue further by saying athletes, activists and the international community should "calm down".
But he said on Friday that the clamour for athletes to stay away was only "light pressure", adding: "We should not be afraid of an Olympic Games boycott.
"Russia must understand that it is stronger, no matter how much someone may dislike this fact," he was quoted as saying by the Interfax news agency.
"As for that law, it is not aimed at restricting the rights of citizens, irrespective of their nationality, faith or any other inclinations.
"This law is aimed at banning propaganda for minors. No-one is going to infringe on anyone's rights."
The International Olympic Committee (IOC) meanwhile reaffirmed its commitment to a discrimination-free Olympics in the Black Sea resort next February.
But it said it was unable to make a decision about measures to take because of a lack of clarity about the law, which punishes the dissemination of information about homosexuality to minors but which activists say can be used for a broad crackdown against gays.
IOC president Jacques Rogge told a news conference in Moscow, where the athletics world championships begin on Saturday, that without the full details he could not comment on the law.
Yet he made it clear that the rules within the Olympic Charter had to be respected.
"We have to abide by the Olympic charter, the charter is very clear," said the 71-year-old Belgian, who steps down from his post in September.
"Sport is a human right and should be available to all regardless of race, sex, sexual orientation."
Assurances had been received from organisers of the Sochi Games but the IOC was seeking clarity over the legislation, he added.
"It is more a translation issue not about fundamentals," he said.
As to whether the IOC would discipline athletes who made protests during the Games, Rogge said that, too, was not clear.
"We would treat every case independently," he added.
Pressure on Russia has mounted this week after the openly gay British actor Stephen Fry called for Russia to be barred from hosting the Games over what he called the "barbaric" law.
Gay activists have also been calling for a boycott of Russian vodka, whose brands have traditionally been popular in gay clubs, while the hashtags #BoycottRussia and #BoycottSochi have become increasingly popular on Twitter.
US President Barack Obama has also weighed in with criticism, saying he had no patience for countries that intimidated gays, lesbians and transgender persons.
A number of Western countries, notably the United States, boycotted the 1980 Olympics in Moscow after the Soviet Union's invasion of Afghanistan.
Mutko, however, said it was "impossible" for athletes to want to shun the Sochi Games because of the law.
"It is impossible to put pressure the Olympic Committee or the (sports) federation at this stage," said Mutko.
"Athletes have been preparing for the Olympic Games for four years. (A boycott) would simply make no sense."
The head of the International Association of Athletics Federations (IAAF), Lamine Diack, for his part said he did "not see problems in connection with this law", amid confusion as to whether it would be enforced in Sochi.
Foreigners found guilty of violating the law can not only be fined up to 5,000 rubles ($156, 114 euros) but face administrative arrest of up to 15 days and eventual deportation.
Photo Credit: AFP/Kirill Kudryavtsev