Russia Vows It Will Not Allow Breakup Of Ukraine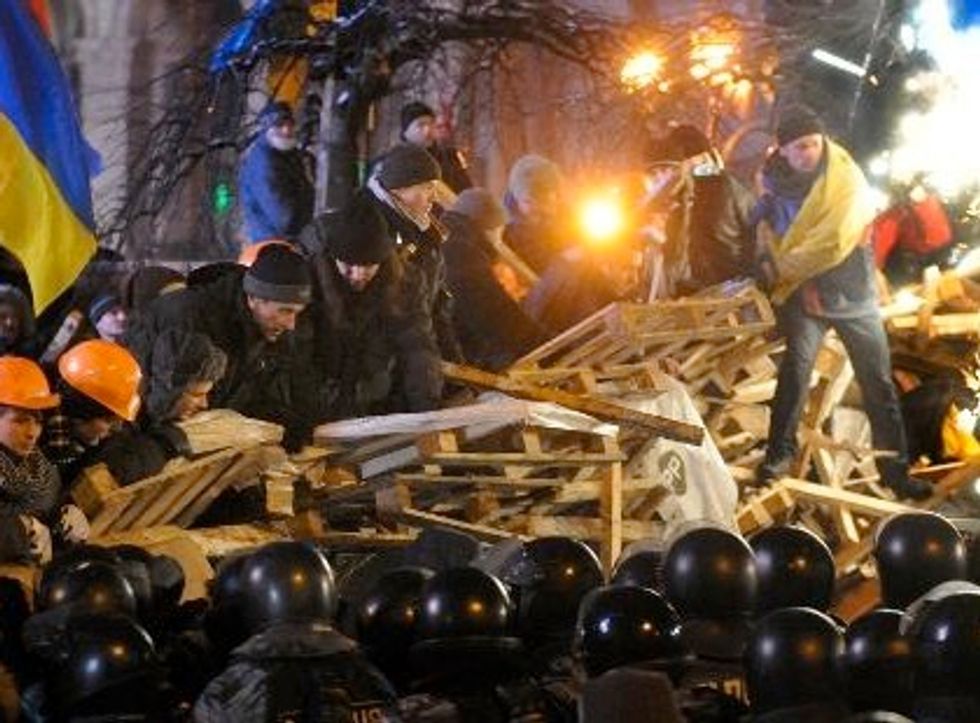 By Sergei L. Loiko and Victoria Butenko, Los Angeles Times
MOSCOW — Russia will not allow the breakup of neighboring Ukraine and, if invited, is ready to mediate the violent conflict between street protesters and the leadership of the former Soviet republic, Foreign Minister Sergei Lavrov said Tuesday.
"Russia will do its utmost to help prevent (the breakup of Ukraine) and to stabilize the situation," Lavrov said at a news conference in Moscow, without elaborating on what actions Moscow might take. "Ukraine is our neighbor, partner, friend and brother and there can be no two opinions."
With the divisions in Ukraine rooted in part over the question of whether to tie the country's future more closely to Russia or the West, Lavrov lashed out at Western Europeans he accused of interfering in Ukraine's internal affairs by supporting protesters in the streets of Kiev, the capital.
"We would prefer some of our European colleagues not to behave so unceremoniously in connection with Ukraine's crisis, when members of a number of Europe's governments without any invitations dashed to (Kiev's Independence Square) to take part in anti-government demonstrations in the country with which they have diplomatic relations," he said. "It is simply improper and it is heating up the situation."
The protests in Kiev began in November when President Viktor Yanukovich refrained from signing a trade and association agreement with the European Union. They had largely been peaceful in recent weeks but erupted into violence Sunday.
Dozens of people have been injured on both sides in three days of clashes between protesters and riot police. Grushevsky Street, which houses government buildings, has been turned into a virtual war zone, with hundreds of protesters hurling bricks, cobblestones, flares and Molotov cocktails, and several thousand police responding with stunning noise grenades, rubber bullets and water cannons.
Lavrov argued that Europeans would not tolerate such violence in their nations.
"Pogroms, attacks on the police, arsons, Molotov cocktails, explosive devices, it is horrible, it is an absolute violation of all European norms of conduct," he said. "I think that calls for common sense coming today from the leaders of the opposition and personally from (Ukrainian opposition leader) Vitali Klitschko demonstrate that the situation is going out of control."
The third day of violence on Tuesday also produced the first signs that both sides were growing weary of the confrontation, with the number of clashes and the ranks of protesters and police significantly diminished. Demonstrators nonetheless advanced to the line of charred police buses on snowy Grushevsky Street, turning them into their front line. The police formed a new line of defense blocking the street with more buses and trucks 20 yards away.
The Interior Ministry said 163 police officers had been injured since Sunday, 80 of them hospitalized. Kiev health authorities said 122 protesters had been hurt and 40 of them hospitalized.
Thirty-two protesters had been arrested, police reported.
Promised talks between the government and opposition leaders failed to begin. Klitschko, a former world heavyweight boxing champion, arrived early in the afternoon to meet with Yanukovich at the presidential offices but left after he was kept waiting.
"I came to meet the president and tell him that we must immediately stop violence in the capital and start making real steps to resolve the political crisis," Klitschko said to reporters as he made his exit. Yanukovich's aides "told me that the president was at the meeting and that he would call me when he is free. I turned around and went out."
Many protesters don't put much hope in the negotiations.
"The president entrusted the negotiations on his behalf to be conducted by the same officials who gave orders to use force against protesters in the first place," said Olga Fedoryak, a 43-year-old housewife in Grushevsky Street on Tuesday. "How much more blood is needed to make the authorities respond to our demands? But they still treat us as a traffic jam in the street."
The opposition demands early presidential and parliamentary elections, the resignation of the government, prosecution of the interior minister and the cancellation of recently adopted bills curbing human rights and freedoms, such as ones that prohibit protesters from wearing helmets and setting up tents in city squares and others that provide for an up to 15 years of imprisonment in connection with mass disorders.
AFP Photo/ Viktor Drachev