Russian Aid Convoy Stops Before Border With Ukraine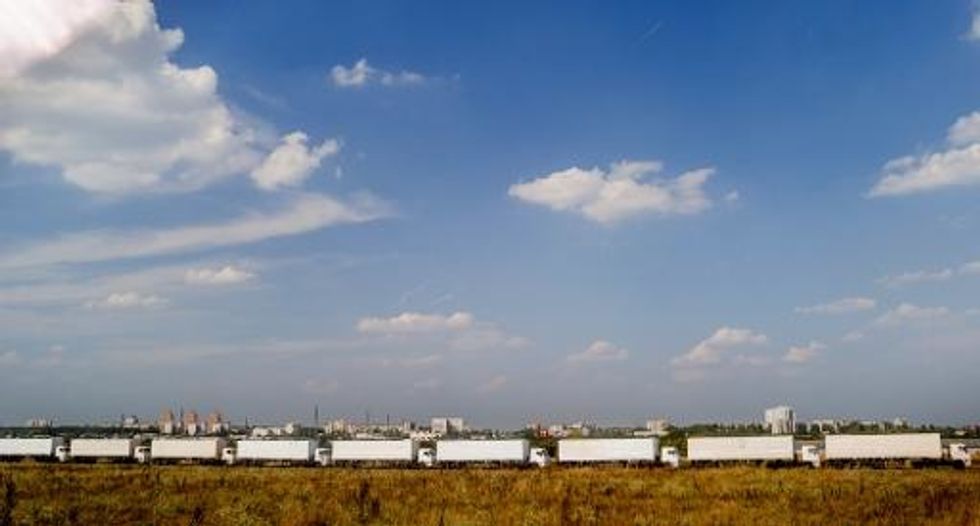 By Nikolaus Von Twickel, dpa
MOSCOW — A massive Russian aid convoy bound for civilians in eastern Ukraine stopped just short of the border on Thursday, while Kiev accused Moscow of acting unilaterally and sent its own aid convoy to the embattled region.
The almost 280 trucks carrying 2,000 tons of food and medicine were parked on a field near the Russian town of Kamensk-Shakhtinsky, a European Pressphoto Agency photographer said.
Kamensk-Shakhtinsky is located some 100 kilometres east of Luhansk, where more than 200,000 people have been cut off from access to water and electricity for 12 days.
It is some 50 kilometres from the Izvarino border post, which is being held by pro-Russian separatists, who also control much of the ensuing road to Luhansk.
Ukraine insists that the convoy can enter the country only after being inspected by its officials and representatives of the Organization for Security and Co-operation in Europe (OSCE) and that the International Committee of the Red Cross (ICRC) should do the distribution.
Both the ICRC and the OSCE said Thursday that Moscow and Kiev must reach an agreement over the convoy before they can become involved.
ICRC spokesman Ewan Watson told Swiss news agency sda that the organization was seeking security guarantees from all sides and that it still needs a detailed inventory of the cargo.
An OSCE spokeswoman said that the security watchdog would help only once the Red Cross takes charge, and once Kiev, Moscow, and the Red Cross reach a deal.
Ukraine, which fears the convoy is a pretext for an invasion, initially insisted that Russia hand over the goods to the Red Cross before the border and that the vehicles then pass into government-held territory near the city of Kharkiv.
Kiev complained that Russia was sending aid uncoordinated to a conflict that it had fomented itself.
"Ukraine has not asked Russia for aid. Rather, Ukraine has asked Russia to take away its terrorists, mercenaries, stop sponsoring the fighters, and start recognizing Ukraine's sovereignty," said Iryna Herashchenko, an aide to President Petro Poroshenko.
The government in Kiev sent a convoy of its own to Luhansk. Nineteen lorries left Kiev on Thursday, Herashchenko said, adding that a total of 71 vehicles would bring 773 tons of food to the Luhansk region.
Luhansk authorities said many civilians had been killed in artillery fire on Wednesday, but exact casualty figures were not yet available. They said that more than 500 civilians fled the city that day.
The leader of the pro-Russian separatists in the city, Valery Bolotov, resigned unexpectedly on Thursday. He told reporters in Luhansk that he would temporarily step down until he fully recovers from an injury.
Bolotov survived an assassination attempt in April.
Russian President Vladimir Putin, meanwhile, promised that Moscow will do everything to stop the bloodshed in Ukraine.
"The country has sunk into bloody chaos, in a fratricidal conflict," Putin told Russian lawmakers in Crimea, according to Russian news agencies.
"We will do our best to end this conflict as soon as possible so that the bloodletting in Ukraine ends," he said.
At the same time, Putin also threatened to terminate international agreements and withdraw Moscow's participation in international organizations such as the European Court of Human Rights, should they threaten Russia's national interest.
AFP Photo/Vladimir Baryshev
Interested in world news? Sign up for our daily email newsletter!