Russian Rebel Attack On Ukraine Border Kills 5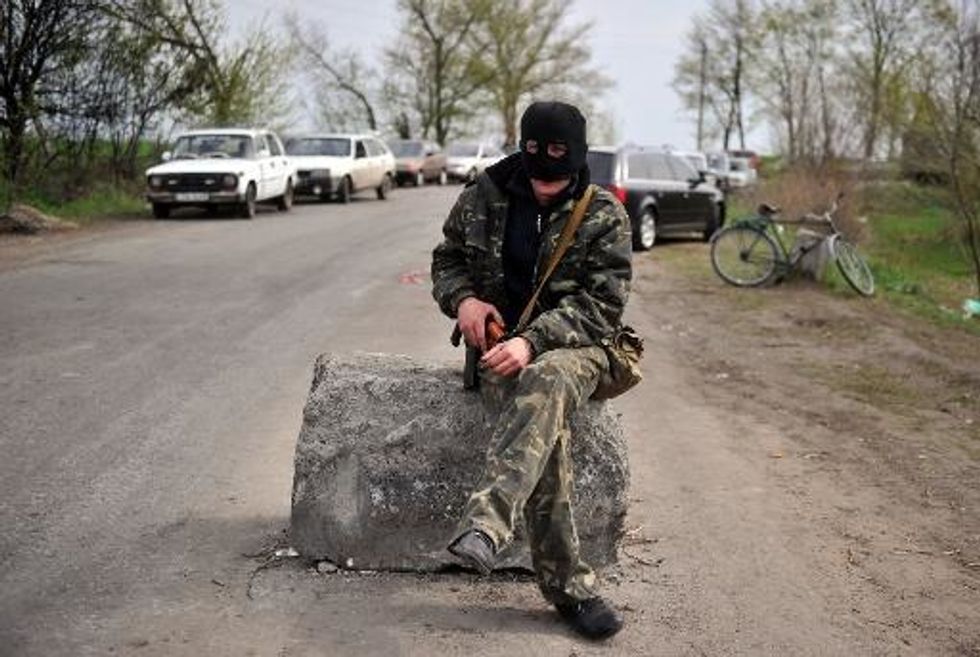 By Carol J. Williams, Los Angeles Times
At least five pro-Russia separatists were killed Monday in a failed attack on a Ukrainian border guards base, the second large-scale operation in a week by insurgents apparently bent on taking key government facilities ahead of Ukraine's presidential inauguration Saturday.
The predawn assault on the Ukrainian base in Mirny, near the rebel-held capital of the Luhansk region, involved as many as 500 separatist gunmen armed with mobile rocket launchers and heavy machine guns, Ukraine's State Border Guard Service said in a statement.
Five attackers were reported killed in the first barrage, which began at 4 a.m. local time and involved about 100 fighters. At least eight others were wounded when the clash swelled to involve an additional 400 insurgents in the afternoon, the border service reported. Seven Ukrainian border guards were wounded, four seriously.
News agencies in the area reported gunshots continuing into the night.
Kiev's air force dispatched fighter jets to drive the rebels back from the walled compound, said Vladyslav Selezniov, a spokesman for the Ukrainian Defense Ministry's "anti-terrorist operation," in his daily telephone report to journalists at a Kiev press center.
Selezniov denied reports by Moscow's state-run media that one of the Ukrainian fighter jets strafed the rebel-occupied Luhansk regional government headquarters. Russia Today television and RIA Novosti reported an aerial attack on the building in central Luhansk that they said unleashed flash fires on the building's fourth floor that killed at least five people.
Militants demanding independence from Kiev rule have held the central government building in Luhansk for two months, as have their fellow separatists in neighboring Donetsk region, who occupy key facilities in that city. Insurgents in both regions staged dubious referendums on May 11 and proclaimed the territory they hold independent from Ukraine a day later. Their appeals to Moscow to be annexed to Russia, however, have been ignored by Russian President Vladimir Putin.
Putin's occupation and seizure of Ukraine's Crimean peninsula in February and annexation of the strategic territory on March 18 inspired much of the separatism in eastern Ukraine over the past two months. Ukrainian government leaders in Kiev and their Western supporters accuse Putin of arming and instigating the insurgents holding Luhansk and Donetsk, a charge the Kremlin denies but with dwindling credibility as many of the separatist fighters killed in recent clashes have been identified as Russian citizens, not Ukrainians.
More than two-thirds of the 50-plus rebels killed a week ago when they attempted to take control of Donetsk's international airport were later identified as residents of Russia and Russian-occupied South Ossetia in Georgia, the Kyiv Post and other Ukrainian media reported.
Russian Foreign Minister Sergei Lavrov on Monday announced at a Moscow news conference that he would seek a U.N. Security Council resolution imposing a cease-fire in eastern Ukraine to allow for "humanitarian corridors" for civilians to escape the fighting.
"We deliberately framed our resolution in a depoliticized way, focusing on measures that can quickly relieve the suffering of the civilian population," Lavrov said. Ukraine's interim government leaders have previously rejected the proposal, fearing it is intended to make it easier for the pro-Russia separatists to seize bigger swaths of territory without the impediment of innocent civilians in the way.
The insurgents have stepped up their attacks in eastern Ukraine in the week since Ukrainians elected billionaire chocolate-maker Petro Poroshenko as president in a landslide among 21 contenders. He is due to be inaugurated on Saturday, bringing to an end three months of provisional leadership that the Kremlin has refused to recognize following the Feb. 21 ouster of President Viktor Yanukovich.
"Our Western colleagues have been telling us for quite a long time that as soon as the presidential election is held in Ukraine the situation will calm down," Lavrov said, suggesting that the eastern fighting has been provoked by government forces. "But everything is happening in exactly the opposite way."
AFP Photo/Genya Savilov