Ryan Pushes House Budget With Trump's $5 Billion Wall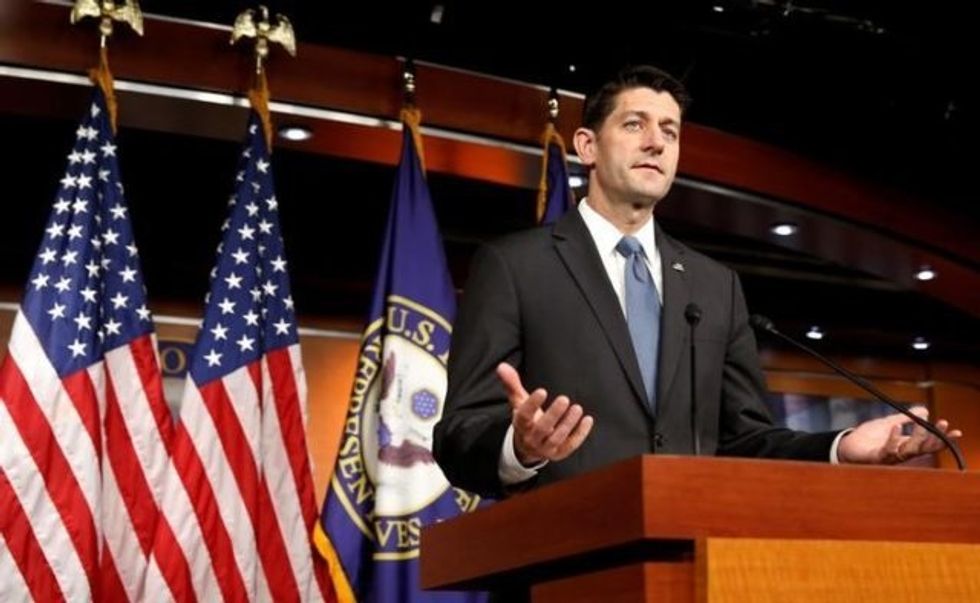 Reprinted with permission from Shareblue.
After yet another Trump tantrum, House Republicans caved to his demands Thursday and brought forward a government funding bill that included more than $5 billion for a wall along the U.S.-Mexico border.
Republicans passed the bill by a vote of 217-185, with zero support from any Democratic members.
Funding for much of the federal government ends at midnight on Dec. 21. The Senate had unanimously passed a bill the night before to fund the government at current levels through Feb. 7. But after Trump threatened — again — to shut down the government if he didn't get funding for a wall, failed House Speaker Ryan gave in to his demands and scheduled the new vote.
Ryan should be "ashamed" of his kowtowing to Trump's demands, said his former colleague, Sen. Chris Van Hollen (D-MD). "Why not allow a vote on a bipartisan Senate bill and let democracy work in the House?" Van Hollen asked.
"This is a cowardly way to govern," he added.
In the event of a shutdown, which now seems much more likely, Rep. Mark Meadows (R-NC), a member of the far-right Freedom Caucus, which favors funding Trump's wall, shrugged off concerns about federal employees not being paid so close to the holiday season.
"It's actually part of what you do when you sign up for any public service position," said Meadows, who will continue to be paid in the event of a shutdown.
Last week, Trump met with Democratic leaders Nancy Pelosi and Chuck Schumer. In a televised humiliation of Trump, both Pelosi and Schumer insisted there was no congressional support for $5 billion to pay for a border wall. During that meeting, Trump bragged that he would be "proud" to own a government shutdown over the issue.
A recent poll shows Americans don't support him on this and will blame Trump and the Republican Party if the government is shut down mere days before Christmas.
Most senators had already left town before the House voted Thursday.
"In their view, they've done their job and now it's up to the House and the president to work something out," reports Politico, noting senators could fly back on short notice if another vote is necessary.
That's exactly what happened to Democratic Sen. Brian Schatz. After he flew all the way back to his home state of Hawaii, he spent only 17 minutes with his family and then hopped on a plane back to Washington, D.C. When he landed, Schatz tweeted, "Wheels down IAD [Dulles airport] ready to vote no on this stupid wall."
There is virtually no chance the House bill will pass in the Senate. If Trump and his complicit Republican cronies refuse to do their job and fund the government, the Trump Shutdown starts at midnight on Friday.
Published with permission of The American Independent.