Safety First For Sochi Olympics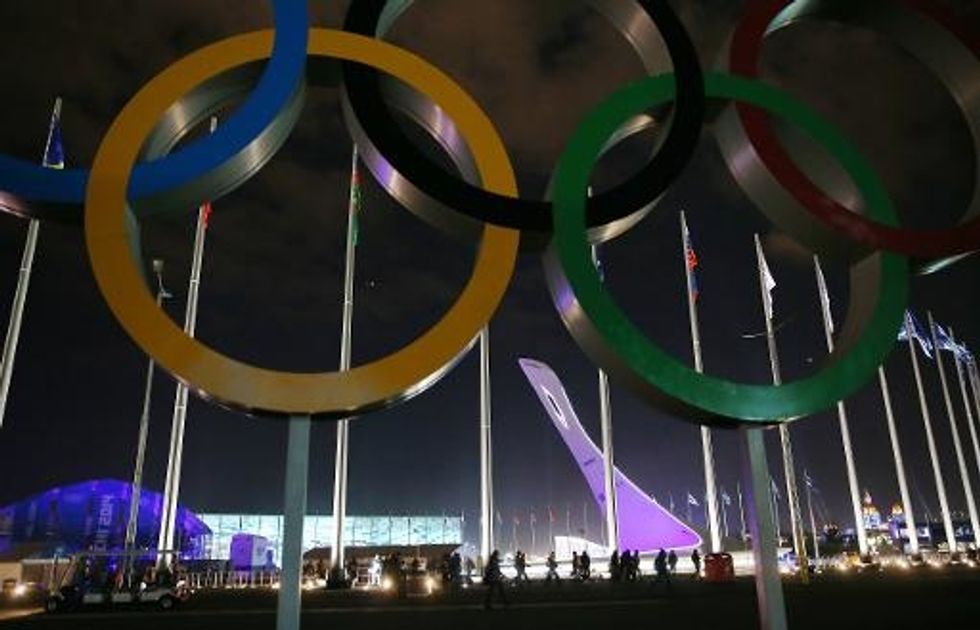 By David Wharton, Los Angeles Times
SOCHI, Russia — As his plane approached Sochi-Adler International Airport, flying low over the coast, Eric Guay glanced out the window.
Warships sat anchored on the Black Sea below.
"That's the first sight you get," the Canadian skier said. "In a way, it makes you feel safe."
Security has been a major concern leading up to the 2014 Sochi Olympics.
These Games are considered particularly vulnerable to terrorist attacks because of their proximity to the North Caucasus, a region where Islamic militants have waged a violent insurgency.
Recent bombings in Volgograd, about 400 miles away, heightened fears, as did media reports that authorities were searching for three potential "black widow" suicide bombers thought to be in the area.
But the athletes who have arrived here over the last few days say they feel safe, in large part because of a very obvious military and security presence.
"From the moment you step off the plane, you're showing credentials," American short-track speedskater Jessica Smith said. "Everybody's checking you at each stop you enter and you exit."
It was just last summer that Chechen rebel leader Doku Umarov posted a video calling for militants to take action against the Olympics. He decried the notion of sports events held "on the bones of our ancestors, on the bones of many, many dead Muslims buried on our land by the Black Sea."
Then came the Volgograd bombings, which killed 34 people. A militant group from the Dagestan region claimed responsibility.
"This is no war zone but not the safest environment," said bobsledder Chris Fogt, who took time off from competing after the 2010 Vancouver Olympics to serve with the U.S. military in Iraq. "We kind of feel like something could happen."
Heading into the Games, the U.S. Olympic Committee issued a memo to athletes, passing along State Department advice that they refrain from wearing conspicuous team clothing outside of secured areas.
The Australian Olympic Committee went a step further, restricting athletes to venues, the village and the official transport system. Ian Chesterman, the team's chef de mission, said this week: "We take it seriously and it's a good practice to define what degree of caution is required."
All along, the International Olympic Committee and local organizers have insisted they can keep athletes and spectators safe. Russian President Vladimir Putin has made these Games his pet project, hoping they will be a showcase for his country.

No corners have been cut with an estimated $50 billion-plus spent on venues and surrounding infrastructure. Alexey Lavrishev, the head of Olympic security, said 40,000 policemen have been deployed in this city of about 400,000.
"What you see is designed to create a feeling of security," said Scott J. White, an associate professor of homeland security at Drexel University. "What you're not seeing is the (Russian security service) working behind the scenes."
Speaking to reporters, IOC President Thomas Bach made a point of saying that safety concerns are nothing new to the Games.
Olympic officials dealt with terrorism in 1972 when 11 Israeli team members were taken hostage by Palestinians in Munich and ultimately killed during a rescue attempt. There was a bombing in Atlanta in 1996 and post-9/11 security concerns at the 2002 Salt Lake City Games.
"Every big event nowadays is under threat and therefore we have to address this," Bach said.
In Sochi, purple-jacketed security staff can be seen throughout the area. On Tuesday morning, cars and trucks lined up for a full block, waiting to pass through one of the checkpoints to the Olympic Park.
Guards inspected each vehicle, using mirrors to peer underneath. Again, this has been standard procedure in recent Games, but competitors seemed to appreciate the effort.
"We feel very confident that our team is well-guarded and secure," said Seiko Hashimoto, the chef de mission for the Japanese contingent. "The Olympic Village is very well-protected."
Not all precautions have been left up to Russian authorities. Some teams employ private security companies and the Royal Canadian Mounted Police briefed their country's delegation.
The U.S. government says it has an emergency plan in place, with warships and transport planes standing at the ready should athletes and officials require evacuation.
Skeleton racer Noelle Pikus-Pace felt confident enough to bring her husband and two small children, who usually travel with her. "Of course we had concerns leading up to the Games," she said. "But once we got here and to the place where we were staying, we felt very safe and there haven't been any issues."
Although visible security may offer comfort, it also presents a potential downside. The airport-style metal detectors and troops riding in the backs of trucks — which have been seen around town — could dampen the Olympics' traditionally festive spirit.
Bach did not seem overly concerned, saying: "I think the atmosphere can really flourish."
Athletes agreed that, at least so far, the Russians have found a reasonable balance.
When the short-track speedskaters competed here last year they encountered delays in getting through checkpoints. Speedskater Emily Scott said things are running more smoothly now. "I think they've got the kinks out," she said. "They're prepared to keep it a happy and a fun Games."
The area around Olympic Park has a casual feel, with visitors and residents walking along the streets from morning until late at night.
The vibe might change in coming days as security personnel faces an onslaught of fans arriving for the start of competition. But for now, the athletes seem content.
"Honestly, everyone's been so nice, so polite," Scott said. "I haven't felt unsafe in any sort of way."
AFP Photo/Loic Venance