Saga Of New York Prison Break Ends With David Sweat's Capture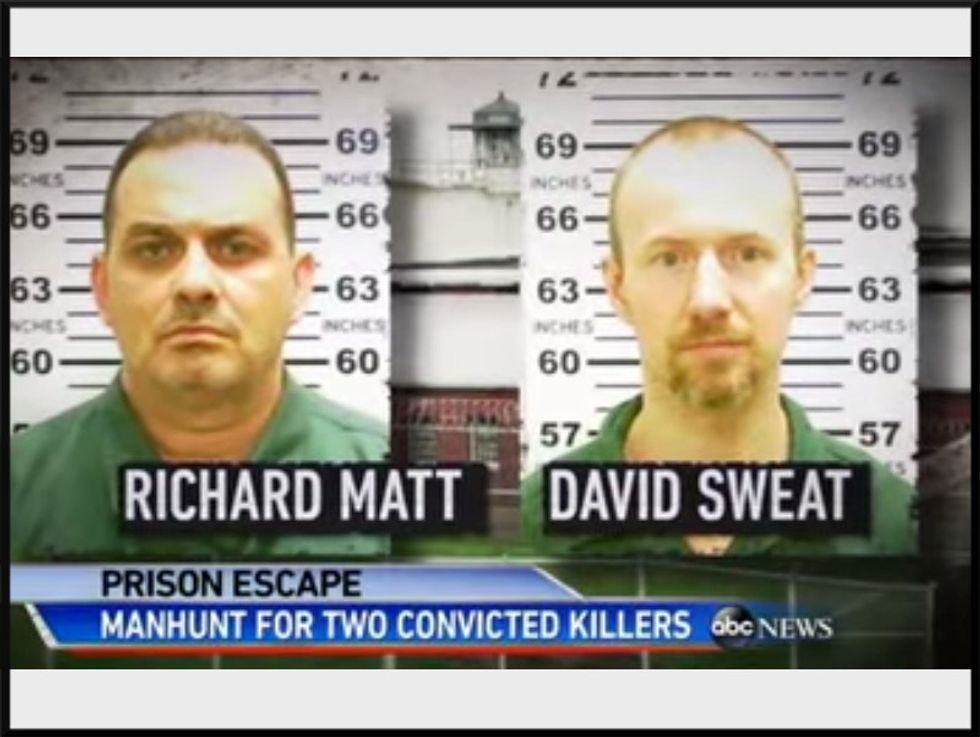 By Matt Pearce and Vera Haller, Los Angeles Times (TNS)
NEW YORK — For most Americans, the great escape from the Clinton Correctional Facility in upstate New York unfolded like a pulpy, if not quite believable, crime novel.
How did Richard Matt and David Sweat get power tools in a maximum-security prison? How could the two convicted murderers cut their way out without officials noticing?
But the bizarre and suspenseful story gave little pleasure for New Yorkers upstate. Many spent their nights awake, with their doors locked and guns loaded, as Matt, 48, and Sweat, 35, roamed free.
The 22-day odyssey ended Sunday when a lone New York State Police sergeant shot and arrested Sweat in a field a mile and a half from the Canadian border, two days after officials killed Matt nearby, officials said.
Sweat was jogging along a road near the aptly named hamlet of Constable around 3:20 p.m. when Sgt. Jay Cook, a 21-year veteran, spotted him while on patrol, officials said.
When Cook tried to stop him, Sweat, who was unarmed, made a break for a tree line, and Cook shot him twice in the torso, officials said.
The hunt was over.
When news of Sweat's capture reached Hosler's Family Restaurant in the nearby town of Malone, cheers broke out among the staff and customers.
"We were all just yelling like we were on an adrenaline high," Lynn Hosler, the owner, said in a telephone interview. "It's been a tough three weeks for us."
In Constable, the Rev. Howard Venette of St. Francis of Assisi Church said he mentioned the manhunt at Sunday morning Mass, just hours before Sweat was captured. "Today's gospel had Jesus saying, 'Be not afraid. Just have faith,' " he said. "I related that to coming to the church every day and wondering if I'm going to be surprised by the escapees."
Thousands of law enforcement officials took part in the manhunt for Matt and Sweat, who were discovered missing June 6 and who ultimately traveled about 40 miles from the prison in Dannemora. On Sunday night, Sweat was listed in critical condition at Albany Medical Center.
New York Gov. Andrew Cuomo said Sunday that no one had escaped from the formidable walls of the Clinton Correctional Facility in 100 years.
The duration of the pair's escape was almost as unusual. Of the 29 inmates who escaped from New York state prisons between 2002 and 2012, none lasted longer than three days before being recaptured. Almost all were caught within 24 hours, and almost none of them had records as deadly as Matt's and Sweat's.
Sweat was serving a sentence of life without parole for killing a sheriff's deputy in Broome County in 2002. Matt was serving 25 years to life for killing and dismembering his former boss.
"The nightmare is finally over," Cuomo said at a televised news conference in Malone. He added: "Everyone goes home safe. The escapees have been dealt with, we couldn't have a better ending. We wish it hadn't happened in the first place."
Officials are eager to question Sweat to learn exactly how he and Matt escaped, where they went, and where they were going.
"I can only assume he was going for the border," New York State Police Supt. Joseph D'Amico said of Sweat at the news conference. "He was that close."
Matt was near Malone when he was killed Friday. Officials said he had a 20-gauge shotgun and refused to drop it. He was shot three times in the head, according to autopsy results released Sunday.
Matt's body was covered with bug bites, blisters and scratches "consistent with living in the woods for three weeks," according to a New York State Police announcement.
When Sweat was captured, he was wearing a dark coat, camouflage pants and a shirt smeared with blood, according to a photo obtained by CNN.
Although Sweat was unarmed, D'Amico and Cuomo praised Cook's decision to open fire as Sweat fled. Cuomo said of Cook: "He was alone and it was a very courageous act. … Go home tonight and tell your daughters you're a hero."
D'Amico said Matt and Sweat were believed to have used pepper to throw off their scent, making it difficult for police dogs to track them.
At various points, officials warned that the killers might be headed for Vermont, Pennsylvania, Canada or Mexico.
It seems the pair may have never left upstate New York, where jittery residents were only partially comforted by the hordes of law enforcement blocking roads and scouring forests.
"I feel a lot better now," said Michael French, manager of the Four Seasons Motel in Malone. "I didn't want to let my two young boys go outside. I was worried whether or not those guys were around."
French said he felt exhausted. His motel has been filled with federal agents and journalists, and his parking lot was where buses and vans dropped off and picked up officers participating in the search.
"I would really love to get some sleep," French said.
Two prison employees have been arrested since Matt and Sweat's escape. Joyce Mitchell, a prison tailor shop instructor, has been charged with smuggling hacksaw blades and other tools to the inmates in frozen hamburger meat.
Gene Palmer, a guard, has been accused of promoting contraband by delivering the meat to the prisoners and has also been charged with evidence tampering.
Both have pleaded not guilty.
Cuomo vowed that an investigation into the escape and prison practices would continue. He also summed up the events that had transfixed the state for three weeks:
"If you were writing a movie plot, you would say this was overdone."
(Staff writer Pearce reported from Los Angeles and special correspondent Haller from New York.)
(c)2015 Los Angeles Times. Distributed by Tribune Content Agency, LLC.