Saluting The Many On Labor Day Who Are Volunteering To Find And Help Harvey Victims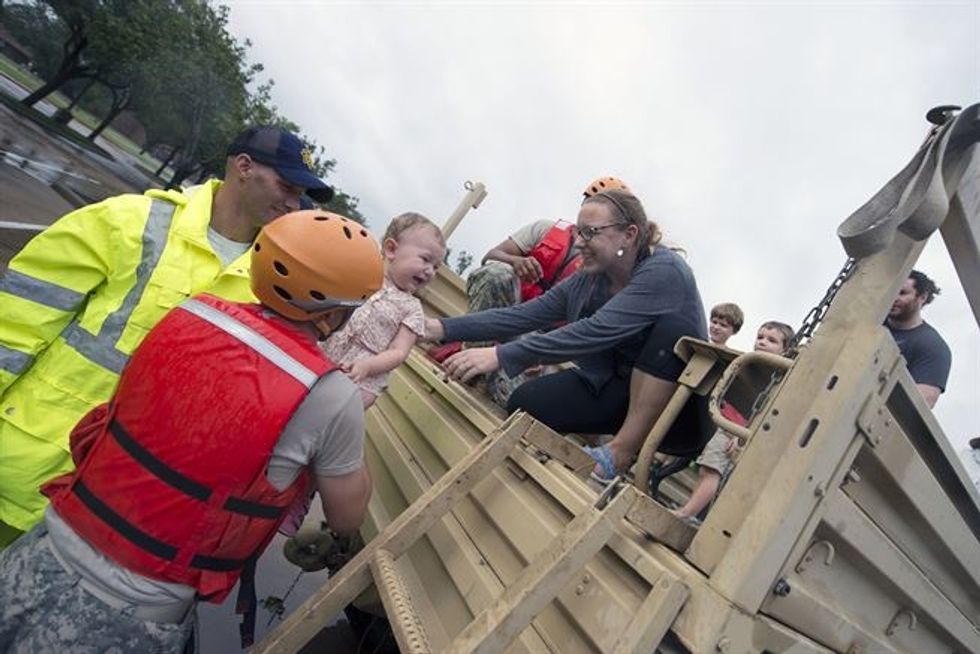 Reprinted with permission from AlterNet.
Watching helplessly as flood waters rose was not an option for Brandon Parker. This Texas refinery worker and member of the United Steelworkers union has a jacked-up Suburban and a friend with a boat. There was no way he was going to let family members, neighbors or strangers drown.
Like Parker, many union members couldn't sit still through the storm. One drove her high-riding pickup truck two hours to find baby formula for co-workers rescued from their roof with a newborn. Another used his pickup truck to rescue people whose cars got caught in fast-moving water.
These are among the many workers across Texas and across the United States whose sense of community drove them to respond to the crisis created by Hurricane Harvey.
Parker's most harrowing rescues occurred Sunday, Aug. 27, when he joined the citizens' armada, the flotilla of boats owned by civilians who drafted themselves to serve as first responders when the catastrophic size of the emergency overwhelmed professionals.
Photo: A home in Dickinson, Texas, on Aug. 27 as seen from Brandon Parker's rescue boat.
The crew on Parker's boat was all union. His longtime friend, Kenneth Yates, a member of Plumbers Local Union 68 in Houston, owned the Bay Stealth craft. Yates' stepfather, Robert Young, a retired member of the American Federation of Teachers, joined them on the expedition through engulfed Dickinson, Texas.
They launched the boat into deep water on Interstate 45. Bands of storm clouds pelted them with rain, paused, then resumed. The flood water was about six feet deep, not quite over the front door of most homes they passed. The current was strong, making it hard to maneuver the boat.
Photo: Kenneth Yates and Robert Young on Yates' Bay Stealth boat in Dickinson, Texas.
At one point, Parker saw, just two inches below the water's surface, an iron fence topped by arrow-shaped finials. He shoved the boat away with an oar, preventing the metal points from puncturing the hull. They were lucky; they saw other rescue boats that were flipped over and one wrapped around a light pole. Ultimately, though, both the hull and propeller of Kenneth Yates' boat were damaged from striking unseen underwater objects.
They picked up nine people. One family came from a second-story deck. They climbed down the deck's steps and got into the boat. Another group was on the second story of an apartment building and descended its exterior staircase to the boat.
This was before evacuation was ordered, and Parker was frightened for the people who chose to remain in their homes. He said he urged everyone he saw to leave while they could but many refused. "Because all the professional resources were being used, it might be hours before they could be rescued in an emergency," Parker told me last week.
When it got dark, Parker, Yates and Young went home. They didn't have lights on the boat, so it wasn't safe to continue.
Brandon Parker wasn't done though. That night, a family in his neighborhood needed to get out of their house after water had risen four feet inside. It was a young boy, a friend of Parker's 11-year-old son, and the boy's uncle. Parker drove as close as he could to the house, then got a guy in a boat to go in and bring them out to where the car was.
That is how Parker started rescuing people, with his car (which would end up with damage to the steering system, differentials and wheel bearings from driving in high water). He first put his car into service Saturday night, Aug. 26. He was headed home from his brother-in-law's house where he'd watched boxer Floyd Mayweather defeat Conor McGregor. Rain was pouring down and lightning flashing. He saw people walking along the swamped road, drenched. Some had lost their cars in the rising water. Some had parked, afraid to drive further. Parker picked up about a dozen in his high-riding Suburban and drove them to their homes, most to the neighborhood where his brother-in-law lived.
Photo: Brandon Parker's neighborhood in League City, Texas, on August 29.
By Sunday, the roof of Parker's house in League City was leaking, and he and his wife and three children had taken in flooded-out in-laws. Still, he told his wife he wanted to go out and help people. "She wasn't too happy, but she understood that I needed to do that," Parker said. "I have been in situations where people have helped me. Why wouldn't I go and help other people?"
That morning, he drove to a neighborhood in hard-hit Dickinson, where nearly every house was flooded. He found hurricane refugees walking through deep water carrying plastic garbage bags of belongings over their heads. This is dangerous because people can step in the wrong place and suddenly slip under water. That's because there were deep ditches on both sides of the road and floods push manhole covers off.
He piled people into his Suburban and drove them to a bar that was still on dry ground. Other volunteers ferried them to shelters from there.
Photo: The 1990 Suburban Brandon Parker used to rescue people.
On Monday, Parker drove his truck through high water to get to a donation center in Galveston. He picked up cases of water, food, toiletries and other supplies. He distributed them in his neighborhood because many elderly residents had refused to leave their homes. "I went door to door giving out water and food. A lot of people turned me down. They said they didn't want to take what others needed."
The supplies were crucial because even when people with high vehicles like Parker could get out, they found stores closed and gas stations out of fuel. Parker continued checking on his neighbors and handing out provisions through Wednesday, when water started receding and he had to go to work at the LyondellBasell refinery in Houston.
Like Brandon Parker, Felicia Weir of Santa Fe, Texas, is a USW refinery worker with a high-riding truck. Even after her home flooded, she drove for hours on Wednesday, backing up constantly to circumvent flood-closed roads, to get baby formula and clothes for a couple who had been plucked from their rooftop with an infant granddaughter and two other young grandkids.
Photo: Felicia Weir of Santa Fe, Texas, with supplies to distribute from her union hall.
Marcos Velez, a USW staff member from Pasadena, Texas, drove his pickup truck through flood waters to rescue a refinery worker whose car was inundated by three feet of fast moving water in Baytown, Texas, as he tried to drive to his job before dawn. Then Velez turned around and, despite blinding rain, rescued another dozen people whose cars were bobbing in the fast-rising water in that same neighborhood.
Meanwhile, the Texas AFL-CIO set up a charitable organization, the Texas Workers Relief Fund to aid working families, and local unions from across the country began donating. The National Nurses United Registered Nurse Response Network, an organization of volunteer unionized nurses, deployed its first unit to Houston on Thursday. Three Texas USW local unions handed out food and water to first responders and the public.
These efforts won't stop when the rain does. This Labor Day, workers from across the country will be volunteering. They'll be helping victims of Hurricane Harvey recover. And they'll continue donating their services for months.
Leo W. Gerard is the international president of United Steelworkers (United Steel, Paper and Forestry, Rubber, Manufacturing, Energy, Allied Industrial and Service Workers International Union), the largest manufacturing union in North America.