San Bernardino Shooter Malik Said She Was Pregnant When She Sought U.S. Green Card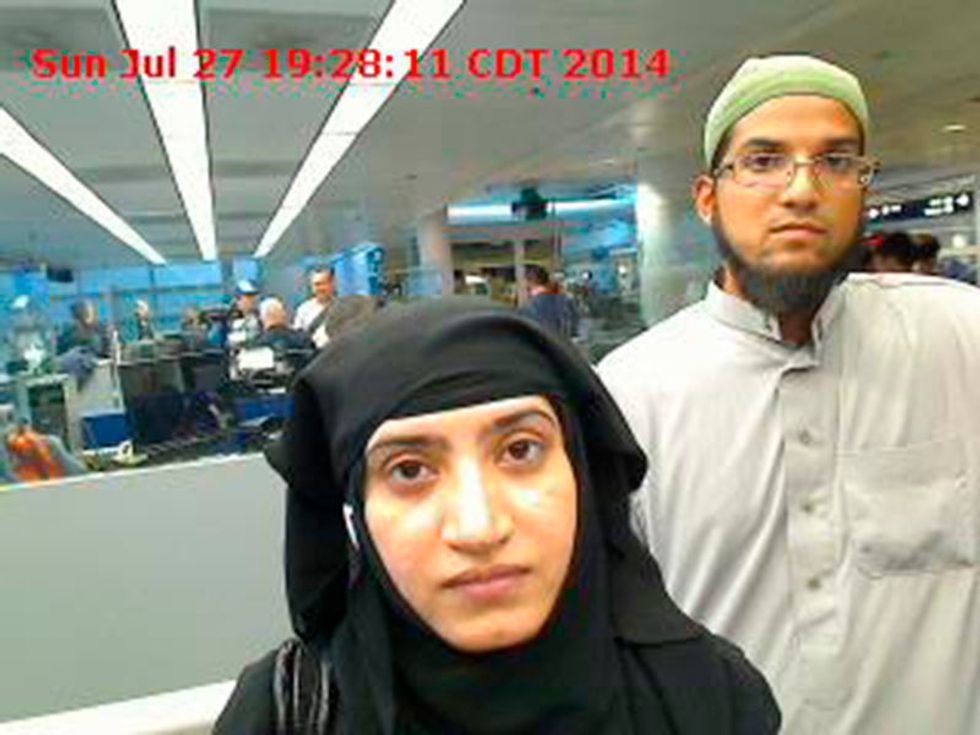 By Brian Bennett, Tribune Washington Bureau (TNS)
WASHINGTON — Tashfeen Malik apparently claimed she was pregnant when she was interviewed by a visa officer after she had applied for permanent U.S. residence in the fall of 2014.
A note scrawled in red ink on a page in Malik's application reads: "applicant is pregnant due on 05-21-15," a congressional official who has reviewed her immigration record said Monday.
Malik and her Chicago-born husband, Syed Rizwan Farook, were killed in a shootout with police on Dec. 2 after they launched a shooting rampage in San Bernardino that killed 14 people.
The couple had left their 6-month-old daughter with a relative before the attack. They managed to conceal their growing attraction to jihadist violence until the day of the massacre, when Malik used Facebook to pledge allegiance to the head of Islamic State.
It appears that Malik, who was born in Pakistan, became pregnant shortly after she arrived in the U.S. on July 27, 2014, on a K-1 fiancee visa. The couple had previously married in Saudi Arabia, and then obtained a marriage license from Riverside County, Calif., on Aug. 16, 2014.
Malik signed the six-page I-485 application for permanent residence on Sept. 20, 2014.
She submitted her application with family photos showing her and Farook together, and a financial statement from Farook that listed his income as a San Bernardino County environmental health specialist at about $48,000 per year, according to the congressional official, who spoke on condition of anonymity because the application has not been released.
At some point after submitting the form, Malik met with a visa officer who would have attempted to judge whether her marriage with Farook was real or a sham.
The exact date of the officer's interview with Malik is not marked on the form. She was granted a green card in July 2015.
Malik's pregnancy may have been noted as evidence to show her marriage was legitimate. The note was written on the bottom half of Page 2 of the form, over a section set aside for listing the names of the applicant's children.
On the following pages, Malik checked "No" next to questions asking if she had ever joined an insurgent organization, had ever been a member of the Communist Party, had committed acts of torture or had killed anyone.
In response to questions, Malik also denied she planned to engage in espionage or overthrow the U.S. government.
U.S. Citizenship and Immigration Services provided the green card application to lawmakers, but it has not been made public. Rep. Robert W. Goodlatte, R-Va., chairman of the House Judiciary Committee, posted Malik's K-1 visa application online last week with some personal details blacked out.
In a letter sent to congressional committees Wednesday, the Department of Homeland Security said "all required procedures were followed" in vetting her K-1 visa application, and later in approving her application to become a lawful permanent resident.
A copy of the letter, which is marked "for official use only," was obtained by the Los Angeles Times.
"Tashfeen Malik was subjected to numerous background checks at all stages of the review process," the letter states. "Those background checks did not reveal any derogatory information about Malik."
©2015 Tribune Co. Distributed by Tribune Content Agency, LLC.
Photo: Tashfeen Malik, (L), and Syed Farook are pictured passing through Chicago's O'Hare International Airport in this July 27, 2014 handout photo obtained by Reuters December 8, 2015.   REUTERS/US Customs and Border Protection/Handout via Reuters