Sanctions On Russia Over Ukraine Not Expected To Damage Delicate Diplomacy On Syria, Iran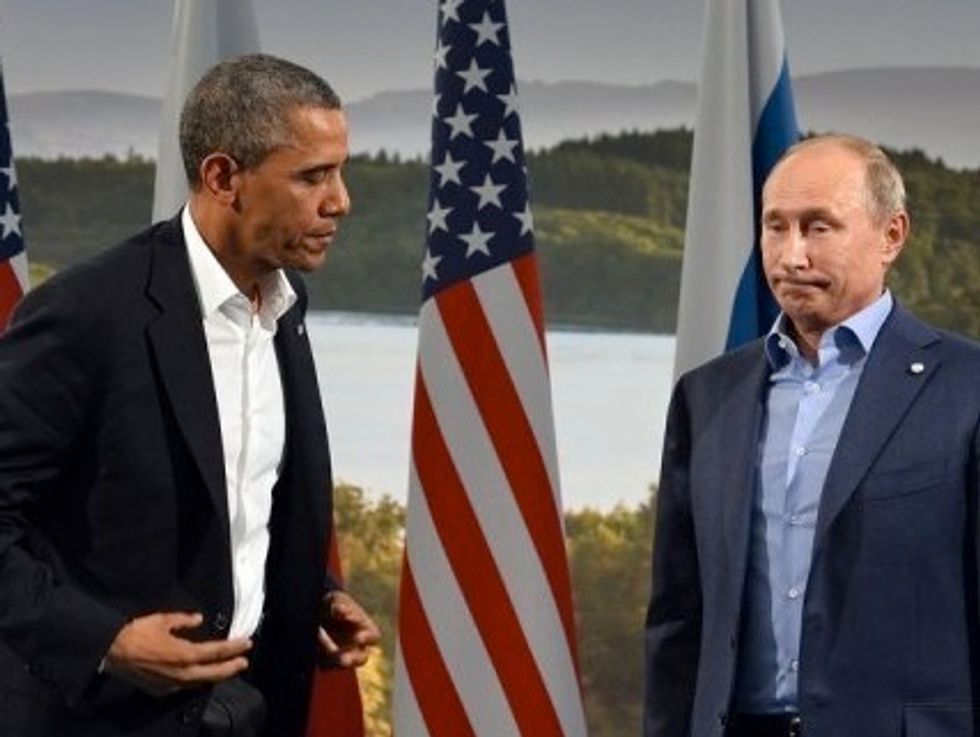 By Hannah Allam, McClatchy Washington Bureau
WASHINGTON — Before slapping Russia with the most serious sanctions since the Cold War era, the Obama administration calculated that such a breach in bilateral relations wouldn't affect joint U.S.-Russian efforts on other urgent diplomatic initiatives, especially with Syria and Iran.
Foreign policy analysts said the gamble behind the administration's announcement Monday of sanctions against 11 Russian and Ukrainian officials — the alleged architects of the Crimea annexation campaign — makes sense.
The U.S. focus on chemical weapons in the Syrian conflict fulfills Russian President Vladimir Putin's goal of keeping Syrian President Bashar Assad in power, and Russian influence in the talks on Iran's nuclear program has diminished, according to analysts who specialize in U.S.-Russian relations.
Those conclusions suggest that the State Department's compartmentalization policy will succeed, avoiding a severing of U.S.-Russian ties but still light years away from what the Obama administration once had envisioned as a "reset" with Moscow.
Analysts warned, however, that the future of relations depends on whether Putin decides to expand his Crimea incursion into eastern Ukraine — a move that would invite a more severe Western backlash, with the potential for a total breakdown in diplomatic relations.
"Controlling his neighborhood is more important to him," said James Goldgeier, a Russia specialist and dean of the School of International Service at American University in Washington. "Keeping Ukraine from creating any real relations with the West is more important to him than these other diplomatic issues."
U.S. officials, who spoke on condition of anonymity so as to freely discuss the sanctions, told journalists via conference call Monday that it was clear that U.S.-Russian relations were fraying, with the American side canceling trade and commercial meetings, suspending bilateral military exercises and scrapping G8 preparatory meetings.
"But if you look at the scope of those other issues, on the Syrian chemical weapons issue, Russia is deeply invested in that project," a U.S. official said. "And in fact, we've seen a picking up of the pace in terms of the removal of that CW (chemical weapons), of the CW from Syria."
Goldgeier said the Russian position has driven the agenda on Syria since last summer, when President Barack Obama made the controversial decision to call off airstrikes against the Damascus regime.
The result — no immediate threat to Assad's rule — is exactly what the Russians wanted, so there would be no reason for them to withdraw their involvement, he said.
"From the Russian standpoint, Syria has gone quite well since last summer, so Crimea shouldn't really have an effect on their approach," Goldgeier said.
"The chemical weapons issue is something the Russians have emphasized in order to take pressure off the U.S. to act militarily. It shouldn't be misconstrued as a concession that's part of a broader strategy to end the conflict," he said.
Faysal Itani, a fellow with the Washington-based Atlantic Council's Rafik Hariri Center for the Middle East, said Russia's cooperation on the chemical weapons removal was no "concession that's part of a broader strategy to end the conflict." On the contrary, Itani said, the agreement is hinged on Russia's desire to keep Assad in power and the Obama administration's inability to craft a consistent response to the Syrian civil war.
"The Obama administration, because it doesn't have a solid, robust, strategic worldview, treats these issues in a crisis management sort of way," Itani said.
On Iran's nuclear program, analysts said, Russia's importance to negotiations has waned since the emergence of a tentative thaw in U.S.-Iranian relations. No longer did the United States need to rely on the Russians as interlocutors or as supporters of sanctions — the Americans had restored direct contact with the Iranians for the first time in decades.
A U.S. official on the call with reporters Monday said "Russia would only be further isolating itself" if it were to withdraw its cooperation from the so-called P5(plus)1 talks, an international effort to resolve concerns over Iran's nuclear ambitions that has the five permanent members of the U.N. Security Council, plus Germany, negotiating together.
"Russia has its own interests in avoiding an escalation of events in the Persian Gulf or nuclear proliferation," the official said.
Olga Oliker, a Russia specialist and senior international policy analyst at the Rand Corp., said it remains to be seen "whether they're willing to cut off their nose to spite their face to make things difficult for us in Syria and Iran."
Oliker and other analysts said the Obama administration has given Russian relations an exaggerated importance when, in reality, there's so little substance that the sanctions aren't likely to sway Putin. A stream of phone calls and high-level diplomatic talks with the Russians didn't work, analysts say, and these limited sanctions against Putin's cronies and aides aren't likely to, either.
"If Russia takes some sort of military action in eastern Ukraine, we'll add more people to the list?" Oliker asked rhetorically about the next U.S. step. "I don't think anybody expects this will lead Russia to leave Crimea, or will deter it from further action."
AFP Photo/Jewel Samad