Sanders And Clinton Battle For Kentucky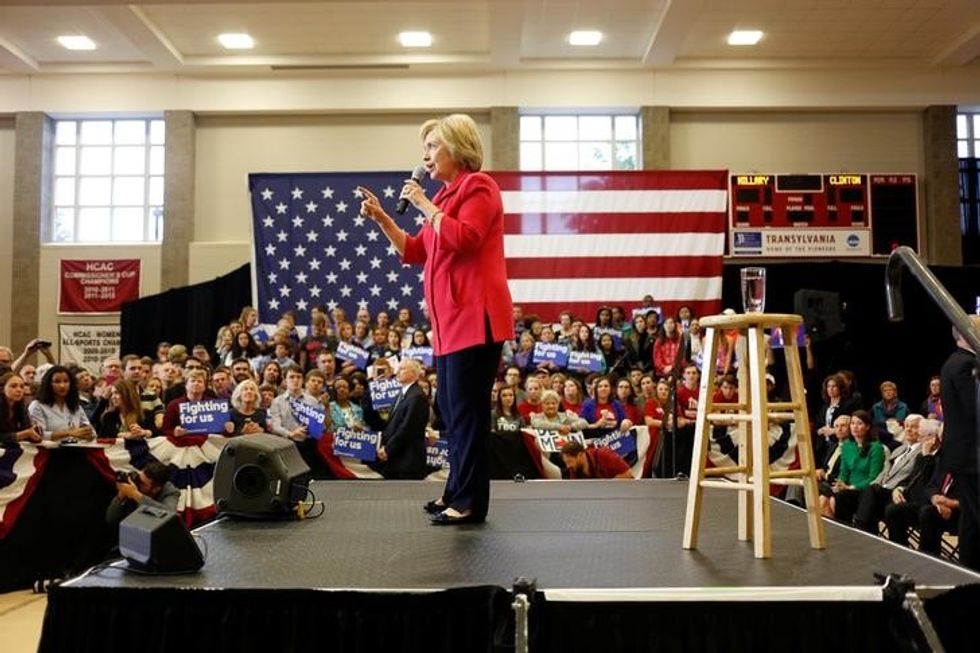 As the Democratic nomination continues to drag on, Bernie Sanders is looking to extend his winning streak in today's primaries in Kentucky and Oregon, following victories in West Virginia and Indiana. The continued strength of the Sanders campaign has made it increasingly difficult for Hillary Clinton to look towards the general election while her party's nomination continues to elude her.
Kentucky has been the focus of concerted campaigning efforts by both candidates. For Sanders, it would prove that despite his delegate deficit, his policies have found a wide audience across the country. For Clinton, it would help put down the ongoing insurrection taking place inside the party and allow her to focus on taking on Donald Trump in the general election.
During a campaign stop in Bowling Green, Kentucky, Sanders kept his message focused on socioeconomic justice and called out the state's governor, Matt Bevin, over his plans to cut $41 million from the state's education budget. "Now, I do not quite understand how in the year 2016, when we are living in a competitive global economy and when we need the best educated workforce in the world, I don't know why anyone is talking about education," he said to thunderous applause from the crowd.
"I want to help bring back the kind of economy that worked for everybody in the 1990s," said Clinton during a rally in Louisville, alluding to the substantially better job market that existed under Bill Clinton. "Let's put America to work. These are jobs you cannot export. They have got to be done right here in Kentucky."
According to a survey of voters by Public Policy Polling, Clinton will come out ahead in Kentucky, where she leads Sanders by five points, although nearly 1-in-4 voters said they are unsure of who they will vote for.
In the last Democratic primaries in 2008, Clinton defeated Barack Obama by a large margin in the state, taking 65 percent of the vote in nearly every county. Obama won only in Jefferson and Fayette counties, home to the state's two biggest cities, Louisville and Lexington. This time around, Clinton has found herself fighting the opposite battle, trying to win votes outside of the urban and more racially diverse parts of the state that Obama won eight years earlier. Sanders commands more support in rural Kentucky.
Nevertheless, Clinton has spent plenty of time in the state rallying Democrat voters to go out and vote on primary day. She has made 11 campaign stops over three different trips during the past two weeks, sent out campaign surrogates, and spent money on radio and TV ads in the state. The state's closed primary works to her advantage, given she has performed better in states in which only Democrats can vote, whereas Sanders has performed better in open primaries, where he often takes the majority of independent votes.
But it will still be an uphill battle for Clinton in eastern Kentucky, whose voters, predominantly working class whites, match those who have overwhelmingly supported Sanders during the primaries. While being one of the most outspoken critics of the effect of fossil fuel use on climate change, Sanders has avoided the hostility of coal miners that Clinton has had to grapple with since campaigning in West Virginia. Part of that good will could be attributed to his push for increased education and social programming meant to decrease what has become an increasingly urban-rural divide throughout the country, but especially in Appalachia.
Eastern Kentucky, in particular, is host to some of the worst socioeconomic indicators in the country. The New York Times devoted some coverage to the dire conditions facing the region's inhabitants back in 2014:
Clay County, in dead last, might as well be in a different country. The median household income there is barely above the poverty line, at $22,296, and is just over half the nationwide median. Only 7.4 percent of the population has a bachelor's degree or higher. The unemployment rate is 12.7 percent. The disability rate is nearly as high, at 11.7 percent. (Nationwide, that figure is 1.3 percent.) Life expectancy is six years shorter than average. Perhaps related, nearly half of Clay County is obese.

It's coal country, but perhaps in name only. In the first quarter of this year, just 54 people were employed in coal mining in Clay County, a precipitous drop from its coal-production peak in 1980. That year, about 2.5 million tons of coal were taken out of the ground in Clay; this year, the county has produced a fraction of that — just over 38,000 tons. Former mines have been reclaimed, and that land has been repurposed in scattershot ways: a golf course, shopping centers, a medium-security federal prison. But nothing has truly come to replace the industry on which Clay County once depended.
One expert cited by the piece, speaking a year before Sanders began running on a platform of increasing social spending, said education initiatives would be the best use of any future funding coming to poverty stricken communities like the former coal mining towns of eastern Kentucky.
That part of the state is in desperate need of state and federal funds. The decline of coal mining has shrunk the state's tax base from $298 million in 2011-2012 to $180 million in 2014. According to the Federal Reserve Bank of Cleveland, former mining communities suffer from "a host of social issues spanning generations," as well as poverty and a prescription drug epidemic that makes Kentucky home to the second highest number of drug fatalities in the country.
Tonight, Kentucky voters will make the choice between Sanders or Clinton, but given the myriad problems facing the state, neither path guarantees an easy return to prosperity.