Sanders Blusters After Court Restores Acosta's White House Pass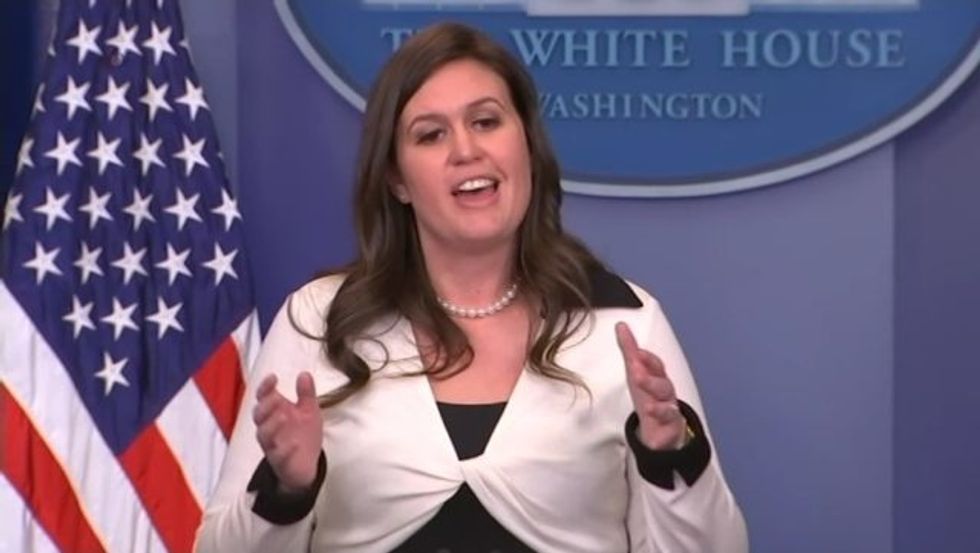 Reprinted with permission from AlterNet.
CNN thoroughly and fittingly embarrassed the White House Friday when a federal judge ruled that it must return reporter Jim Acosta's press pass after it was summarily taken away last week following a combative press conference with President Donald Trump.
Acosta had pressed Trump about his lies about Central American immigrants, prompting the president to become angry and to try to move on to another reporter. When Acosta refused to pass the microphone on, a White House intern tried to grab it out of his hands. The White House later revoked Acosta's press pass, and Press Secretary Sarah Sanders claimed he had "placed his hands" on the young woman, sharing distorted video in an attempt to bolster this claim. (Even this altered footage showed that the brief contact between the two occurred because of the intern's grab, not Acosta.)
After U.S. District Judge Timothy Kelly ruled Friday that the White House must return Acosta's press pass, Sanders issued the following petty, misleading and hypocritical statement:
Today, the court made clear that there is no absolute First Amendment right to access the White House. In response to the court, we will temporarily reinstate the reporter's hard pass. We will also further develop rules and processes to ensure fair and orderly press conferences in the future. There must be decorum in the White House.
Of course, no one can reasonably believe there is an "absolute First Amendment right to access the White House." Many people can be prohibited from entering the White House without their freedom of speech becoming infringed.
However, BuzzFeed reporter Paul McLeod noted: "The judge did rule no one has an absolute First Amendment right to have access to the White House. BUT he then said when the President invites in some reporters but excludes others the First Amendment comes into play."
The judge did not rule on the First Amendment question, though, because he found that Acosta's Fifth Amendment rights were likely violated as it appears he was given no due process. Sanders' attempt to claim vindication in court by citing a minor point the judge made about the First Amendment is petty and disingenuous at best.
Her claim about enforcing "decorum" in the White House is laughable. The president makes a mockery of this idea every day, lashing out at his critics with childish insults and cheering on violence against the press. The White House's blatant double standards for reporters and for the president himself are an enduring shame for the country.
Cody Fenwick is a reporter and editor. Follow him on Twitter @codytfenwick.