Sanders Defiant: 'Our Vision Will Be The Future Of America'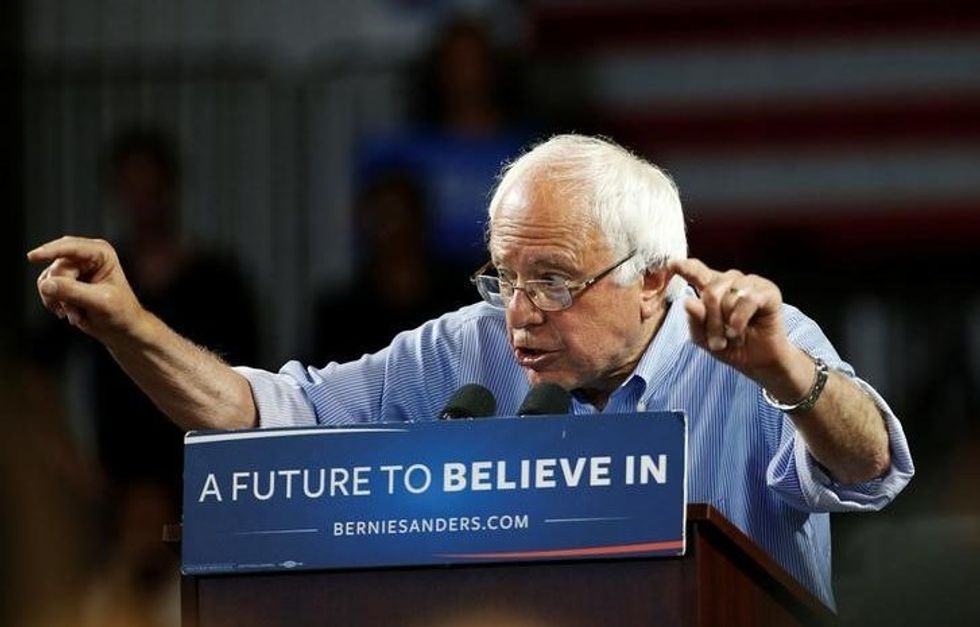 When Bernie Sanders took the stage at approaching 11 o'clock last night, to a crowd of roaring thousands in Santa Monica, California, he was defiant.
"I want to thank the people of California for their incredible hospitality," Sanders began. "It has been one of the most moving moments of my life to be out in this state in beautiful evenings and seeing thousands and thousands of people coming out, people who are prepared to stand up and fight for real change in this country."
When the Vermont senator announced that he would be campaigning in Washington, D.C. ahead of its primary next week, "to fight for every vote and every delegate we can get," the crowd erupted. Sanders stood back and smiled.
Still, he acknowledged his substantial loss to Hillary Clinton in California, and said he had called the presumptive nominee to congratulate her on her victories in California, New Jersey, and South Dakota.
A delicate dance will take place over the next two days, as Bernie Sanders comes under more pressure from the highest levels of the party.
Sanders will spend Wednesday in his home state of Vermont. He plans to hold a rally in Washington, D.C. Thursday. "With the DC primary coming up on June 14, we need everyone to join the political revolution," read an email sent out by his campaign late Tuesday.
President Obama will meet with Sanders on Thursday. Sanders, according to White House press secretary Josh Earnest, asked for the meeting. "The President thanked Senator Sanders for energizing millions of Americans with his commitment to issues like fighting economic inequality and special interests' influence on our politics," Earnest said.
The two will discuss "how to build on the extraordinary work he has done to engage millions of Democratic voters, and to build on that enthusiasm in the weeks and months ahead."
Obama also spoke to Clinton, and congratulated her on "securing the delegates necessary to clinch the Democratic Nomination for President." The president, according to multiple reports, is eager to enter the fray, and it appears he wants to do it sooner rather than later.
Clinton last night did not urge Sanders to step aside, and will not do so today. She was effusive in her praise for the candidate.
Sanders wants to force his agenda, one that has energized more than 10 million voters and a vast army of small donors, front and center at the Democratic National Convention.
He is reported to be poised to lay off a large chunk of his campaign staff. The speech was gracefully elusive in this regard: pledges to continue until the convention were couched in broader rhetoric about sustaining policy goals and playing a part in the future of American politics.
Now, it's up to Sanders, and his supporters, many of them distrustful of and hostile to Hillary Clinton, to ensure that their "revolution" will not end with his candidacy, lest the relatively radical platform espoused by a most unlikely candidate be buried under the weight of an anti-Trump campaign.
Photo: Democratic U.S. presidential candidate Bernie Sanders speaks during a campaign rally in Santa Cruz, California May 31, 2016.  REUTERS/Stephen Lam