Bernie Sanders Exposes Glaring Falsehoods In Trump's 'Unifying' Address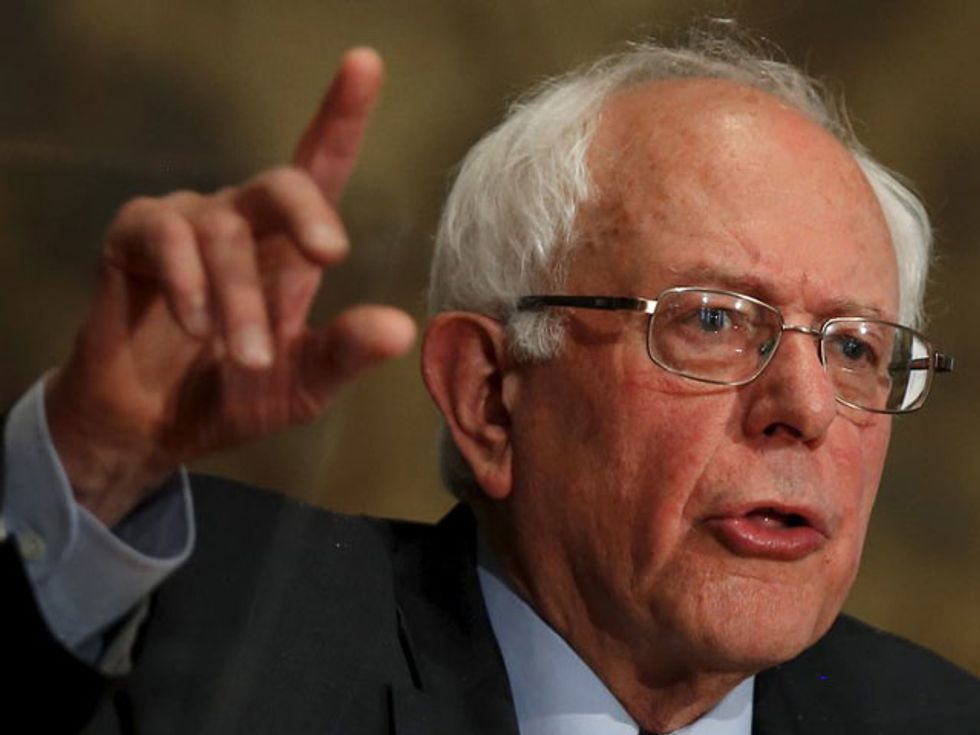 Reprinted with permission fromAlterNet.
Former Kentucky Governor Steve Beshear issued a formal Democratic response to Trump's address to Congress Tuesday. But the most blistering reply may have belonged to Vermont Senator Bernie Sanders (D-VT), who took to Facebook shortly thereafter. "I wanted to say a few words about what [Trump] didn't say, because when you analyze the speech sometimes what is more important is what somebody does not say as opposed to what they actually say," he began.
Below are 12 glaring omissions, contradictions, and lies Sanders spotted in Trump's address:
1. Social Security and Medicare
"At at a time when all over half of older Americans have no retirement savings, I did not hear President Trump say one word not one word about Social Security or Medicare," Sanders pointed out.
"During the campaign, as we all remember, President Trump promised over and over and over again that he would not cut Social Security, Medicare, or Medicaid," he explained. "But in his first address [to Congress], he didn't even mention Social Security or Medicare once, not a single time."
While Treasury Secretary Steven Mnuchin insisted the programs would not be touched in an interview this past weekend, President Trump's budget director, Mick Mulvaney, has defended such cuts.
"I urge President Trump, keep your promises tell the American people tweet to the American people that you will not cut Social Security Medicare and Medicaid," Sanders said.
2. Income and Wealth Inequality
Trump's speech to Congress briefly touched on poverty in America. However, Sanders "did not hear President Trump mention the words 'income and wealth inequality' or the fact that we now have the widest gap between the very rich and everyone else since the 1920's."
3. Campaign Finance
"I did not hear President Trump mention the fact that as a result of the disastrous Citizens United Supreme Court decision, a five-to-four decision. We now have a corrupt campaign finance system that is allowing billionaires to buy elections and undermine American democracy," Sanders was eager to point out.
To the first-time politician who has repeatedly boasted about funding his own campaign, Sanders asked, "How could you give a speech to the nation and not talk about that enormously important issue?"
4. Voter Suppression
In his speech, President Trump used the phrase "guided by the well-being of American citizens."
"[But] not only did President Trump not mention the issue of voter suppression, what Republican governors are doing all over this country to make it harder for people to participate in our democracy, but the truth of the matter is his administration is now working, working overtime, with Republican governors to make it harder for young people, low-income people, senior citizens, and people of color to vote," Sanders explained. "That is an outrage."
5. Climate Change
"Perhaps most astoundingly, and a time when the scientific community is virtually unanimous in telling us that climate change is real, that it is caused by human activity, that it is already causing devastating problems in our country and all over the world, I did not hear President Trump say one word, not one word, about the need to combat climate change, the greatest environmental threat facing our planet," Sanders hammered.
Not only did Trump not mention climate change, "he pledged to increase our dependency on fossil fuels," Sanders added.
6. Criminal Justice
"At a time when we have more people in jail than any other country on Earth, disproportionately African-American, Latino, Native American, I did not hear President Trump say one word about how he was going to fix a broken criminal justice system," Sanders pointed out.
"Yes, we must support the hard work of men and women in the police departments, in the sheriff's departments all over this country, but we must also end the disgrace of having more people in jail than any other country on Earth," he added.
7. Higher Education
"At a time when we need the best-educated workforce in the world to compete in a highly competitive global economy, I did not hear President Trump say one word, not one word, about the need to lower the cost of college and to do what countries all over the world are doing, and that is to make public colleges and universities tuition free," Sanders said.
8. "Drain the Swamp"
"During his campaign, President Trump told us that he was going to take on Wall Street and 'drain the swamp'," Sanders reminded viewers. "Well, the swamp, big time, is now in his administration, which has more millionaires and billionaires than any presidential administration in history."
"Amazingly enough, for somebody who was going to 'drain the swap', who's going to take on Wall Street, his chief economic advisor, Gary Cohn, is the former president of Goldman Sachs, one of the major financial institutions that take billions of dollars in fines for their illegal activity," Sanders added.
9. Glass-Steagall Act
"I did not hear President Trump say one word about another campaign promise that he made to the American people, and that was to reinstate the Glass-Steagall Act,"
In his speech, President Trump proposed a $1 trillion investment in American infrastructure, "but the specifics of the financing plan that he has provided us with so far are absolutely wrong," Sanders concluded. "We cannot rebuild our infrastructure by providing billions of dollars in tax breaks to Wall Street and large corporations."
10. Clean Water Rules
"Donald Trump said tonight that we need to 'promote clean air and clean water'… I had a difficult time not laughing out loud when he said that," Sanders admitted, since "On this very, very day, he signed an executive order rolling back President Obama's clean water rules and has appointed the most anti-environmental EPA administrator in our nation's history."
11. Military Spending
"President Trump said [Tuesday night] that he wants to substantially increase funding for the Pentagon," Sanders recalled. "What he didn't say tonight is that he will come up with that $84 billion dollars in increased funding for the Pentagon by slashing programs that benefit the working people of this country, that benefit the elderly, that benefit the children, the sick and the poor."
12. Prescription Drug Costs
"As he did during his campaign, Donald Trump claimed that he would bring down the cost of prescription drugs," Sanders told viewers. "A few weeks ago, he even said that the pharmaceutical industry was 'getting away with murder', but if Donald Trump really wanted to take on the pharmaceutical industry, he would have told his Republican friends in the House and the Senate to pass legislation, which I [re]introduced today with 20 senators allowing Americans to import safe low-cost medicine from Canada."
Alexandra Rosenmann is an AlterNet associate editor. Follow her @alexpreditor.
IMAGE: U.S. Democratic presidential candidate Bernie Sanders delivers a speech on "Democratic Socialism in America," to students at Georgetown University's Gaston Hall in Washington. November 19, 2015. REUTERS/Carlos Barria