Sanders Launches Wild Rant Against Comey On Official Twitter Feed
@FAWFULFAN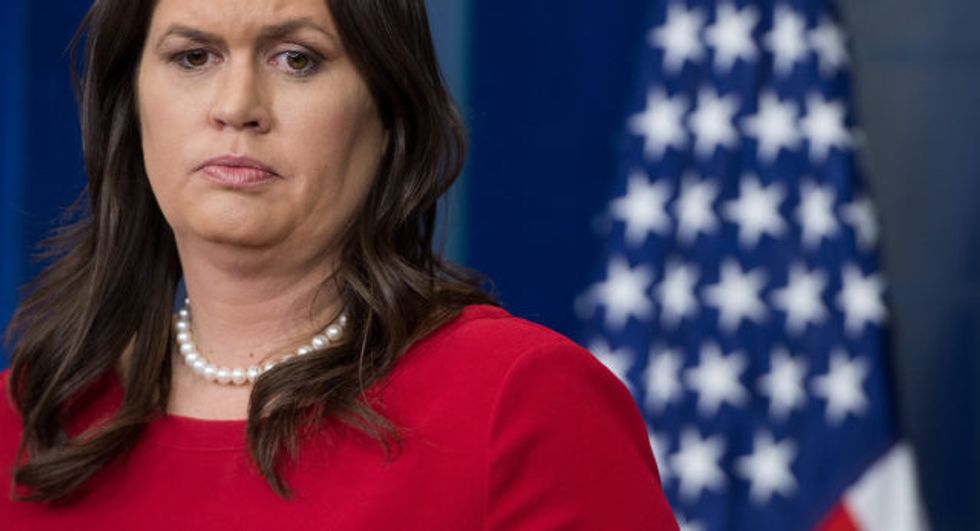 Reprinted with permission from AlterNet.
On Monday, former FBI director James Comey finally lost his patience with House Republicans, who had hauled him in for closed-door testimony in a partisan stunt last week. "So another day of Hillary Clinton emails and the Steele Dossier," Comey complained to reporters. "This while the President of the United States is lying about the FBI, attacking the FBI and attacking the rule of law in this country. How does that make any sense at all?"
This comment evidently did not sit well with White House Press Secretary Sarah Huckabee Sanders, who took to Twitter to attack Comey with a Gish Gallop of nonsense:
Republicans should stand up to Comey and his tremendous corruption – from the fake Hillary Clinton investigation, to lying and leaking, to FISA abuse, and a list too long to name. The President did the country a service by firing him and exposing him for the shameless fraud he is

— Sarah Sanders (@PressSec) December 18, 2018
There are a lot of things to unpack there, from the fact that Comey's "fake Hillary Clinton investigation" is probably the reason Sanders has a job at the White House, to the fact that there is no evidence Comey ever leaked classified information, to the fact that the idea Comey's investigators abused the FISA process to go after the Trump campaign has been repeatedly debunked. This is an absolutely insane thing to tweet from an official government account.
President Donald Trump fired Comey in May 2017. Reportedly, he demanding "loyalty" from him prior to doing so, and subsequently boasted to Russian ambassador Sergey Kislyak that firing that "nut job" took "pressure" off him regarding his ties to Russia. These actions, far from exposing Comey as a "fraud," raised questions about whether the president was committing obstruction of justice, and prompted the appointment of special counsel Robert Mueller to take over the Russia investigation.
But far from realizing the legal risks of going after the former FBI director, Trump has gone scorched earth. He has called Comey an "untruthful slime ball," said that "Leakin' James Comey" must have "set a record" for lying, and even asked his Justice Department to appoint a second special counsel to prosecute Comey.
It is not surprising that Sanders would follow the lead of her boss. But Trump and his whole administration could live to regret letting Comey live rent-free inside their heads.
Matthew Chapman is a video game designer, science fiction author, and political reporter from Austin, TX. Follow him on Twitter @fawfulfan.
 Featured image source.