Bernie Sanders Unveils Plan To Turn Red States Blue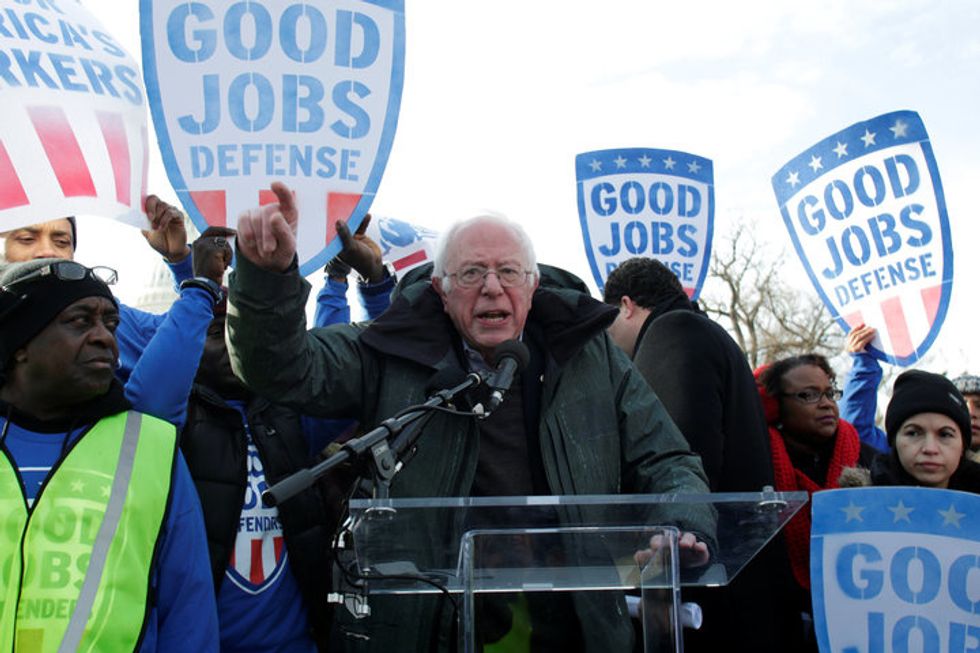 Reprinted with permission fromAlterNet.
Sen. Bernie Sanders, who won the Kansas Democratic caucuses one year ago this week, revisited the state last month for a much-anticipated progressive gathering.
"Our vision… it is the future of America," Sanders said in his keynote speech at the Kansas Democratic Party's annual convention in Topeka.
Trump carried 30 states in the presidential election. Kansas is just one that Sanders believes Democrats can win back; Michigan, which Trump won by .02 percent, is another.
"The truth is, and I think anyone who objectively assesses the situation has to appreciate, that the model the Democrats have followed for the last 10 to 20 years has been an ultimate failure," Sanders told the Huffington Post from his Senate office in Washington.
"That's just the objective evidence. We are taking on a right-wing extremist party whose agenda is opposed time after time and on issue after issue by the vast majority of the American people," he explained. "Yet we have lost the White House, the U.S. House, the U.S. Senate, almost two-thirds of the governors' chairs and close to 900 legislative seats across this country. How can anyone not conclude that the Democratic agenda and approach has been a failure?"
Last Saturday, Sanders and former Ohio state senator Nina Turner rallied hundreds of Nissan factory workers for a March on Mississippi. On Monday, he'll travel to McDowell County, West Virginia, one of the poorest counties in America, to speak at Mount View High School in Welch.
Rust Belt areas like this, Sanders argues, have suffereed "an enormous amount of neglect."
"At the end of the day, being in the minority here in the Senate, the minority in the House, having a right-wing Republican president, the only way we are going to win this—and I think we can win this―is when millions of people stand up, especially in states that Trump carried, and say: Excuse me, we did not elect you to be president to throw us off of health care; we did not elect you to cut back on the child care we desperately need," he said.
Watch:
Alexandra Rosenmann is an AlterNet associate editor. Follow her @alexpreditor.
IMAGE: Senator Bernie Sanders (I-VT) speaks at a federal contract workers rally to celebrate Andrew Puzder's decision to withdraw from consideration to be secretary of labor, on Capitol Hill in Washington, U.S., February 16, 2017. REUTERS/Yuri Gripas