Sanders 'Punishes' CNN Because Reporter Asked Question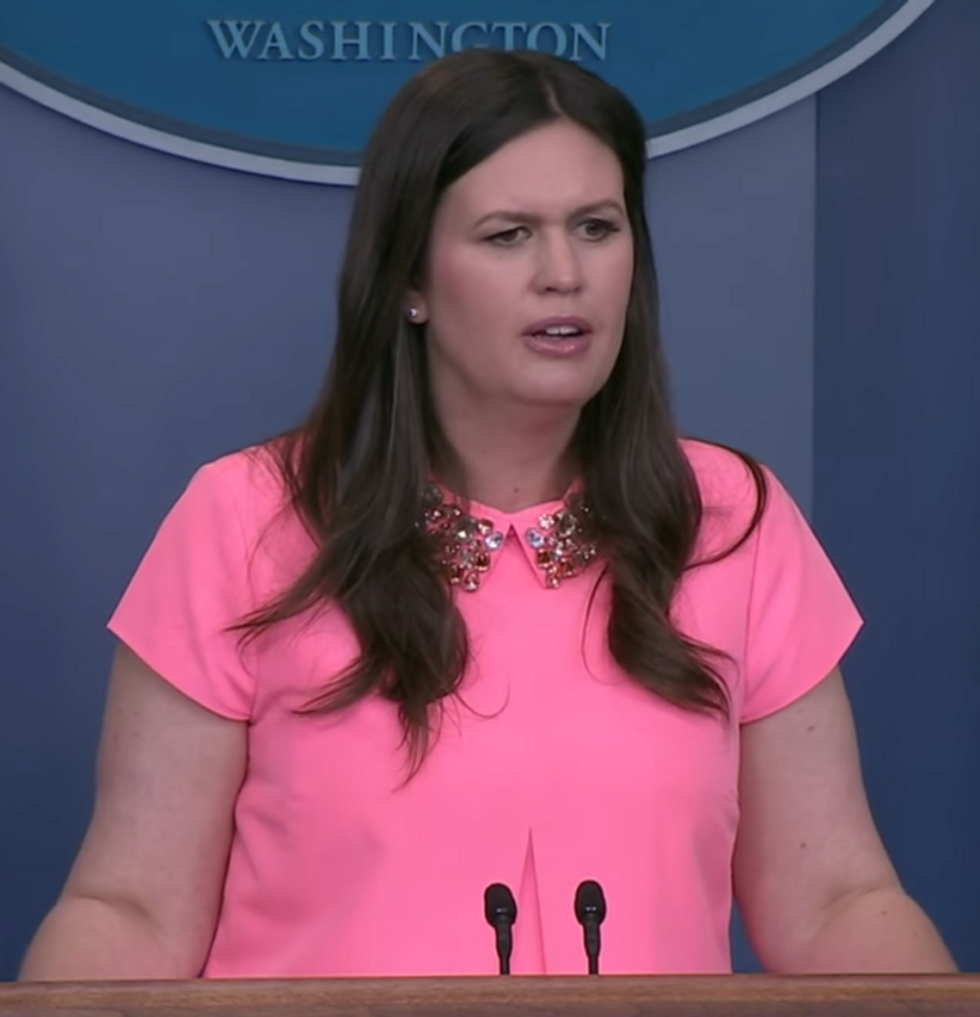 Reprinted with permission from Shareblue.
Sarah Huckabee Sanders ramped up the Trump administration's war on the free press this weekend by declaring that it was "bad behavior" for a reporter to ask questions at a press conference and that the reporter's employer would be punished as a result.
On Sunday morning's edition of CNN's "State of the Union," host Jake Tapper announced that the White House had canceled National Security Advisor John Bolton's interview because of what Sanders called "bad behavior" from Jim Acosta, CNN's chief White House correspondent.
Sanders tweeted Saturday that Acosta had "disrespected" Trump and British Prime Minister Theresa May with "bad behavior" during their joint press conference on Friday — by simply asking a question.
Actually a @CNN reporter disrespected @POTUS & PM May during their press conf. Instead of rewarding bad behavior, we decided to reprioritize the TV appearances for administration officials. https://t.co/58LaJH6WaD

— Sarah Sanders (@PressSec) July 14, 2018
Tapper then played a clip of the alleged "bad behavior," which in reality was nothing more than basic, responsible journalism.
As Tapper noted, Acosta waited nine full minutes after Trump attacked CNN as "dishonest" before reacting by trying to ask a question.
"Mr. President, since you attacked CNN, can I ask you a question?" Acosta said. "If you continue to attack us, we should be able to ask a question."
"I don't take questions from CNN, CNN is fake news. I don't take questions from CNN," Trump answered. "John Roberts of Fox. Let's go to a real network."
"Well, we're a real network, too, sir," Acosta replied.
This incident recalls another in which Trump's campaign manager demanded that Acosta be disciplined for the "offense" of asking questions during a White House event.
Trump has threatened to take away journalists' credentials for reporting unfavorably on him. Both he and Sanders demanded the firing of journalist Jemele Hill for exercising free speech.
Sanders' explicit attempt to control the free press by punishing a reporter for asking questions is a chilling violation of democratic freedoms and American values.
Published with permission of The American Independent.