Sanders' Our Revolution To Be Run By Nina Turner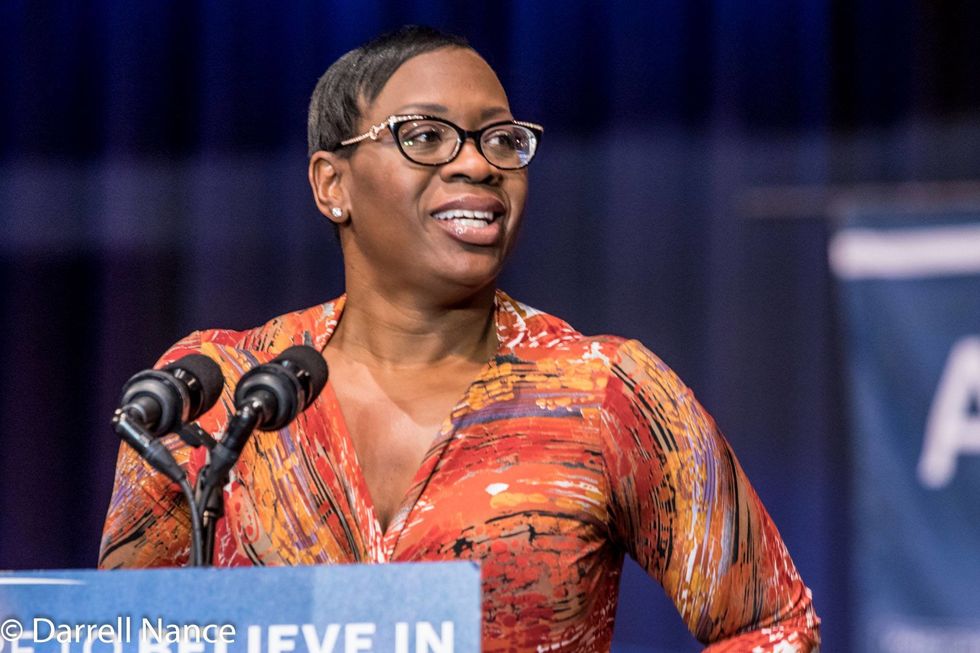 Reprinted with permission from Alternet.
Nina Turner, the former Ohio state senator who became one of 2016's most outspoken and passionate progressives, has been named president of Our Revolution, the national organization that grew out of Bernie Sanders' presidential campaign.
"We are continuing to feel the Bern," Turner said in a video released with Thursday's announcement. "And we are doing this, not just for ourselves, but for generations yet unborn. It was President Nelson Mandela who once said, 'It always seems impossible until it is done.' I want you to take those words as the foundation point for all the great things we will do together."
Turner's selection by Our Revolution's board of directors comes at a critical moment for progressives and the Democrats nationwide. While Democrats are doing much better than expected in special elections for House seats to replace congressmen serving in Trump's cabinet, they have not yet taken back any recently red seats. That frustration has led to a debate in the party about whether a progressive or a centrist message is most effective. That philosophical question is what divided Hillary Clinton supporters from Sanders' supporters during the 2016 campaign. It is a gap that still remains and looms large.
Turner, who has been elected as Democrat, came to progressive's attention after leaving Clinton's campaign and joining with Sanders in 2015. She became a heroine to his base for her unyielding criticism of the Democratic National Committee's fealty to corporate sponsors and to Clinton's campaign.
Turner was scheduled to speak at the 2016 national convention, but the party leadership censored her. That decision came days after Debbie Wasserman Schultz was forced to resign as DNC chairwoman because Wikileaks published emails showing her top aides plotting against Sanders. Sanders delegates took her censure as another sign that there was no place for them inside a Clinton-dominated Democratic Party.
After the convention, Sanders urged his supporters to vote for Clinton, saying a Trump presidency would be disastrous for the country and a progressive agenda. The DNC also agreed to form a unity commission to revisit anti-democratic features of their presidential nominating contest, including its super-delegate system. Our Revolution's first president, Sanders' campaign manager Jeff Weaver, sits on the commission, which is now meeting.
Sanders, meanwhile, has assumed a greater role as a national spokesman for the party, while pushing a social and economic justice agenda and supporting grassroots organizing and candidates. Just last weekend, he traveled to Midwestern states where the Republican senators were reluctant to support Senate Majority Leader Mitch McConnell's healthcare bill repealing Obamacare and gutting Medicaid.
For her part, Turner has become a regular at progressive gathering, where she has urged grassroots activists to keep fighting and kept up her criticism of the party's leadership for throwing its weight behind candidates like Jon Ossoff—who lost the recent House race in Georgia's 6th district and campaigned more as a centrist than progressive.
"Please don't give up after this election," she said last year. "From my tradition, the scripture says the race is not yet given to the strong or the swift, but to the one who endures."
This article was made possible by the readers and supporters of AlterNet.