Santa Barbara County Oil Cleanup Continues; Pipeline May Be Dug Up Soon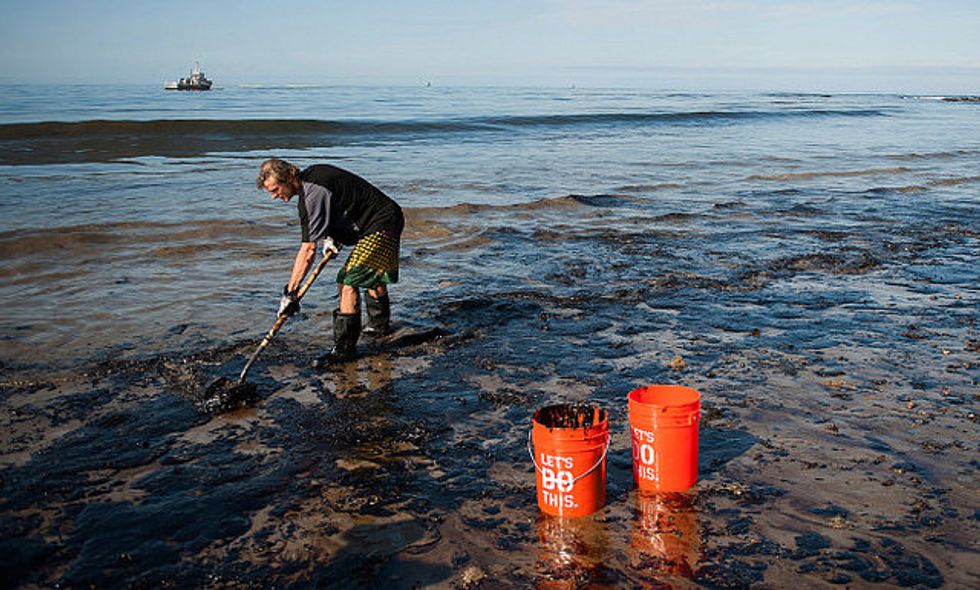 By Javier Panzar, Emily Alpert Reyes, and Joe Mozingo, Los Angeles Times (TNS)
REFUGIO STATE BEACH, Calif.– A section of oil pipeline that ruptured and spilled thousands of gallons of crude along the Santa Barbara County coast could be dug up by the end of the holiday weekend, authorities said, giving them the first opportunity to determine what caused the break.
More than 650 workers and 17 boats worked Saturday to clean up the black sheen, so far collecting 9,492 gallons of oily water mixture and 1,250 cubic yards of oily soil.
The rupture occurred on the inland side of U.S. 101 on Tuesday, spilling up to 105,000 gallons onto the coastal bluffs. An estimated 21,000 gallons ran down a culvert under the freeway and into the ocean at Refugio State Beach.
Cleaning crews must remove all the oil in the pipeline before they can pull it out to see whether corrosion, pressure or a series of failures led to the spill. They removed 15,540 gallons on Saturday, said Rick McMichael, director of pipeline operations for Plains All American Pipeline. He said that a "significant amount" was left and that cleanup crews were adding a second "tap" to speed up the process.
The federal Pipeline and Hazardous Materials Safety Administration has ordered the pipeline operator to ship the ruptured pipe for metallurgical testing that will establish the condition of the pipe when it failed.
Federal records show Plains has accumulated 175 safety and maintenance infractions since 2006. The U.S. Environmental Protection Agency sued the company in 2010 over a series of 10 oil spills in Texas, Louisiana, Oklahoma and Kansas.
The oil from this rupture has spread to seven miles of coast, from Arroyo Hondo Creek to the west to El Capitan State Park on the east. Oil-stained birds and marine mammals were starting to show up farther away, as far south as Ventura and as far north as Point Conception.
A sea lion rescued from the spill area died overnight after being taken to Sea World for rehabilitation. An elephant seal and another sea lion recovered from the area are still alive. Five birds and two marine mammals have been found dead, and 10 live birds are being cleaned at a facility near Los Angeles, said Dr. Michael Ziccardi with the Oiled Wildlife care network.
At a news conference in Santa Barbara, company officials defended their operations, saying the pipeline met industry standards.
"Safety is a core value," said Patrick Hodgins, senior director of safety and security for Plains. "And we do not put dollars in front of safety."
Dozens of protesters nearby chanted, "End oil now!"
"Our most immediate demand is that dispersants be taken off the table as an option," said Rebecca Claassen, an organizer with the activist group Food and Water Watch. Chemical dispersants help oil break into small droplets that disperse throughout the water column, keeping some of it from washing ashore in big slicks. But environmentalists have raised concerns about the health effects of the dispersants and the effects on aquatic life.
U.S. Coast Guard officials said no chemical dispersants have been used in the cleanup, although they have not ruled out using them in the future.
State parks officials said Refugio and El Capitan state parks would remain closed through June 4.
With national news crews staking out the area, campers and beachgoers seemed to be scared away from other parts of one of California's most tranquil stretches of coast.
At Gaviota State Park, a few miles west of the oil plume, attendance was way down. Niel and Jamie Dommeyer came down with their three children to camp, expecting the usual hundred or so people on the beach. Saturday there were not even a few dozen.
"We've had the beach all to ourselves the last couple of days," Niel said. "It has been real quiet."
On Coal Oil Point, 12 miles southwest of the spill, volunteers tallied up the number of whales and calves that passed. Whenever they spied one with their binoculars from the vista point, they called the officials at the National Oceanic and Atmospheric Administration to warn them.
"They'll try to steer the whales away from the oil," said Michael Smith, project coordinator of Gray Whales Count.
He said the group was doing its 11th annual survey and had seen an impressive surge in the number of whales spotted — more than 1,400 so far.
Smith, a research biologist, was worried about the bottlenose dolphins seen frolicking below, along with harbor seals and sea lions.
"It's all going to be impacted by it — and in many cases tragically," he said.
(c)2015 Los Angeles Times. Distributed by Tribune Content Agency, LLC.
Photo: General Physics Laboratory via Flickr