Santorum Joins A Growing GOP White House Race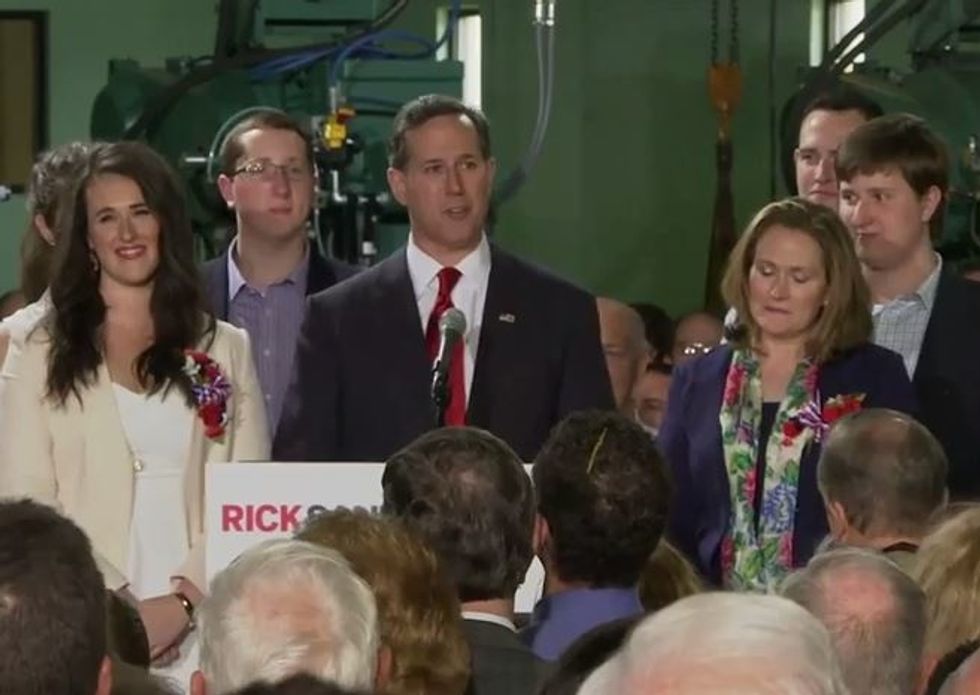 By David Lightman, McClatchy Washington Bureau (TNS)
WASHINGTON — Rick Santorum, touting himself as the candidate of the blue-collar, family-oriented Republican, launched another presidential bid Wednesday, but this time he's got a lot more than Mitt Romney to overcome.
Speaking to supporters in Cabot, Pennsylvania, near the town where he grew up, Santorum portrayed himself as a champion of working-class people.
"Working families don't need another president tied to big government or big money," the former U.S. senator said, "and today is the day we're going to begin to fight back."
He faces a rough political road, though.
"Santorum over-performed in 2012, but he did it against a much weaker field and, let's face it: He did not get particularly close to winning the nomination," said Kyle Kondik, managing editor of Sabato's Crystal Ball at the University of Virginia.
Still, don't count the former senator from Pennsylvania out, said David Bossie, president of Citizens United, a conservative advocacy group.
"He has a difficult path, but he has a lot of residual good will in Iowa," Bossie said.
Santorum spoke Wednesday near his boyhood home of Butler, Pennsylvania, 35 miles north of Pittsburgh. He cited his grandfather, who came to the United States from Italy, escaping the fascist government.
Santorum held up a lump of coal, symbolic of his immigrant grandfather, who labored in the mines. "This is where my American story started," he said.
The newly announced candidate pushed a family-friendly agenda — he and his wife, Karen, have had eight children — and made a pitch for the blue-collar vote. He often urges reinvigorating America's manufacturing base, for so long the economic lifeblood of the heavy industrial region where he grew up.
"Their priorities are profits and power," he said of the powerful. "My priority is you, the American worker."
Santorum urged adoption of a flat tax and an education system "customized to maximize" a student's potential. He urged driving a stake through the heart of Common Core, a set of educational standards often opposed by conservatives.
He didn't specifically criticize his own party, but he has in the past. "Do Republicans really care less about the person at the bottom of the ladder than Democrats do? To be painfully honest, I would have to say in some ways 'yes,'" he wrote last year in his book, "Blue Collar Conservatives: Recommitting to an American That Works."
"There are some in my party who have taken the ideal of individualism to such an extreme that they have forgotten the obligation to look out for our fellow man," he wrote.
Santorum on Wednesday reiterated his unabashedly conservative views on social issues, noting that he believes every life matters.
Santorum emerged in 2012 as the favorite of hardcore conservatives. He won the first-in-the-nation caucus in Iowa that year, but not until it was too late. Romney, the eventual Republican nominee, was declared the winner by eight votes after the caucuses ended, but when official results were announced 16 days later, Santorum had won by 34 votes.
It was too late to gain any momentum, and Santorum had other troubles. He couldn't match Romney's money and organization, and he was seen by centrists as too far right to win against Barack Obama.
"I know what it's like to be the underdog," he told his supporters Wednesday.
(c)2015 McClatchy Washington Bureau, Distributed by Tribune Content Agency, LLC.
Screenshot: Washington Post/YouTube