Sarah Jessica Parker Launches Shoe Line At Nordstrom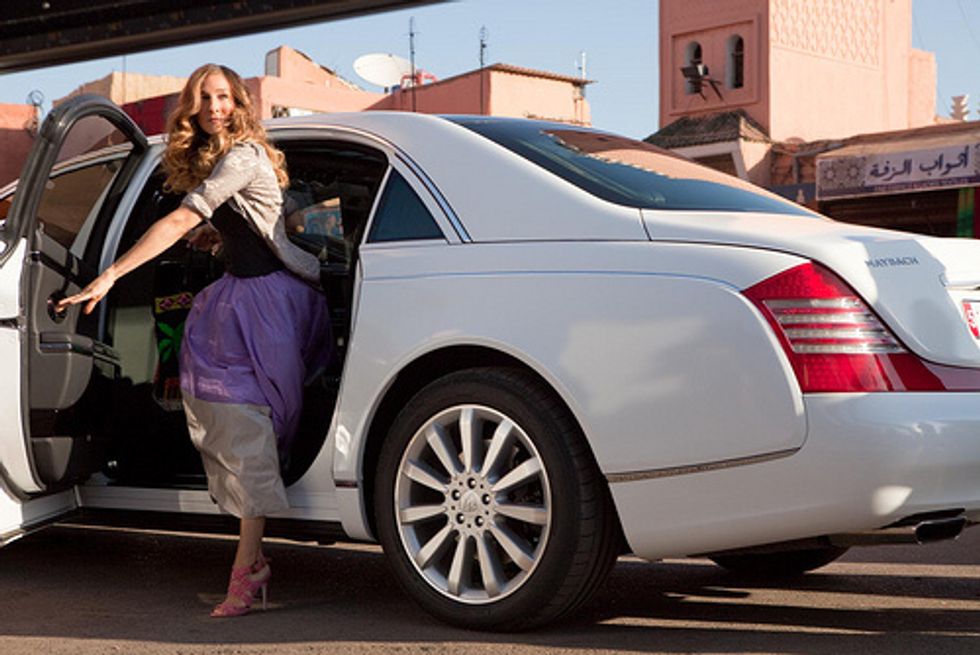 By Nicole Brodeur, The Seattle Times
SEATTLE — She's tiny. Can barely finish a plate of berries.
She's left-handed. Says things like "No. Way." And to every person who approached her at the downtown Nordstrom shoe department last week, she extended a hand.
"I'm Sarah Jessica," she said. "Very nice to meet you."
Sex and the City went off the air 10 years ago, but it doesn't matter to fans of the show and its star, Sarah Jessica Parker. They still watch it in syndication and have flocked to two big-screen films.
And they lined up for hours March 5 to spend an average $300 on a pair of shoes designed by Parker and Manolo Blahnik CEO George Malkemus III.
"It was all about the single sole, and no platform, no heavy shoe," said Malkemus, who is accompanying Parker on a tour of Nordstrom stores, the only retailer to carry the SJP Collection.
Parker has been approached by many designers about a shoe line over the years, but she always dreamed of working with Malkemus. Friends urged her to call him one afternoon last year.
"This is crazy," she began their conversation.
"Be here tomorrow morning at 9 a.m.," he told her.
"She was my dream," Malkemus said of Parker's request that he collaborate. "It was a perfect dream."
After a year, the line was finished: 25 styles, all made in Italy, which start at $195 for the Billie suede flat and go to $485 for the Alison bootie. The line includes three handbags that cost from $245 to $375 and a "Manhattan" grosgrain-trim skirted trenchcoat in blue or beige, which costs $495.
Each shoe has a grosgrain ribbon up the back, a remembrance of the ribbons Parker used to wear in her hair — and iron — as a child.
Parker named all the shoes for fashion icons, family members and friends.
Perhaps the most iconic is a T-strap heel called "Carrie," which comes in black, but also purple and green — choices Parker has called "subversive."
"We always thought that it was always going to be the shoe I loved the most," Parker said in an interview at the store on Wednesday.
And is it?
"I don't know if that's the truth. I can't compare them to my children (James Wilkie, 11; and twins Marion and Tabitha, 4). They would wring my neck if I compared the shoes to my children. It's that feminine, ladylike thing, but there's something kind of naughty and irrepressible and inappropriate," she said of the shoe.
As for the legacy of the character it's named for, and Sex and the City?
"I don't know what the legacy is. I think I am ill-equipped to answer that. That is one of the questions that I feel other people should answer."
About 500 of them were waiting for Parker downstairs in the first-floor shoe department, where Parker passed through a forest of raised arms holding cellphones and sat down to sign shoes, boxes and tags.
Adina Sneed, a flight attendant from Arizona, was the first in line to meet Parker. She was outside the store at 6 Wednesday morning.
"They said, 'Get here early,'" she said.
Sneed was a fan from when Parker was in the television show "Square Pegs," and has followed her career from television to fashion to perfume and now shoes.
Sneed bought two pairs, which Parker signed and then stood to shake her hand.
"We love her," Sneed explained. "I just feel like she is such a humble person."
Photo: Automotive Rhythms via Flickr