Sarah Palin Is Back To Doing What She Does Best — Scaring White People And Selling Books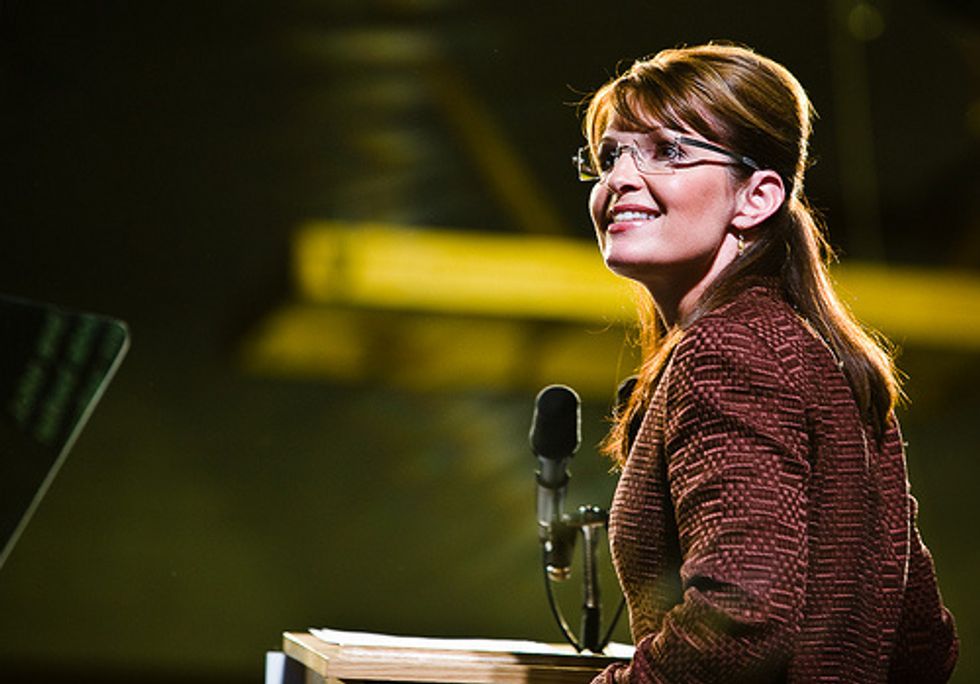 Every mention of the woman who quit being governor of Alaska after a brief stint as the Republican nominee for vice president made her an international star, prompts a justifiable response: UM, WHO?
There's no doubt that if the state of American politics were not even worse than it looks, Sarah Palin would be irrelevant.
"For years, I couldn't tell Sarah Palin and Tina Fey apart," conservative writer Michael Potemra wrote in a joke that sums up how even many on the right feel about the Tea Party hero. "I finally discovered a surefire way to do it: One of them sounds like a viciously unfair left-wing caricature of conservatives. The other was the star of 30 Rock."
But the government shutdown made it clear that Palinism is alive and well, if not the dominant philosophy in the Republican Party.
Republicans want to fight for "something," even if they can't say what it is.
Everyone but Palin's fans knows the Fox News contributor will never run for public office again. That would require her to actually work.
Becoming a member of the U.S. Senate minority — the current favorite path of more successful Tea Party heroes, e.g. those who don't have the last name "the Plumber" — is as close as an elected official can get to receiving a check for nothing. But even that would require constant fundraising that wouldn't directly fill Mrs. Palin's pockets.
The former governor has a perfect chance to help her party by running for the Senate in Alaska, in a race that could decide who controls the upper house of Congress. But if she lost, she would prove her irrelevancy in a way that continually threatening to run for president never quite will.
Instead she focuses on being a real-life Macy's Thanksgiving Day float filled with the angst and anger that drives the Republican base.
Her new book Good Tidings and Great Joy: Protecting the Heart of Christmas speaks to the "culture rot" that white evangelicals fear that's exacerbated by the "unmitigated evil" of "big government, regulations, and dependency" that riles Tea Partiers.
There's no doubt that the middle class is suffering from wage stagnation and a creeping lack of security, the direct result of the success of conservative policies. And the instability that feeds super-sized amounts of resentment.
"They eat better than I do," one evangelical man told Democracy Corps in a recent focus group.
"They" are people on welfare and food stamps. Wink. Wink.
Palin's book imagines an America where the most popular and beloved holiday is under attack by a craven, godless left that won't be happy until nativity scenes are considered hate speech. She's activating the meme that somehow requiring public institutions like schools and local governments to be inclusive limits Christians' ability to get their yuletide on.

Sure, Jesus suffered on the cross but I had to endure being wished "Happy Holidays!" a half-dozen times today. Second Amendment solutions may be required.
Now that Senator Rand Paul (R-KY) has decided to pander to fundamentalists by fixating on the "Worldwide War on Christians," the "War on Christmas" almost seems quaint. Palin's embrace of the Fox News' War on the War on Christmas is still good marketing and synergy. She can join Fox's Bill O'Reilly, veteran of 12 Wars on Christmas, to rant against the latest injustice done to America's dominant religious class as the two weave in between their dueling book plugs.
But Palin's pitch tends to be higher than even her colleagues at Fox, as she proved during an appearance to promote her new book in Iowa on Saturday night.
"Our free stuff today is being paid for by taking money from our children and borrowing from China," she said at the Iowa Faith & Freedom Coalition's fall fundraiser. "When that money comes due – and this isn't racist, but it'll be like slavery when that note is due. We are going to beholden to the foreign master."
LOL.
A misunderstanding of the horrors of slavery has become a regular theme in the far-right discourse. One participant in a conservative conference last year praised slavery for providing "food and shelter." And the flag of the rebels who waged war to keep their "peculiar institution" showed up at a Tea Party rally over the shutdown.
It's a disconnection from America's birth defect of slavery and the segregation that lasted for a century after abolition was achieved that allows Republicans to seek methods of voter suppression that harken to a pre-civil rights movement America. And it's the feeling that white Christians are the real victims, articulated so well by Palin, that is driving those who don't identify with that paranoia out of the Republican Party.
This tactic of "purifying" the party works well and will continue to work well in bright-red states. But in purple states like Virginia, it can cost them the governorship, even when the GOP candidate wins the majority of white women.
For Republicans to grow their base, they're going to eventually need to find some way to relate to those who fear exclusion of the past more than the government-mandated inclusion of the future.
If Palin wants a lesson in this, she could turn to another former reality star whose racial sensitivity and relevance is often questioned:
Just watched #12YearsASlave. It made me so sad, angry & disgusted that people could ever treat others in such a horrible way. 🙁 #SoWrong

— Paris Hilton (@ParisHilton) November 6, 2013
Photo: Roger H. Goun via Flickr