Sarah Sanders Claims Immigrant Families 'Self-Separated'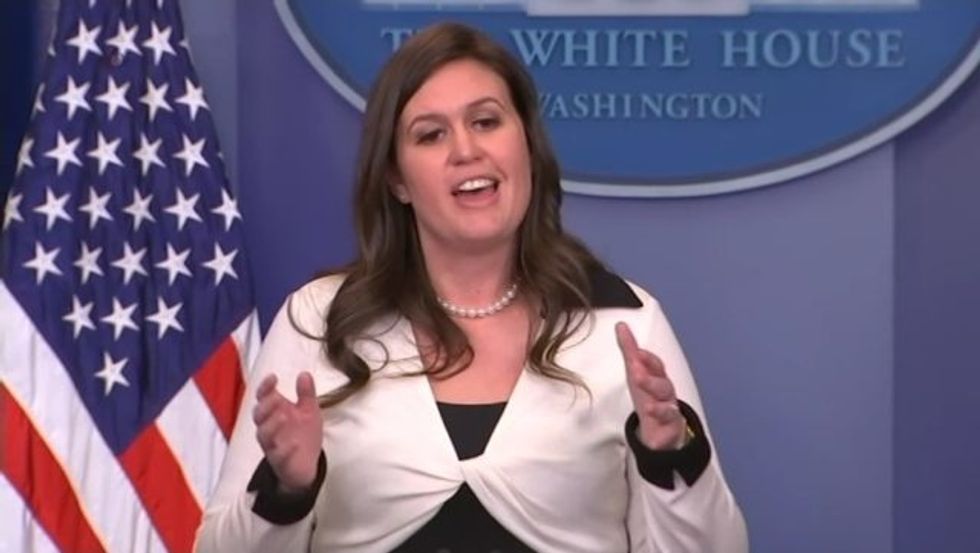 Reprinted with permission from Shareblue.
The Trump administration may have reached a new low in its campaign of lies about its family separation policy: insisting that most parents "self-separated" from their children, when in fact they were involuntarily ripped apart.
White House press secretary Sarah Huckabee Sanders made the shocking claim during an interview Trump conducted with the Associated Press this week.
"I'll send you guys the DHS [Department of Homeland Security] report that has the numbers that show that, like, 75 percent of the kids were actually self-separated," Sanders told the AP reporters. "Their parents chose to go back and signed the paperwork to leave their kids behind."
Sanders' icy assertion is wrong on its face.
Any children who were left behind in the U.S. had already been ripped away from their parents at the border. Those separations were not in any way voluntary.
Once that happened, the "choice" Sanders claims parents had was an inhuman one. Parents had two options: remain separated from their children, or give up their asylum claims and be deported.
The Trump administration deported the parents of 463 such children who remained in U.S. custody. These are the children Sanders claims were "actually self-separated."
But according to court filings, many of those parents were actually tricked into signing away their right to reunify with their children.
In July, a Trump administration official admitted that as many as three-quarters of those deported parents were separated from their children without consent.
Trump officials have been caught in a series of lies regarding the family separation policy.
After Department of Homeland Security Secretary Kirstjen Nielsen publicly denied the policy even existed, documents surfaced showing that she personally signed off on it.
At the height of the crisis, Trump tried to claim he was powerless to stop the separations and falsely placed the blame on Democrats. But Trump recently admitted that the cruelty was the point of the policy all along, because it supposedly deters some families from coming.
And now Trump is considering a new plan to rip families apart.
Sanders has happily lied right along with Trump every step of the way. She even claimed that ripping children away from their parents is "biblical."
But claiming these children "self-separated" is despicable, even for her.