Sarah Sanders Defends Trump's Mental Fitness By Saying Kim Jong Un Is Crazier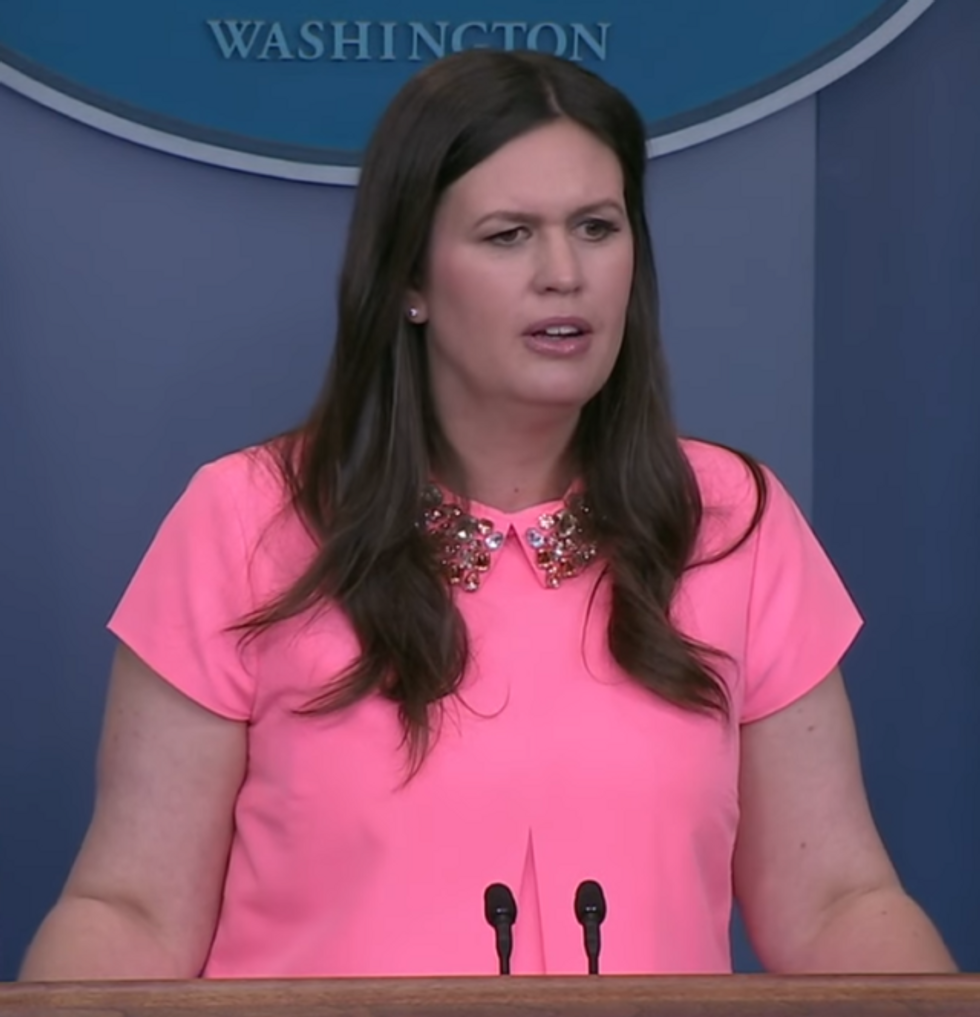 Reprinted with permission from Shareblue.com
Donald Trump's latest nuclear threat against North Korea has dominated news coverage since he made it, and on Wednesday afternoon, his chief spokesperson somehow made things worse.
At the White House daily briefing, Trump's unhinged conflicts were a recurring theme. Press secretary Sarah Huckabee Sanders fielded many questions about Trump's public falling out with former senior strategist Steve Bannon, but largely referred reporters to Trump's bizarre and inaccurate statement on the matter.
But when the subject turned to Trump's threat against North Korean dictator Kim Jong Un, Sanders had no such refuge. Trump's tweet has caused even staid journalists like Jake Tapper to question Trump's stability, and led NBC News' Peter Alexander to ask Sanders if Americans should be concerned about Trump's "mental fitness."
Sanders responded not by defending Trump's mental fitness, but by deflecting to the North Korean despot.
"I think the president, uh, and the people of this country should be concerned about the mental fitness of the leader of North Korea," Sanders replied, adding that Trump is "not going to cower down, and is not gonna be weak, and is going to make sure that he does what he's promised to do, and that's stand up and protect the American people."
Alexander then stumped Sanders by pointing out that if Kim really is that unstable, a threat like Trump's could easily be "misinterpreted" and might even provoke Kim further.
Sanders could only ramble, and repeat her insistence that provoking a nuclear-armed madman constitutes "protecting" Americans:
Concerns over Trump's mental fitness have dogged his presidency ever since his first reckless escalations of tension with North Korea, just a few months after saying he would be "honored" to meet with Kim at the White House.
Trump has been steadily ramping up from there, and there's no reason to believe his latest outburst will be his last.
Sanders' response leaves open the question of which leader is more unfit, but only one of them is accountable to the American people. Unfortunately, Republicans have shown little willingness to perform that essential duty. The time may soon arrive when they are forced to.