Sarah Sanders Ignored Ethics In Attack On Restaurant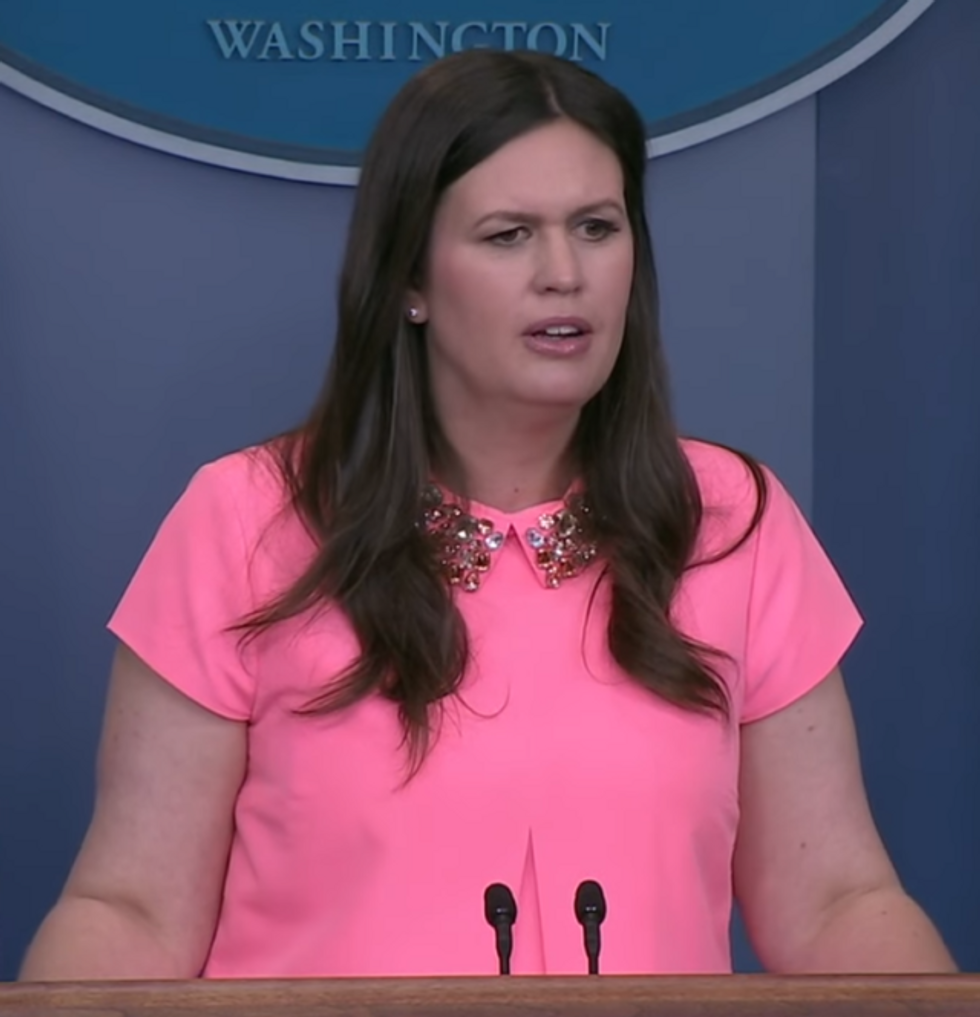 Reprinted with permission from Shareblue.
White House press secretary Sarah Huckabee Sanders tried to play the victim when a Virginia restaurant asked her to leave, but it could be Sanders who ends up being investigated for abusing her power to punish a private business.
Sanders identified The Red Hen restaurant by name and location in a tweet to more than 3 million followers on her government Twitter account, writing that "I was told by the owner of Red Hen in Lexington, VA to leave because I work for [Trump] and I politely left. Her actions say far more about her than about me."
Sanders' father Mike Huckabee reacted by accusing the restaurant owner of "bigotry," hours after he made a racist attack of his own that involved tweeting a photo of Latino men who appeared to be gang members.
On Sunday morning's edition of CNN's "State of the Union," host Jake Tapper asked Rep. Barbara Lee what she thought of Huckabee's response to the restaurant incident.
"It was disgusting when you look at this mentality and how he tweeted that picture," Lee responded. "But also, with regard to Sarah, she used her government account for taking on this private restaurant, a private business. I personally think she should be referred to the Office of Government Ethics."
"You think that is unethical?" Tapper asked.
"Yeah, if you use a government account to attack a private business on personal time, that's not right," Lee responded.
Rep. Lee's concern has been echoed by former Office of Government Ethics chief Walter Shaub, who wrote "Sarah, I know you don't care even a tiny little bit about the ethics rules, but using your official account for this is a clear violation of 5 CFR 2635.702(a). It's the same as if an ATF agent pulled out his badge when a restaurant tried to throw him/her out."
But this is far from the first time that Sanders and her White House colleagues have abused their government positions in this fashion. Sanders herself came under fire from Shaub earlier this year when she used her government Twitter account to attack Amazon.
And Sanders colleague Kellyanne Conway has repeatedly been hit with this kind of ethics complaint, most disturbingly for endorsing a pedophile on the North Lawn of the White House.
Sanders wants Americans to believe that she is the victim, but it is Sanders and the Trump administration who hold the levers of power, and wield them against Americans like the owner of the Red Hen.
Published with permission of The American Independent.