Sarah Sanders Started Lying Within Hours After Mueller Finished Statement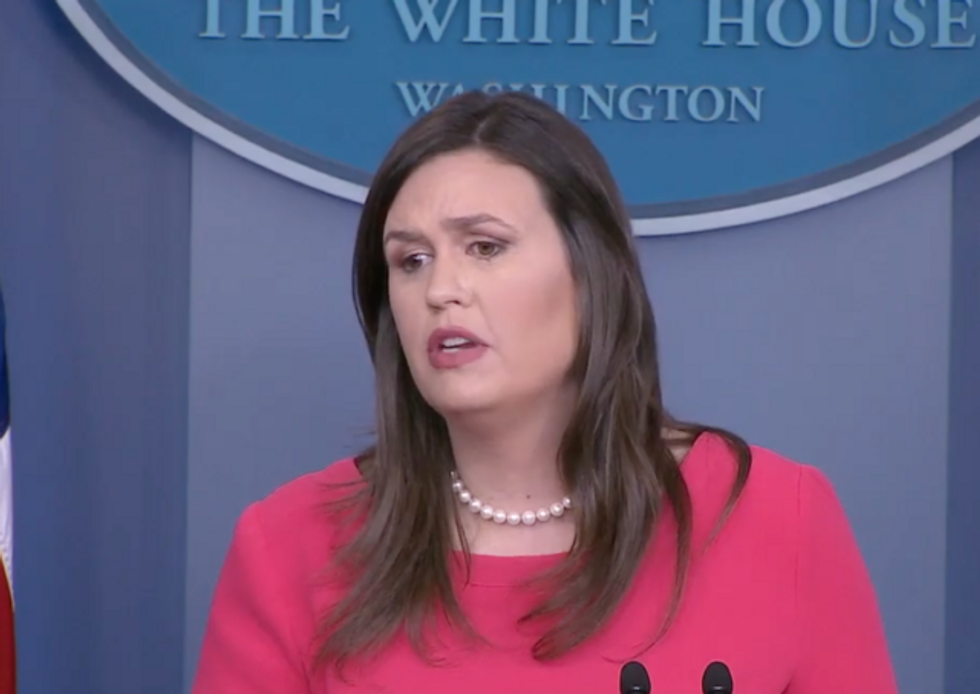 Reprinted with permission from Alternet.
Well, it's a day of the week that ends with "y," so it's a good bet that White House Press Secretary Sarah Sanders is lying.
On Wednesday morning, Special Counsel Robert Mueller announced his resignation from the Justice Department, announcing the conclusion of his investigation and reiterating the key facts laid out in his report. And right on cue, Sanders was on Fox News just a few hours later, blatantly lying about what he said.
"The entire existence of the Special Counsel and this process was to determine whether or not there was collusion," Sanders said. "There was no question: He was explicitly clear in the fact that there was no collusion."
Nope, nope, and nope.
Mueller explained that "This included investigating any links or coordination between the Russian government and individuals associated with the Trump campaign."  So, to be clear, it wasn't about determining whether there was "collusion" — a term Mueller explicitly rejects the use of in his report. And on the topic of "links," Mueller found many between Russia and the Trump campaign.
But Mueller also noted, further proving Sanders' claim false, that he was tasked as special counsel with investigating obstruction of justice by Trump. And on that front, Mueller found ample evidence of criminal activity, though he determined he could not accuse the president of a crime:
And in a second volume, the report describes the results and analysis of our obstruction of justice investigation involving the president.The order appointing the Special Counsel authorized us to investigate actions that could obstruct the investigation.
Obviously, since Mueller didn't investigate through the framework of "collusion," he absolutely was not "explicitly clear" that "there was no collusion." He did investigate whether there was evidence of a conspiracy between the Trump campaign and Russia, and he found that "there was insufficient evidence to charge a broader conspiracy." But this isn't even the claim that "there was no conspiracy" or even "there was no evidence of a conspiracy." Just that there wasn't enough evidence to prove it to the standards of the criminal justice system.
Given that Mueller did lay out evidence of obstruction — while saying that he couldn't conclude Trump didn't commit a crime — it's no surprise Sanders wants to distract from the substance of the report. But yet again, her willingness to just brazenly lie about something that happened on live TV just a few hours before she spoke shows her radical disrespect for the American people.