Sarkozy Held In Landmark Detention Over Criminal Probe
@AFP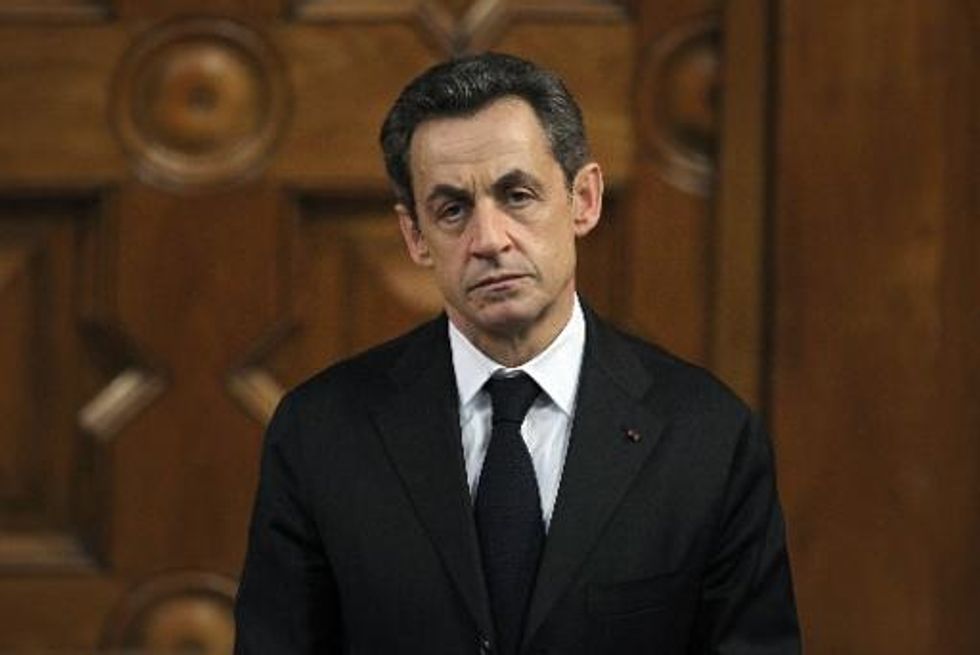 Paris (AFP) – Nicolas Sarkozy was taken into custody for questioning in a criminal investigation Tuesday in an unprecedented move that could wreck the former president's hopes of a political comeback.
The right-wing leader was detained at a police station in a Paris suburb in connection with a suspected attempt to illegally influence judicial proceedings in one of a raft of colorful corruption cases he is implicated in.
Sarkozy turned up at the station in Nanterre in a black saloon car with tinted windows at 8:00 a.m. He was still there nine hours later and can be held for up to 48 hours before he has to be charged or released.
His detention came a day after investigators took his longtime lawyer Thierry Herzog and two magistrates into custody in connection with alleged "influence peddling" and violation of judicial secrecy.
Investigators suspect Sarkozy attempted to obtain inside information from one of the magistrates about confidential proceedings in an illegal election financing case, and that he was tipped off by a senior figure when judges tapped his phones.
Sarkozy, 59, has faced virtually non-stop legal battles since he left office following his defeat by Socialist candidate Francois Hollande in the 2012 presidential vote.
He had been expected to attempt a political comeback in time for the 2017 election, but those plans could be torpedoed if he is charged in this case.
He vehemently denies any wrongdoing and his allies on the right of the political spectrum denounced what they see as a witch-hunt against their man.
"Never before has a former president been subjected to such treatment, such an unleashing of hate," said Christian Estrosi, the mayor of Nice and an MP for Sarkozy's UMP party.
Government spokesman Stephane Le Foll insisted the judges in the case had acted of their own accord.
"The justice system is investigating and will follow this through to the end. Nicolas Sarkozy can face justice just like anyone else," Le Foll said.
The case which has landed Sarkozy in detention was launched after judges looking into the alleged financing of his 2007 election campaign by former Libyan dictator Moamer Kadhafi obtained an unprecedented and controversial authorization to tap the former president's phones.
After four fruitless months they discovered Sarkozy had a secret phone registered under an assumed name and recordings from that device led to the opening of the influence peddling investigation.
At the root of the case are unrelated allegations that Sarkozy was helped to victory in the 2007 election with up to 50 million euros ($70 million at the time) from Kadhafi and envelopes stuffed with cash from France's richest woman, L'Oreal heiress Liliane Bettencourt.
He dismisses the Kadhafi claims as ridiculous in light of his leading role in the dictator's 2011 overthrow, and he was cleared last year of taking Bettencourt's money when she was too frail to know what she was doing.
His campaign treasurer is one of 10 people awaiting trial in the Bettencourt case.
The Kadhafi investigation is ongoing, as are several other cases in which Sarkozy has been implicated.
They include a long-running probe into allegations he helped organize kickbacks from a Pakistani arms deal before becoming president.
In the last month, Sarkozy has been linked to a scandal over the funding of his campaign for re-election in 2012.
The leader of his UMP party was forced to resign after it emerged that 10 million euros ($13.6 million) spent in support of Sarkozy had been passed off as party expenses.
Sarkozy denies any knowledge or involvement in the apparent fraud, which is now subject to another criminal probe.
French judges have in recent years shown their readiness to go after former leaders with their successful pursuit of Sarkozy's predecessor as president, Jacques Chirac.
Chirac was convicted in 2011 on corruption charges related to his time as mayor of Paris but was excused from attending his trial because of ill health and was given a two-year suspended prison term.
AFP Photo/Valery Hache