Saturday Night Live Serves Up Sopranos Finale With Baldwin And Crew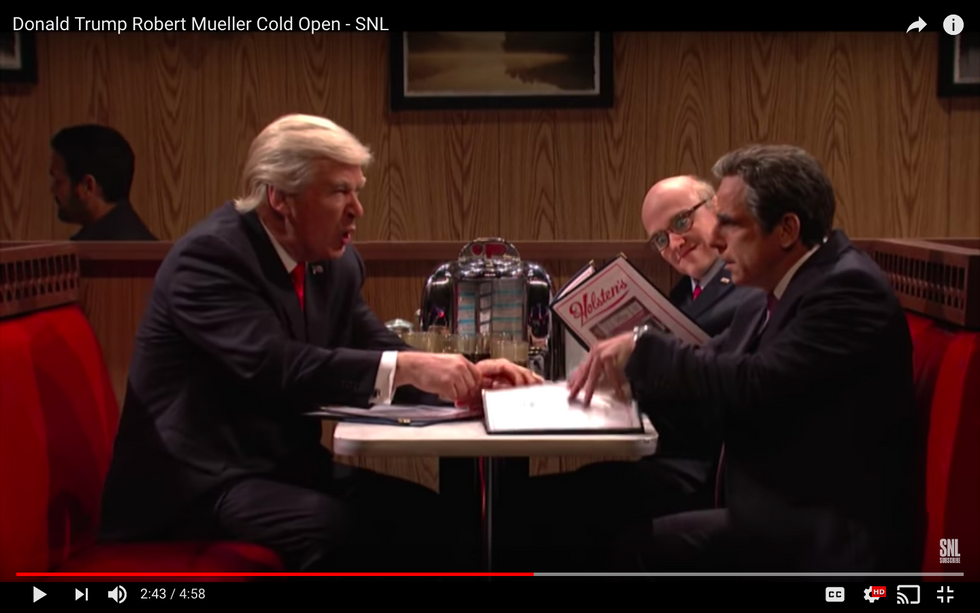 The setting and mood, even the music, of the Saturday Night Live season finale cold open should be instantly familiar to Sopranos fans. Into a certain celebrated diner in northern New Jersey strolls the president of the United States (Alec Baldwin), who commandeers a booth where he is soon joined by his manic lawyer, Rudy Giuliani (Kate McKinnon), his downcast former lawyer Michael Cohen (Ben Stiller), and his sons Don Jr. and Eric (Alex Moffat and Mikey Day).
Thrilled with his own goggle-eyed performances on Fox News, Rudy blathers on loudly, incriminating his client: "I even confessed to some crimes you didn't do and then I said 'What are you gonna do? Arrest the president? I dare ya! Ahhh!" Cohen, amid professions of love for Trump, reminisces about their high crimes and misdemeanors as he prepares for prison. And as usual, Don Jr. is smug and clueless.
But then the door jangles open one last time for an ominous figure noticed only by Trump — Robert Mueller (Robert DeNiro), the special counsel whose scowling silence says it all.