'Say That Again?': DNI Chief Bursts Out Laughing At Trump's Putin Invitation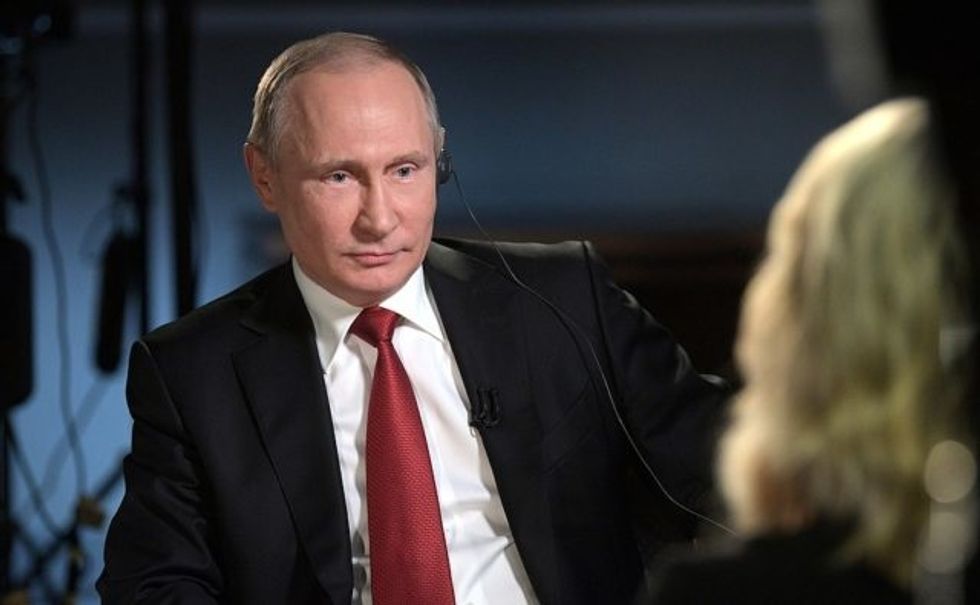 Reprinted with permission from AlterNet.
If the White House were actively trying to undermine its own communications operations, it's hard to imagine that it could do much better than its abysmal performance this week.
After dealing with the fallout of President Donald Trump's botched and disastrous summit with Russian President Vladimir Putin on Monday, and several transparent attempts to clean up the president's mess, press secretary Sarah Sanders announced Thursday that the authoritarian leader had been invited to visit the White House in the fall.
At almost the exact same time of Sanders' announcement, Director of National Intelligence Dan Coats — a Trump appointee — said at the Aspen Security Forum that Russia is continuing to launch cyberattacks and propaganda warfare against the United States.
When Coats was informed of the upcoming meeting live on stage, he looked shocked: "Say that again?" Then he burst into stunned laughter. "Okay… that's going to be special."
Earlier in the talk, he had warned about the danger Putin poses.
"We are under attack," Coats told MSNBC reporter Andrea Mitchell. Russia, he said, was the most aggressive of American foes.
So even as the country is posing a serious threat to American security, its authoritarian president will be honored with a White House visit.
Coats also leveled measured criticism against the president himself. After Trump had defended Putin on Monday against the intelligence community's assessment that Russia interfered in the 2016 election, Coats had issued a statement reiterating the findings.
"I believed I needed to correct the record," he told Mitchell. "Obviously, I wished he had made a different statement."
He added that he is constantly afraid of a "cyber 9/11."
"In Helsinki,@POTUS agreed to ongoing working-level dialogue between the two security council staffs," Sanders said in a tweet as Coats was speaking. "President Trump asked@AmbJohnBolton to invite President Putin to Washington in the fall and those discussions are already underway."
Watch Coats' interview below (Coats learns of the Putin meeting at 45:08):
Cody Fenwick is a reporter and editor. Follow him on Twitter @codytfenwick.