Scary, Open Secret: Parents Of Black Sons Believe Troubles Seek Their Boys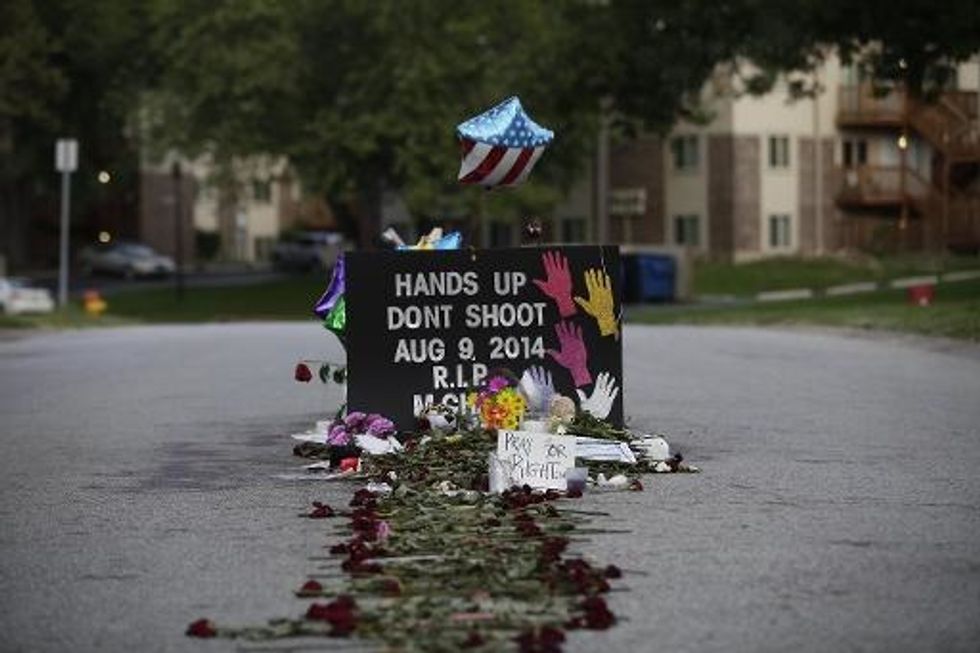 By David E. Early, San Jose Mercury News
SAN JOSE, Calif. — It's the time of year when hundreds of thousands of American parents are shipping their children off to college for the first time. For most, it's a time of celebration. But for the black parents of college-bound sons, the rite of passage has long come with a quiet, unique sense of dread.
These parents grapple with a scary open secret: Young black males — more than any other demographic group — are haunted by cultural stereotypes that foster fear, discrimination, and police harassment. Sending sons away to other parts of the country greatly magnifies those fears, particularly since last month's fatal shooting of Michael Brown by a white police officer in Ferguson, Missouri.
The uneasy preparation for life as a young African-American male often begins when black males are in their early teens, and goes on for years. Black parents simply call it "The Talk."
"I taught him to keep his hands where cops can see them," said Amelia Ashley-Ward of San Francisco, whose son, Evan, says he has been stopped three times by police for no apparent reason in the Tennessee town where he attends college. "I taught him that police are not your friends and that every traffic stop can lead to damage that can never be undone."
Evan Ward said each time he was stopped, he had passengers. "We were not speeding, or playing loud music or bothering anyone," said the 22-year-old, who attends Middle Tennessee State University in Murfreesboro. "We got pulled over for being young African-American males riding in a decent automobile."
But Ward, remembering his mom's advice, gave "Yes, officer" responses, even when the cops were brusque. So all three times, Ward said, he drove away without so much as a ticket.
Steven Millner, a professor in the Black Studies Department at San Jose State University, says stereotyping young black males began during slavery and has piled on over the decades.
"Unfortunately, people have not evolved on this issue, and that puts young black men into numerous circumstances that can quickly turn tragic," Millner said.
He pointed to Trayvon Martin, 17, who was shot dead in 2012 in Florida by a neighborhood watch commander, and Oscar Grant, 22, shot and killed by a Bay Area Rapid Transit officer in 2009 in Oakland. Like Brown, both young men were unarmed.
According to Millner, young black males are tainted by broad-brush images — that they are undereducated, undisciplined, and hypersexual; athletic, entertaining, and promiscuous; violent, brutish, and irresponsible. Even their appearance — from dreadlocks to baggy pants to hooded sweatshirts — is used to tag them as troublemakers and thugs.
Some stereotypes are perpetuated by ugly facts, such as the high rates of inner-city black-on-black crime.
Even civil rights activist Jesse Jackson once told an interviewer, "There is nothing more painful to me, at this stage in my life, than to walk down the street and hear footsteps and start thinking about robbery — then look around and see somebody white and feel relieved."
But millions of young black males who don't reflect such archetypes must also deal with the widespread fears sparked by the negative images.
Worried African-American parents strenuously warn their young sons to always stand down to police and authority figures.
Phyllis Daugherty, of Ferguson, attended Brown's funeral last week and found herself overwhelmed by incredible sadness as she thought about her college-bound son, Pierre, 18.
"I tell him to always pull over for police in a public place, never … on a side street," Daugherty said. "You must never give them any reason to harass you, lock you up, or shoot you."
Barry Krisberg, a criminologist at the University of California, Berkeley, said young black males tend to be prejudged almost everywhere by cops and hosts of others. But when it comes to dealing with police, the message is: "To leave that situation alive, you have to accept second-class citizenship. If they assert their constitutional or civil rights … terrible things can happen."
Some black parents point to the 2008 election of the nation's first African-American president as the reason behind some of the racial animus. Many hoped a "post-racial" peace would ensue. Instead, African-Americans largely believe the election rekindled old hatreds and set off unapologetic venom in politics.
"How deep-seated is this negative image of black men that they would not show respect for someone like President Obama," said Amos Brown, senior pastor of Third Baptist Church of San Francisco. He said treatment of the president "reflects how hateful they feel about all of us."
Police officers in California are trained in community relations, racial profiling, and ethical street tactics, in the hopes of giving fair treatment to everyone, said Alan Deal, executive director of POST (Peace Officer Standards and Training) in Sacramento.
"The approach in basic training is completely colorblind," he said. "We focus on the specific behavior or the crimes reported."
But Krisberg said the reality is far more complex. The trouble, he said, comes with the countless individuals, including cops, deeply imbued with stereotyped beliefs.
When many officers look at a young black male, Krisberg said, scientific research shows "they are subconsciously seeing a dangerous animal and experiencing an increased heart rate and fear levels. Training could help a little, but this is deep-seated stuff."
Beatrice X. Johnson of San Jose said her concerns about her teenage son at the time of the 2009 BART shooting spurred her to become co-founder of the Oscar Grant Foundation. She said she hopes that by witnessing the protests and legal procedures surrounding the Grant case, her son, Akeem Aziz, now 19, is better prepared for the discrimination she knows he will experience.
"As black mothers of sons," Johnson said, "there is no peace when we know a trip to the store can mean their deaths. What can happen to our sons is in our hearts and minds all the time."
AFP Photo/Joshua Lott
Interested in national news? Sign up for our daily email newsletter!