The Scene Of America's Discontent: Work And Life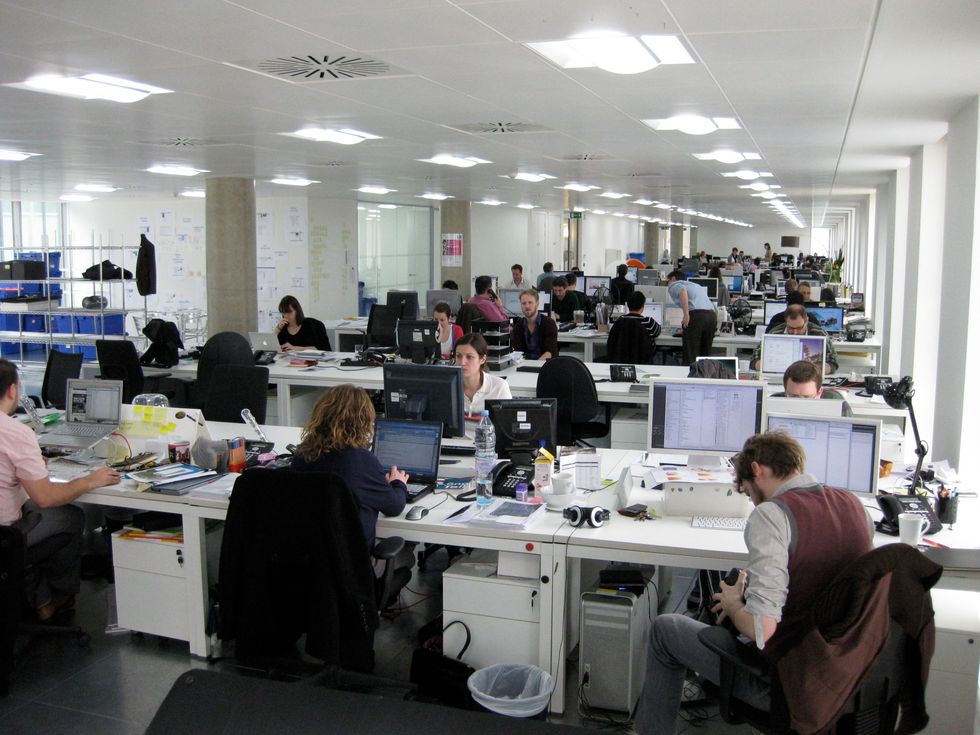 Recognize this woman?
She's sandwiched between the needs of aging parents and the demands of young children. Her frustration is palpable. She's fed up with her employer's inflexibility over her schedule and with her boss's attitude that equates motherhood with undedicated slacking off.
True, her schedule has to accommodate occasional doctor's appointments and school events for children, as well as the emotional rollercoaster of watching her parent's health decline. But she has a full-time career and a track record of success in a business that she dearly loves.
Guess what. This woman is now a man.
Among the more interesting findings of a new report on work/life conflicts is the dramatic rise in lawsuits by men who feel discriminated against as they try to manage it all. Welcome to the workplace, gentlemen.
It's a sad commentary on gender, but the fact that men are increasingly being moved to sue their employers over family responsibilities will help change attitudes and policies. And they have to change.
The massive rise in discrimination lawsuits involving family responsibilities like child care, elder care, and maternity and paternity leave is "the biggest challenge employers never (saw) coming," according to Cynthia Thomas Calvert, the author of "Caregivers in the Workplace."
More fathers than mothers now report work/life conflict, according to the study, which was conducted by the Center for WorkLife Law at the University of California, Hastings.
That shift is reflected by an astonishing 269 percent rise in lawsuits decided in the last decade that involved family responsibilities. The 4,400 cases studied cost employers nearly a half-billion dollars in verdicts and settlements between 2006 and 2015, yet these likely constitute only a fraction of what actually went through the courts.
Most of these cases go forward through a patchwork of protections. But Calvert also points out that no federal law exists that explicitly bans discrimination based on family responsibilities.
The majority of cases studied involved pregnancy and maternity leave. But men, as their numbers grow as caregivers, are now fighting attitudes that working women have long faced. WorkLife Law, a nonprofit advocacy group focused on ending employment discrimination against caregivers, runs a hotline, and 25 percent of the calls are now from men.
Increasingly, it is fathers who are offended when denied a plum assignment based on the perception that they won't be as committed to their company. Now it is men who are angered that they are denied paternity leave or are passed over for promotion because they spend time caring for a disabled child.
A lot of the problems are the result of employees being penalized at work not for their actual job performance but based on assumptions and biases that too often are not recognized — at least until the lawsuit is filed.
Calvert's study shows that the complaints occur in virtually every industry and at every level of employment, including top managers. And all races and genders were represented in the cases studied — although racial bias can further complicate workplace assumptions about how employees with family duties will or should behave.
Most employees will at some point in their careers become a caregiver. The study found that of the 43.5 million adults who gave unpaid care to either an adult or a child with special needs in 2014, nearly a quarter were millennials.
It's tempting to believe that the country is sorting these issues out and heading in a better direction, that the gains of technology and awareness of our aging population are causing workplaces to realign policy and practices.
In reality, we are in the midst of ideological battles about work in general. Consider the fights over efforts to strip workers of their right to collective bargaining, debates about the minimum wage and the growing gap between what CEO's earn and the salaries of everyone employed beneath them. The relationship between work and life is in turmoil in America.
So much of modern politics skirts these issues. However, judging by this 44-page report, they are urgently important to most voters. Forget the culture wars, Donald Trump's bluster and Hillary Clinton's email server. The concerns of the average voter are closer to home and work. Yet who is speaking for families struggling to manage it all?
(Mary Sanchez is an opinion-page columnist for The Kansas City Star. Readers may write to her at: Kansas City Star, 1729 Grand Blvd., Kansas City, Mo. 64108-1413, or via e-mail at msanchez@kcstar.com.)
(c) 2016, THE KANSAS CITY STAR. DISTRIBUTED BY TRIBUNE CONTENT AGENCY, LLC
Photo: Wikimedia Commons.