Schwarzenegger Is Back — Taking Over For Donald Trump on 'The Apprentice'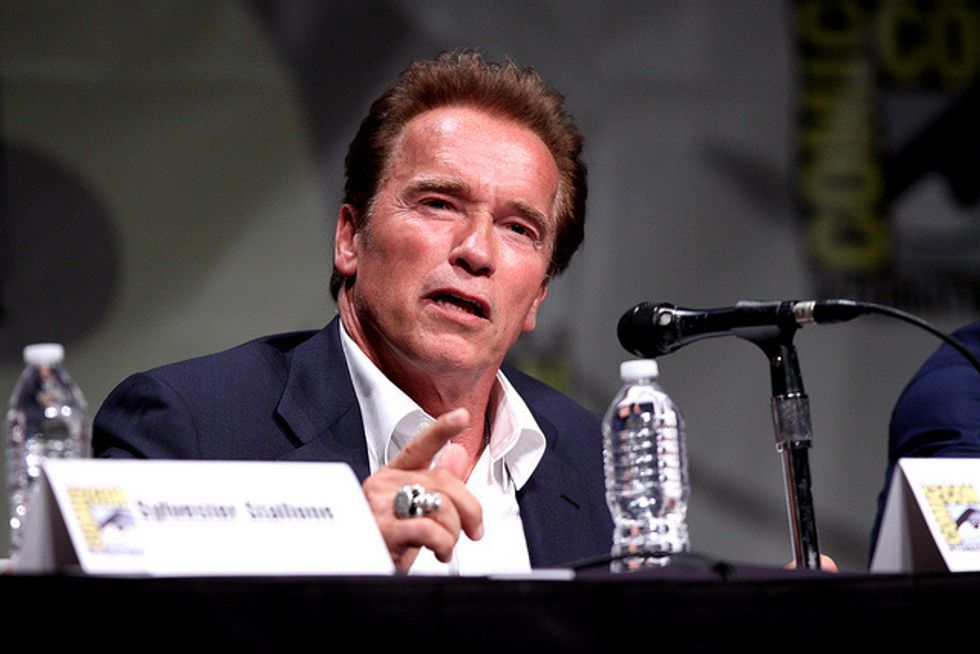 Donald Trump is out.
Not out of the presidential race – don't you worry— but The Celebrity Apprentice, the show that we'd all have forgotten about, if it weren't for Trump blowing it up every few weeks.
But cue the machine guns, the "I'll be back" jokes, the bad Austrian accents.
Because Arnold Schwarzenegger is in.
The former California governor was tapped by NBC to head the long-running reality show, which has been on the air since 2004, although the last version of its non-celebrity companion show (The Apprentice) aired in 2010. Non-celebrity winners of the latter show won a year-long gig running one of Trump's companies, while the money that celebrity winners won went to charity.
According to the network, while serving as California governor from 2004 to 2010, Schwarzenegger managed more than 300,000 state employees and a budget in the hundreds of billions. This in addition to being a highly successful international action-movie star.
Trump tweeted his blessings, saying that he had to give up his Apprentice role because he was running for president, and equal-time rules prevented him from appearing on an entertainment program.
Although NBC has certainly touted Trump when promoting The Apprentice in the past, management has been rather displeased with the man of late. After he kicked off his campaign with racist comments about Mexicans, the network said it was ending its business relationship with Trump, refusing to air the beauty pageants the mogul owns. Trump had settled his legal disputes with NBC as of last week. As part of the settlement, he purchased its stake in the Miss Universe Organization.
Schwarzenegger – whose Twitter profile image features the LGBT-pride rainbow stripes superimposed on a picture of his iconic Terminator character wielding a shotgun  – tweeted his gratitude:
Wow. I'm blown away and honored by all your tweets. I can't wait to bring my experience to the board room & raise millions for charity.

— Arnold (@Schwarzenegger) September 14, 2015
His Twitter bio reads: "I told you I'd be back."
The Celebrity Apprentice with Arnold Schwarzenegger is scheduled for the 2016-2017 season on NBC.
Photo: It's muscle now, not bluster. Gage Skidmore/Flickr