Walker Quits GOP Race, Urges Other Candidates: Stop Trump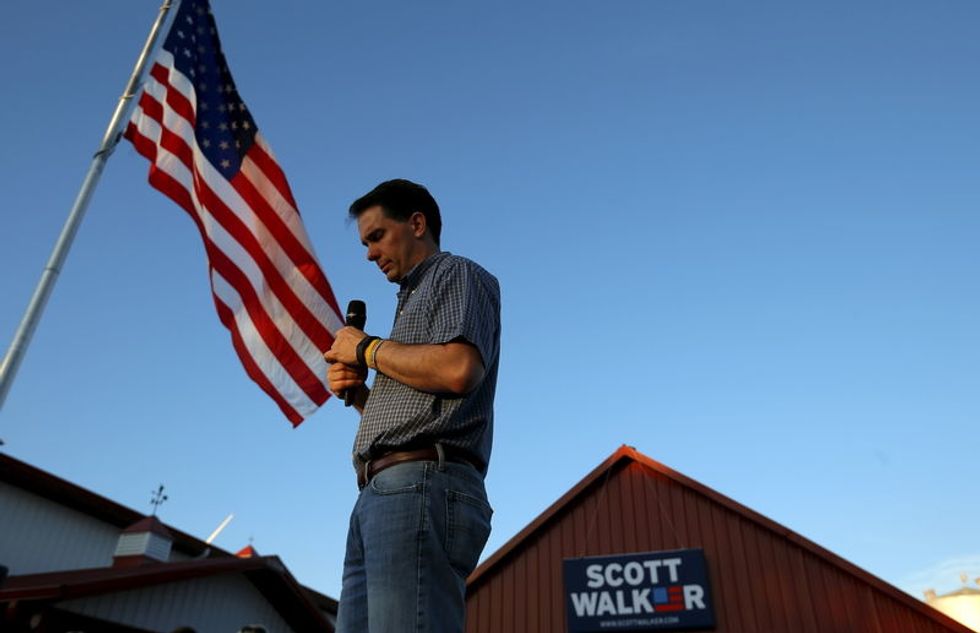 In a brief, blunt statement delivered at a press conference in Madison, Wisconsin, Scott Walker suspended his campaign for president.
Walker bemoaned the current state of the Republican race, said that the GOP needed to "get back to the basics of our party," and in an odd move, encouraged the candidates still running to drop out in order to refocus their energies on presenting voters with a "positive conservative alternative to the current frontrunner," Donald Trump, whom he did not name.
He said he believed he heeded a call to be a leader, paradoxically, by opting to "clear the field" because refocussing "the debate will require leadership."
He added: "This is fundamentally important to the future of the party and — ultimately — to the future of our country."
The Badger State governor repeated his familiar talking points primarily by invoking the holy trinity of God, private enterprise, and Ronald Reagan. In his prepared remarks, Walker said:
As a kid, I was drawn to Ronald Reagan because he was a Republican and a conservative. But most of all, I admired him because of his eternal optimism in the American people.

That thought came into my head when we were all standing at the Reagan Library last Wednesday. President Reagan was good for America because he was an optimist.

Sadly, the debate taking place in the Republican party today is not focused on that optimistic view of America. Instead, it has drifted into personal attacks.

In the end, I believe that voters want to be for something and not against someone. Instead of talking about how bad things are, we want to hear about how we can make them better for everyone.
Walker's trajectory from frontrunner to one of the earliest dropouts illustrates how unpredictable the race has become, and how much the flamboyant, unhinged Trump has disrupted the tidal forces of political gravity.
According to Reuters:
When he officially announced his campaign in early July, he was among the leaders for the Republican nomination. But the 47-year-old governor quickly struggled on the campaign trail despite a strong conservative record and a warm personal story as a Harley motorcycle aficionado.

Walker's lack of experience on the national stage was apparent. He gave shifting answers to questions about illegal immigration and once suggested a wall between the United States and close ally Canada might be in order, in an apparent effort to double down on rivals' calls for a wall on the Mexican border.

He did not do much to reassure supporters with lackluster performances in the first two Republican presidential debates.

Walker's struggle for traction, combined with the rise of New York billionaire Donald Trump, took its toll. A CNN/ORC poll released on Sunday gave him less than 1 percent support among Republican voters. In a recent Reuters/Ipsos poll of the Republican field, he received 3 percent of support.

In an initial sign of trouble, Walker last week canceled events in California and Michigan to concentrate on Iowa, the key early voting state that shares a border with Wisconsin.

In recent days, he had vowed to focus solely on Iowa.
Walker is the second Republican to drop out of the race, after former Texas governor Rick Perry suspended his campaign on September 11. In his parting remarks, Perry also lamented the dark turn the race has taken thanks to Trump's incendiary tactics and rhetoric.
Walker concluded his remarks by thanking God "for His abundant grace. Win or lose, it is more than enough for any of us."
File photo: Scott Walker bows his head in prayer at a campaign stop in Haverhill, Iowa, July 18, 2015. REUTERS/Jim Young