Scott Walker: Uncle Scrooge's Lackey In Wisconsin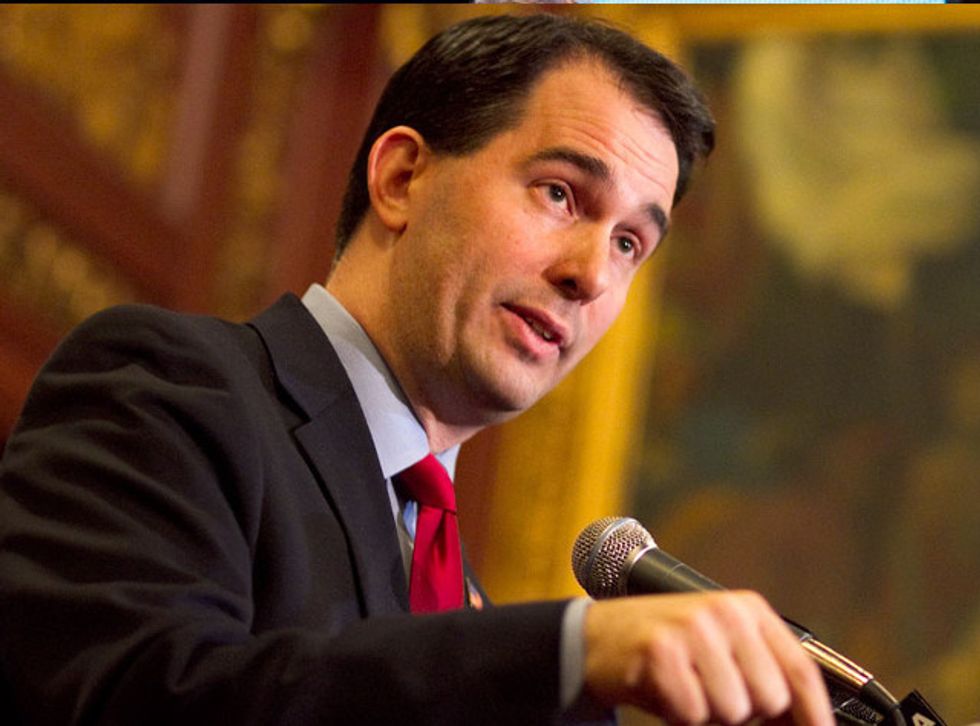 Economically speaking, all 237 GOP presidential candidates are selling the same magic beans.
Everybody knows the script by now: Tax cuts for wealthy "job creators" bring widespread prosperity; top off Scrooge McDuck's bullion pool, and the benefits flow outward to everybody else, the economy surges, budget deficits melt away, and the song of the turtle dove will be heard in the land.
Almost needless to say, these "supply side" miracles have never actually happened in the visible world. State budget debacles in Kansas and Louisiana only signify the latest failures of right-wing dogma. Hardly anybody peddling these magic beans actually believes in them anymore. Nevertheless, feigning belief signifies tribal loyalty to the partisan Republicans who will choose the party's nominee.
However, with everybody in the field playing "let's pretend," a candidate needs another way to distinguish himself. I suspect that Scott Walker, the Republican governor of Wisconsin, may have found it.
See, Walker won't just put money back in "hardworking taxpayers'" pockets. Like a latter-day Richard Nixon, Walker will also stick it to people he doesn't like: lollygagging schoolteachers, feather-bedding union members, and smug, tenured college professors who think they're smarter than everybody else. If Walker lacks charisma, there's an edge of ruthlessness in his otherwise bland demeanor that hits GOP primary voters right where they live.
No less an authority than Uncle Scrooge himself — i.e. David Koch of Koch Industries, who with his brother Charles has pledged to spend $900 million to elect a Republican in 2016 — told the New York Observer after a closed-door gathering at Manhattan's Empire Club that Walker will win the nomination and crush Hillary Clinton in a general election "by a major margin." 
Viewed from a distance, the determination of prosperous, well-educated Wisconsin to convert itself into an anti-union right-to-work state like Alabama or Arkansas appears mystifying. To risk the standing of the University of Wisconsin system by abolishing academic tenure, as Walker intends, is damn near incomprehensible.
Attack one of America's great public research universities for the sake of humiliating (Democratic-leaning) professors over nickel-and-dime budgetary issues? Do Wisconsinites have the first clue how modern economies work?
Maybe not. But Walker's supporters definitely appear to know who their enemies are, culturally speaking. Incredulity aside, it would be a mistake not to notice the craftiness with which he's brought off the transformation. Not to mention that Walker's won three elections since 2010 in a "blue" state that hasn't supported a Republican presidential nominee since Ronald Reagan.
Wisconsin's 10 electoral votes don't mean much by themselves, but throw in Michigan and Ohio, Midwestern states also trending similarly, and you've definitely got something.
Act 10, the 2011 law that took away collective bargaining rights for many public employees in Wisconsin (except, at first, for police and firefighters), brought crowds of angry teachers (also mostly Democrats) to the state capitol in Madison for weeks of demonstrations. As much as MSNBC was thrilled, many Wisconsinites appear to have been irked.
In the end, the state ended up saving roughly $3 billion by shifting the funding of fringe benefits such as health insurance and pensions from employer to employee, costing the average teacher roughly 16 percent of his or her compensation. Mindful of budget shortfalls, the unions had proposed negotiations, but that wasn't enough for Gov. Walker.
For the record, Act 10 was an almost verbatim copy of a bill promoted by the Arlington, Virginia-based American Legislative Exchange Council (ALEC), a think-tank largely funded by, you guessed it, the Brothers Koch.
Four years ago, a documentary filmmaker caught Walker on camera telling wealthy supporters that the new law was just the beginning. "The first step is, we're going to deal with collective bargaining for all public-­employee unions," he said, "because you use divide-­and-­conquer."
"If we can do it in Wisconsin, we can do it anywhere — even in our nation's capital," Walker wrote in his book, Unintimidated, notes Dan Kaufman in the New York Times Magazine. Elsewhere, Walker has boasted that as president, he could take on foreign policy challenges because, he's said, "If I can take on 100,000 protesters, I can do the same across the world."
Ridiculous, of course, but it plays.
Meanwhile, rueful trade unionists who endorsed Walker in 2010 are crying the blues, because they never imagined that having vanquished the women's union he'd come after the ironworkers and the electricians in their pickup trucks. Divided, they've been conquered.
So right-to-work it is: diminished salaries, job security, pensions, health and safety regulations will inevitably follow.
More bullion for Scrooge McDuck's pool.
So now it's the professors' turn. Walker, a Marquette dropout, has described his new law as "Act 10 for the university." Tenure's a dead letter in cases of "financial emergency…requiring program discontinuance, curtailment, modification or redirection." 
So who gets redirected first? Left-wing culture warriors or climate scientists? Hint: Scrooge is a fierce climate-change denier.
Meanwhile, Democrats underestimate Scott Walker at considerable peril.
Photo: Wikicommons