Sean Spicer Had A Meltdown After Trump Fired Comey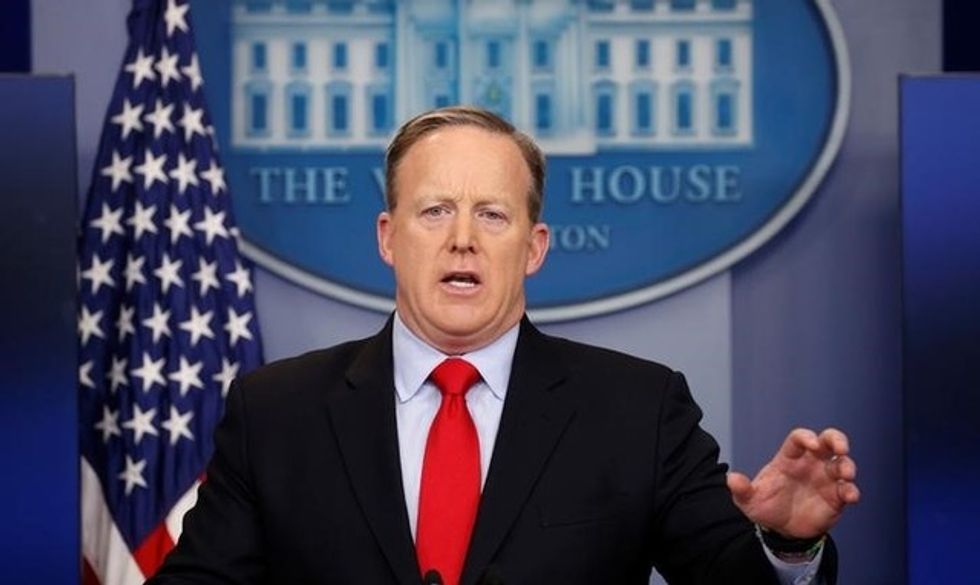 Reprinted with permission from Alternet.
White House press secretary and former Easter Bunny Sean Spicer has a real tough job sometimes. And on Tuesday night, when President Donald Trump fired FBI director James Comey, it apparently became too much to handle.
RELATED: Sean Spicer's best moments are also his worst
Spicer had planned to email out a statement announcing Comey's termination, but as of about 5:40 p.m. EDT Tuesday, the system wasn't working well. Instead, he went to his doorway and yelled the news to the journalists gathered there, according to the Washington Post. Then he closed the door.
At 5:41 p.m., reporters began to tweet the bombshell, and by 5:44 p.m. Spicer's statement explaining that Trump's decision came at the recommendation of Attorney General Jeff Sessions and Deputy Attorney General Rod Rosenstein had arrived in inboxes. He followed up with a tweet at 5:50 p.m.
Statement from @WhiteHouse @PressSec on @FBI Director pic.twitter.com/EdBRntMim5

— Sean Spicer (@PressSec) May 9, 2017
Then all hell broke loose.
Aides said he would speak to press about the termination, which was blamed on Comey's supposed mishandling of the investigation into Hillary Clinton's use of a private email server while secretary of state, then changed their answers and said he wouldn't. Outside, Spicer appeared on Fox Business with Lou Dobbs, at times stuttering and misspeaking, at one point saying the attorney general had been terminated before quickly correcting himself. Photographers could be seen at the edges of the frame taking pictures of Spicer as he spoke with Dobbs.
RELATED: Possible explanations for Comey's firing
"What I can tell you is the president, when given these recommendations, made a decision to accept their conclusions and to remove director Comey and begin that restoration of confidence and leadership that needs to happen there," Spicer said.
The Post detailed also that "Spicer spent several minutes hidden in the bushes" while his press assistants negotiated the terms of a briefing. He stepped out, and asked for the lights on set to be turned off. They were.
He spoke with reporters for about 10 minutes.
This article was made possible by the readers and supporters of AlterNet.