Second Women's March Again Brings Massive Protest Crowds Into Streets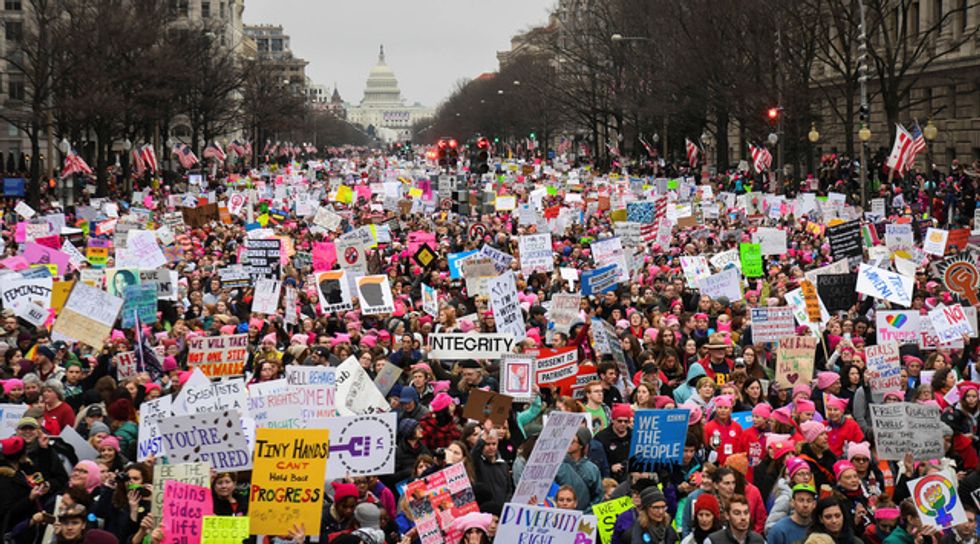 It's been exactly a year since the historic 2017 Women's March, which brought millions out to protest Trump's inauguration, flooding the streets of the nation with pink knitted hats. Millions have taken to the streets again this weekend for the Women's March 2018, empowered by the #MeToo movement against sexual harassment and fed up with Trump's increasingly authoritarian and anti-immigrant policies, his war-mongering and his tantrum-centric presidency.
This year's march arrived just one day after Trump's attempt to block Planned Parenthood funding and amid a dramatic government shutdown centering on immigration. The shutdown came as Democrats and several Republicans refused to accept the border wall funding and deportation policies proposed by the Trump administration and the GOP in the federal funding bill. It marks the first successful government shutdown under a single party controlling Congress, and has become a big theme of the second Women's March.
From Twitter:
#WomensMarch2018, reminding people that we need a #DreamActNow & that #TheFutureisLatina
These kids are ready to march for women's rights and against racism #WomensMarch2018
Hundreds of Women's March anniversary events are already underway or kicking off this weekend in every U.S. state. You can look up an event in your state and watch a live feed of today's events on the Women's March website.
The central organized 2018 Women's March event is a Power to the Polls demonstration in Las Vegas on Sunday, focused on mobilizing national voter registration for the upcoming midterm election, which could reshape U.S. politics.
In Chicago, the turnout for the second Women's March march had already exceeded last year's numbers by 11:30am, with more than 250,000 people descending on downtown. In Los Angeles, a Weekend of Women movement kicked off Saturday morning with 200,000 expected attendees.
In New York City, hundreds of thousands filled more than 20 city blocks as the 2018 Women's March kicked off at 11:30am in Columbus Circle and Central Park West, as Patch.com reports. Exact turnout is yet to be determined. Attendees interviewed by the New York Times on Saturday reported crowds that filled city blocks, though didn't pack them quite as full as last year's march.
Some the largest crowds of the second Women's March are in Washington D.C., San Francisco, Los Angeles, Philadelphia, Seattle, Denver, and even Rome, Italy. More than 250 additional cities and towns throughout the country and the world have also drawn large crowds.
April M. Short is a freelance writer who focuses on health, wellness and social justice. She previously worked as AlterNet's drugs and health editor. 
Hundreds of thousands marched down Pennsylvania Avenue in Washington, D.C. during the Women's March, January 21, 2017. REUTERS/Bryan Woolston