Secret Lives: An Evening In A Ugandan Gay Bar
@AFP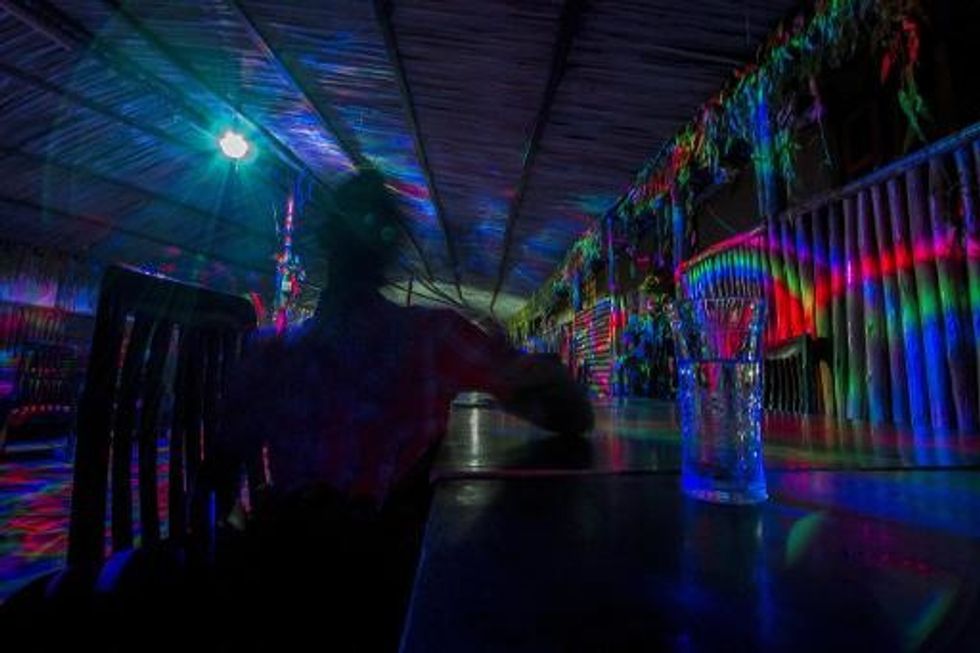 Kampala (AFP) – Just as he attends church on Sunday morning, there's another sacred place Nick, a 23-year-old Kampala stylist, flocks to every Sunday night.
"It gives me fuel for the whole week," he says, standing beer in hand outside an inconspicuous bar, in a red check shirt and jeans.
"When I come here I don't mind if I miss sleep and then go to work, because I go to work feeling happy, new. It's a beautiful Sunday."
During the week this pub, located in the capital's business district but away from the nightclub strip, is full of unsuspecting, heterosexual Ugandans.
But for six hours on a Sunday night that fly by all too fast, the venue, with its grass thatched roof and flashing fluorescent disco floor lights, becomes a haven for Uganda's gay community who meet here to drink, dance and more.
"It's accepting, they do not discriminate," says Nick, who has arrived at about 8pm, and is waiting for the bar, informally chosen by his community as their spot, to fill up. This normally happens from about midnight.
"We were chased all over before the gay bill was removed," says Nick.
Last December the Ugandan parliament passed an anti-gay bill that stipulated repeat homosexuals should be jailed for life, outlawed the promotion of homosexuality and required people to denounce gays.
The bill was signed into law by veteran President Yoweri Museveni in February, but in August was struck down by the east African nation's constitutional court on a technicality.
After the law was passed, the bar was shut by police for two months.
On Sunday night you would "stay home and cook", says Nick, who is a born-again Christian and lives next to a church.
The nightspot reopened just a couple of days after the law was overturned. Although the group marking this victory was small in number, they were "celebrating like there's no tomorrow", one activist recalls.
The pub is now a place for "connections and reconnections", says transsexual activist Pepe Julian Onziema.
"It's like a typical bar," he says. "Inside it's drinks, chit-chatting, talking about work… meeting new people, love interests."
Chris, 19, a corporate worker, says he has known he was gay since he was 16, but hasn't told his family.
"They'd faint, they'd die," he says, standing next to a friend, both of them laughing at the notion.
In the lead-up to the anti-gay bill being passed by Ugandan legislators last December, Chris stayed away from the bar.
"I was scared. You cannot be caught in a place like this," he says, adding he was only out for the first time in 18 months.
But tonight it "feels good being with the kind of people who are the same as you, to hang out and feel free, do whatever you want. People get cozy, people kiss."
For a year Steve, 19, a full-time DJ, has been supplying the Ugandan, Nigerian and Western music for the bar.
"I was very shocked hearing about that thing," he said when asked his thoughts on homosexuality. "I feel bad when they're doing their stuff. It hurts me."
But, he admits, "I need money."
He's not the only one realising the potential business value in Uganda's gay community.
The female owner of the bar was "caring enough" to think "we just found ourselves in these shoes," says Nick.
But she is in a minority in Uganda, a socially conservative nation where most people support the anti-gay legislation. MPs are attempting to reintroduce the measures in parliament, and under a standing colonial-era Penal Code, gay Ugandans can still be jailed for "carnal knowledge against the order of nature".
As the clock ticks along towards Monday and the revellers step out of their boozy, smoky haze, ready to face the week with a hangover, they are all too aware they won't be able to tell their work colleagues about their Sunday night.
"Can you imagine, that in a very sociable country like Uganda, where bars are open Monday-to-Monday, we have only six hours in a week to be ourselves?" says Onziema.
"The moment you walk out it's like you don't know each other, you've not been having fun."
AFP Photo/Isaac Kasamani