Security Companies Seek Exemptions In Requirements To Send Officers To Ferguson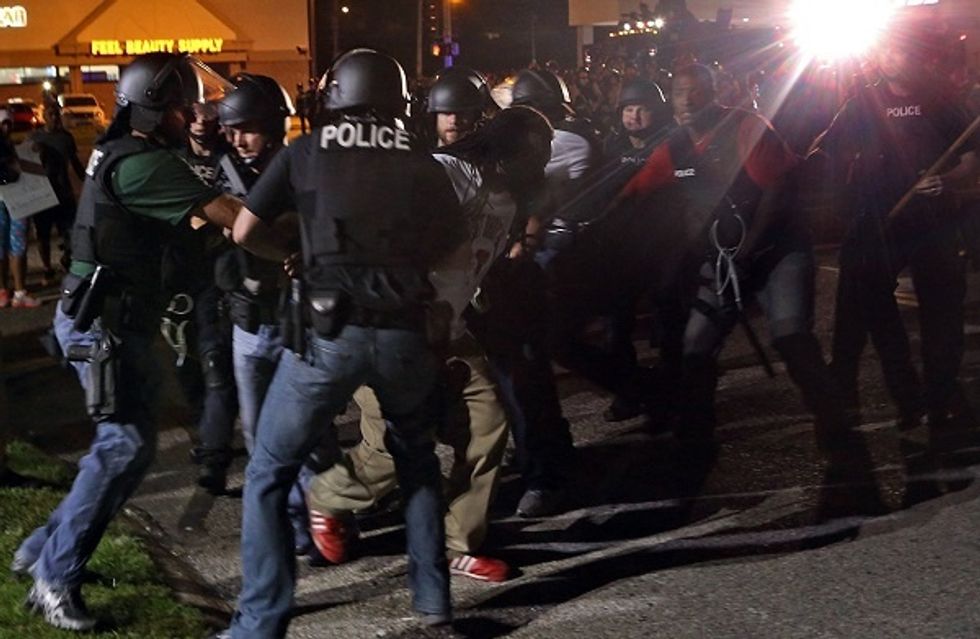 By Christine Byers, St. Louis Post-Dispatch (TNS)
CLAYTON, Mo. — Local and out-of-state guard companies are asking the St. Louis County police for exemptions in security officer licensing requirements to meet an increased demand as the Ferguson grand jury decision draws nearer.
The response has been an expedited process but a refusal to bend the rules.
Police Chief Jon Belmar explained, "I'm reluctant to recommend a variance. If we have an issue of a security officer involved in an incident and someone gets hurt, certainly the question that can come back to us is, 'You licensed this individual, did you follow your normal protocol?' And our answer must be, 'Yes.'"
The compromise has not been good enough for some, Lt. Jeff Burk, head of the department's records division, told the St. Louis County Board of Police Commissioners last week. Since 2012, the county had handled licensing for the approximately 8,600 private guards who work there and in the city of St. Louis.
Burk said his phone continues to ring with calls from companies still seeking exemptions. He said there have been a lot, but he has not kept a tally.
"It seems they're basing a decision on a financial standpoint instead of doing what's right," Burk said. "But that doesn't relieve these companies of liability should someone come in as a security guard and take actions."
While the police board balked at granting exemptions, the department has expedited a process that used to take three to six weeks — much of it for fingerprint checks by the Missouri Highway Patrol. The work has been compressed into three days, with help from the patrol and by offering classes on weekends to train potential security officers.
The St. Louis Post-Dispatch obtained two letters — from the G4S Secure Solutions Inc. and AlliedBarton Security Services — seeking concessions.
AlliedBarton's letter, dated Oct. 30, requested that security officers be allowed to work before the fingerprint reports come back because the delay "limits our ability to provide our clients the increased coverage they are requesting during this time."
A letter dated Nov. 14 from G4S requests temporary waivers for 350 guards licensed in other states "due to a high volume of requests from local businesses for emergency security coverage." The letter cites, "Wells Fargo, Bank of America, American Water, and Trader Joe's just to name a few."
Daniel Getz, who wrote the G4S letter, said only, "There's not much for me to say since we haven't received a response."
Wells Fargo and Bank of America did not return requests for comment.
A spokeswoman for Trader Joe's declined comment.
Christie Barnhart, a spokeswoman for Missouri American Water, said she was unaware of any shortage of security officers that her company was seeking to fill.
During protests in August, she said, "We limited our response to emergency orders only, like main breaks. And what we requested previously is that our employees going into the area be accompanied by a security officer to fix the break." She added, "We are continuing to monitor the situation and the safety of our employees is paramount."
Officials here are wary of out-of-state licenses because they cannot know how the standards differ. One company offered to bring in off-duty Chicago police, but Burk said even they would not be familiar with Missouri laws.
"Some places allow you to read a booklet and take a test," Burk said. "We don't know what they're teaching. We teach use of force and we can hold these people accountable through disciplinary measures."
Police board Chairman Roland Corvington supports the firm stand, and said applicants should appreciate the sped-up process. "It seems to me that we've extended the olive branch and they didn't take it," he said.
Corvington said the sudden urgency by private security companies reflects "poor planning on their part."
Burk's office also has been inundated with applications for permits to carry concealed firearms. About 1,649 people applied from Aug. 1 through Nov. 12, up about 57 percent from the 1,049 during the same time last year.
MCT Photo/J.B. Forbes/St. Louis Post-Dispatch