Sen. Boxer, Nearing Retirement, 'Focusing On The Big Ideas'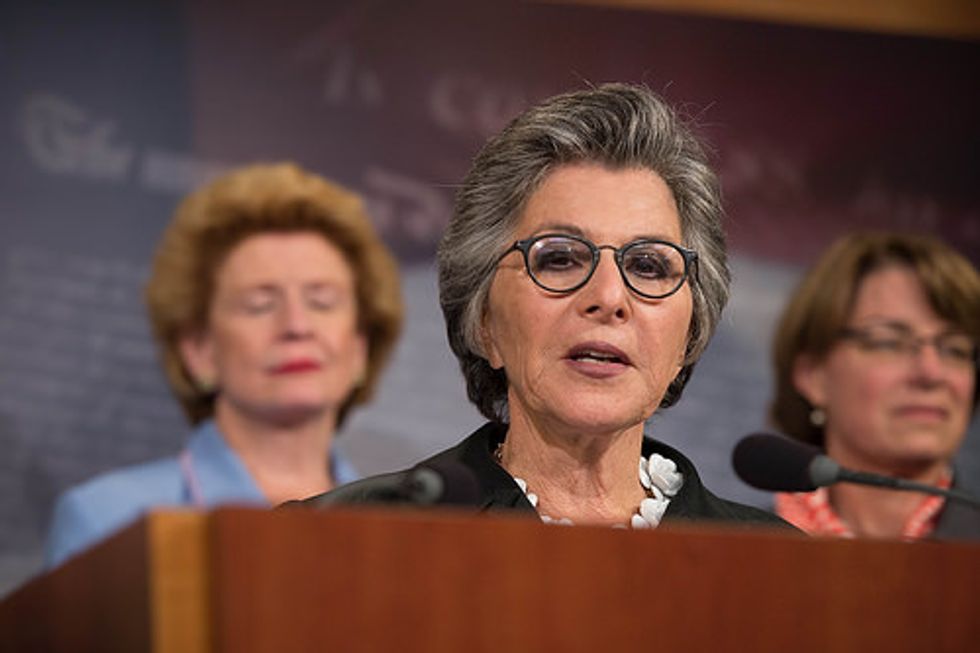 By Curtis Tate, McClatchy Washington Bureau (TNS)
WASHINGTON — Sen. Barbara Boxer and fellow California Democrat George Miller and their spouses used to spend weekends together, just a pair of couples taking a break from the pressures and strains of Capitol Hill.
But while Miller, who spent four decades in the House of Representatives before retiring last year, and the others relaxed over beers, Boxer would be sketching plans for the coming week's political battles.
"She's on the case all the time," Miller said. "She's always organizing."
Indeed, even as the clock ticks down on Boxer's 24-year Senate career — she announced in January she would not run for re-election next year — she's not fading into the Senate's ornate woodwork.
The stockbroker turned anti-Vietnam War activist turned Capitol Hill veteran is still scribbling away, making plans and developing strategies to finish some of the things she's started.
Like many in Congress, she's become expert at juggling priorities. Now hers have taken on the color of a last hurrah: aid for drought-stricken California, a bill to collect data on the shootings of civilians by police and of police by civilians, a program to help states transition toward cleaner energy, and legislation to guarantee that terminally ill patients can receive enough medication to ease their suffering.
"I'm focusing on the big ideas," Boxer told reporters during a recent interview.
It's become harder than ever, however, to get much done in Washington's polarized environment. Next year won't be any easier, as presidential and Senate elections cast long shadows over the congressional agenda. Boxer is leaving in January 2017, so she doesn't have a whole lot of time.
The experience of a former colleague, Olympia Snowe, a moderate Republican from Maine, offers a cautionary tale. Frustrated with Senate gridlock, Snowe retired in 2013 after three terms. She described her final months as "full steam ahead into a brick wall."
"It opened up time for me," said Snowe, a senior fellow at the Bipartisan Policy Center in Washington. "But on the other hand, it made me realize there was precious time remaining and I had a lot to do. It was a different kind of pressure."
One burden Boxer no longer has to endure is raising the tens of millions of dollars it takes to run a statewide campaign in California. Voters have returned her to the Senate three times, even as her statewide approval rating has rarely topped 50 percent.
She intends to use the time she would otherwise need to devote to her own fundraising to helping other Democrats win back the Senate. She also plans to hit the trail on behalf of Hillary Clinton's bid for the party's presidential nomination.
"She is as outspoken as ever," Sen. Sheldon Whitehouse (D-RI) said of Boxer. "But I think she feels a freedom in being relieved of her political responsibilities."
The 74-year-old Boxer has spent almost half her life on Capitol Hill, most of that time in the Senate. But her first decade was in the House, where she cemented her image as an unwavering tribune for liberal causes, the possessor of a tart wit and a combat-ready opponent during floor debates.
"The left will dearly miss her," said Bill Whalen, a former chief speechwriter for former California Republican Gov. Pete Wilson, "and Republicans will not."
She is best known, perhaps, for the march of women House members that she led to the Senate in 1991 to demand that the all-male Senate Judiciary Committee hold hearings on sexual harassment allegations against then-Supreme Court nominee Clarence Thomas.
Once a member of the Senate herself after the 1992 "Year of the Woman election" — four entered the Senate and 24 joined the House — Boxer's style didn't always win over her colleagues or translate into legislative accomplishments.
Former Senate Republican leader Bob Dole of Kansas, no shrinking violet himself when it came to party warfare, once called her "the most partisan senator I've ever known."
"There's no doubt that she's fiercely partisan," said Sen. John McCain (R-AZ) who also served with Boxer in the House. "But she has the respect of all of us because her positions are well thought out and principled."
While Boxer's colleagues became accustomed to her fiery speeches on the Senate floor, in committee hearings and at news conferences, her views and personality grated on rank-and-file Republicans, said Whalen, now a research fellow at the Hoover Institution at Stanford University.
"She's not the only outraged liberal on Capitol Hill," he said, "but she excels at the performance art of liberal outrage."
Among Boxer's signature issues, her successes include blocking attempts to erode abortion rights; ensuring equal treatment for women in the workplace and the military; and establishing new safeguards for workers, consumers and the environment.
One major issue has eluded her, though. She'll likely leave the Senate without achieving legislation to address climate change.
Boxer's reputation as a party firebrand sometimes belies her pragmatism. Earlier this year, she co-sponsored a highway funding bill with Sen. Rand Paul of Kentucky, a candidate for the 2016 Republican presidential nomination.
Robert Smith, a political science professor at San Francisco State University, said Boxer has not moderated her views so much as become more of a negotiator since assuming greater responsibilities. She chaired the Senate Environment and Public Works Committee for seven years.
Moreover, there might not be an odder couple in the chamber, as far as ideological opposites who have figured out how to work together, than Boxer and her deeply conservative colleague on the committee, Republican Sen. James Inhofe of Oklahoma.
He took over the committee in January when Republicans assumed control of the Senate. A longstanding skeptic of the science behind climate change, Inhofe brought a snowball onto the Senate floor earlier this year as evidence that global warming was a hoax. Boxer has been championing the issue for years.
"We see the world completely differently," she said of Inhofe. "He is against all the landmark (environmental) laws, and I want to make them stronger."
"Yet we can still maintain a genuine friendship," Inhofe said. "A lot of people can't do that, so that's kind of unique between the two of us."
Boxer said she feels confident that when she does finally depart 18 months from now, her concerns will be in good hands: Democratic Sens. Cory Booker of New Jersey on civil rights, Kirsten Gillibrand of New York on women's equality, Edward Markey of Massachusetts on the environment, Sherrod Brown of Ohio on workers' rights and Elizabeth Warren of Massachusetts on consumer protection.
"I feel good," Boxer said. "I think if you look at a variety of issues I've focused on, one of the reasons that I, frankly, could move on was because of these fabulous people that are here, now, in the caucus."
Still, as Miller, her longtime friend and political ally, noted: "She's not going to be good at sitting still. I suspect that she'll pick up the battle in another venue."
(c)2015 McClatchy Washington Bureau. Distributed by Tribune Content Agency, LLC.
Photo: Senate Democrats via Flick