Sen. Graham: 'I'd Be All Over' Trump Officials 'If They Were Democrats'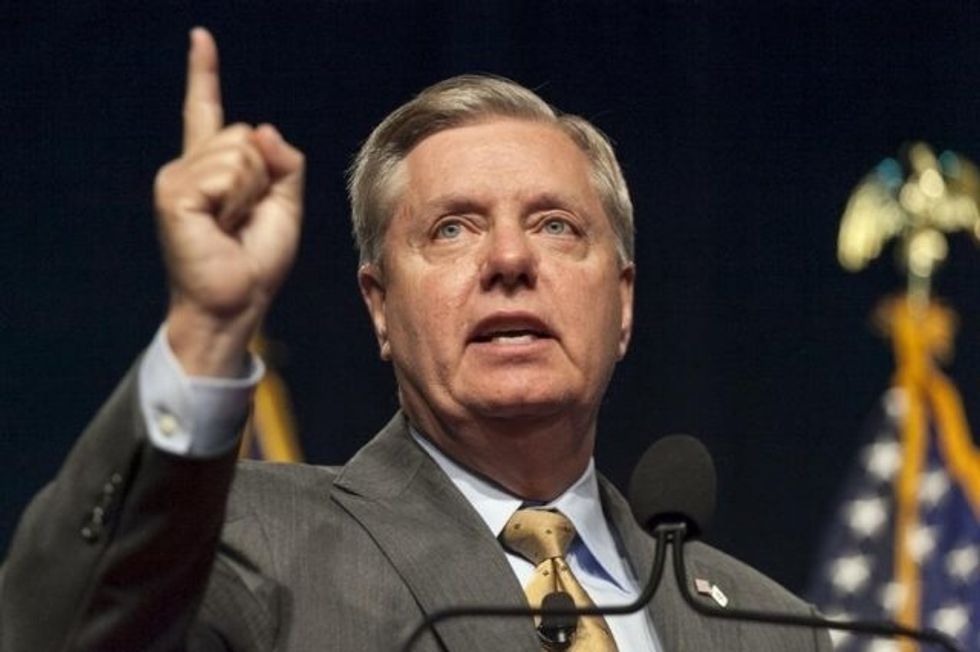 Reprinted with permission from AlterNet.
Remember when Sen. Lindsey Graham (R-SC) was supposed to be one of the reasonable Republicans? Yeah, neither do I.
But as far off the deep end Graham has ventured thus far in his patently hypocritical alliance with President Donald Trump, his comments Tuesday about the administration's position on Saudi Arabia was shocking for its explicit level of partisanship and lack of interest in fulfilling the Senate's role in oversight of the executive branch.
Graham made the comments after senators were briefed by administration officials on the Saudi Crown Prince Mohammed bin Salman's role in the killing of Washington Post journalist Jamal Khashoggi. Despite the fact that Trump and the administration has publicly downplayed the evidence linking the prince to the murder, the senators emerged from the briefing more convinced than ever that the de facto ruler of the regime has a direct role in the assassination.
And yet Graham has no interest in exploring why top officials have engaged in a misinformation campaign about the killing.
"Open source reports show that he had been focusing on Mr. Khashoggi for a very long time," Graham told reporters. "It is zero chance — zero! — that this happened in such an organized fashion without the crown prince. As to [Secretary of State Mike] Pompeo and [Defense Secretary James] Mattis, I have great respect for them. I would imagine if they were in a Democratic administration, I would be all over them for being in the pocket of Saudi Arabia. But since I have such respect for them, I'm going to assume that they're being good soldiers. And when they look at the analysis, they're being technical in their statement — but they're not giving the assessment that I think the Senate will have."
This is truly a stunning admission. While it's long been obvious that Republicans treat their own administrations more favorably and Democrats do the same, the fact is that Congress is obligated to conduct rigorous oversight of the executive branch as part of its constitutional duties. And typically, lawmakers to at least pay lip service to this fact, and they will participate in investigations of their allies when the circumstances require it.
But Graham is here openly admitting that he will intentionally look away from what would otherwise appear to be an apparent case of a foreign power paying off national security officials to subvert the interests of the United States.
Take some time to appreciate how stunning that admission is.
Graham is making it clear: Even when it appears that the national security interests of the country are at stake, he puts party loyalty over country. The fact that he's willing to admit as much, and will likely face no serious reprimand, shows how warped the GOP's values have become.
Watch the clip below:
.@LindseyGrahamSC on Khashoggi: "0 chance that this happened in such an organized fashion without Crown Prince [being involved]…I have great respect for Pompeo & Mattis [but] If they were in a Dem administration, I would be all over them for being in the pocket of Saudi Arabia" pic.twitter.com/mFZagAnkMd

— Aaron Rupar (@atrupar) December 4, 2018
Cody Fenwick is a reporter and editor. Follow him on Twitter @codytfenwick.