Senate Democrats Press Immigration Funds Without Blocking Obama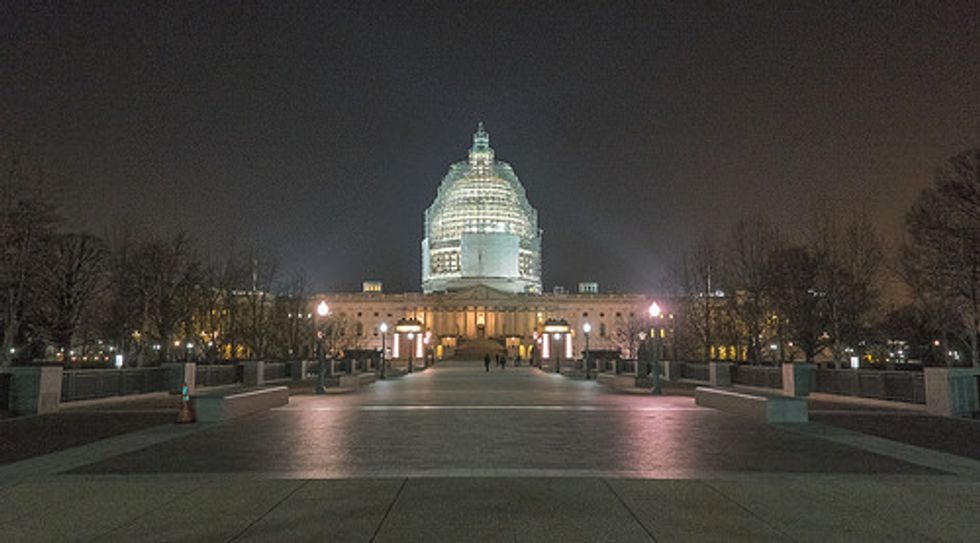 By Kathleen Hunter and Billy House, Bloomberg News (TNS)
WASHINGTON — Senate Democrats are increasing pressure on majority Republicans to abandon plans to block President Barack Obama's immigration orders as a condition of funding the Homeland Security Department.
Second-ranking Senate Democrat Richard Durbin said it would be "the height of irresponsibility," given recent terrorist attacks in France and elsewhere, for Republicans to use the spending measure to try to thwart Obama's easing of the deportation of undocumented immigrants in the U.S.
"Now is not the time to play politics with homeland security," Durbin of Illinois said Wednesday in a speech on the Senate floor.
Under an agreement reached in December before Democrats turned over control of the Senate to Republicans, Homeland Security funding is scheduled to lapse Feb. 27. That means the agency would face a shutdown if Congress doesn't agree on a funding plan by then.
The House voted Jan. 14 to finance the agency through Sept. 30. The bill includes language seeking to block Obama's November immigration order that protects almost 5 million undocumented immigrants from deportation.
The House measure also would end a 2012 directive aiding undocumented immigrants who came to the U.S. as children, although that provision was opposed by 26 Republicans.
Senate Republicans are making the case for preserving the immigration language, though Obama has said he would veto a bill that includes it.
"This is an important fight to have," said Missouri Senator Roy Blunt, a member of the Republican leadership who is up for re-election next year. "I think we should do everything we can to persuade at least a half a dozen Democrats that they should join us to get this done."
So far, Democrats are united against including immigration language in the spending bill. They introduced a bill this week to fund Homeland Security without making policy changes.
Senate Minority Leader Harry Reid, a Nevada Democrat, said in a statement that Republicans "should not put our national security at risk simply because they are too timid to stand up to the extreme right-wing voices in their own caucus."
Senate Majority Leader Mitch McConnell said the chamber will take up the funding measure once it completes work, probably this week, on legislation approving TransCanada Corp.'s Keystone XL pipeline.
McConnell wouldn't say what version of the Homeland Security bill the chamber would consider and what, if any, amendments would be allowed.
"The procedure by which we deal with that will be determined later," the Kentucky Republican told reporters Tuesday.
House Republicans also are working on a separate border-security plan as part of a piecemeal approach to rewriting immigration laws. The House has refused to consider a bipartisan plan passed by the Senate in 2013 that would bolster border security while creating a path to citizenship for about 11 million undocumented immigrants now in the U.S.
House leaders were forced to indefinitely postpone a vote on a $10 billion border-security bill this week because of opposition from some Republicans who said the measure didn't go far enough. Speaker John Boehner said lawmakers are discussing their differences.
Boehner, an Ohio Republican, wouldn't say Tuesday what the chamber would do if the Senate doesn't pass the House's Homeland Security funding bill, H.R. 240.
"There's no reason for me to speculate about what we will or won't do," the speaker said in a press conference after a closed-door meeting with Republicans. "At this point, it's up to the Senate to act, and I expect that they will soon."
House conservatives have been predicting for two weeks that the Senate would send back a measure stripped of the language to defund Obama's actions on immigration.
Some, including Rep. Matt Salmon of Arizona, say they think that's why Boehner and other Republican leaders tried to push through the border-security bill this week.
Salmon, in an interview, said he and others saw that as an attempt at throwing a "bargaining chit" to compensate conservatives for having to eventually vote for a Homeland Security funding bill that doesn't block Obama's immigration actions.
Given the opposition from some in his party, Boehner might again have to rely on House Democratic votes to get a Senate version passed.
House Democratic Leader Nancy Pelosi of California has united almost of her members in opposition to the House-passed Homeland Security spending bill. All except two opposed it earlier this month.
"It's time for Republicans to stop threatening the safety of American families and join with Democrats to fund the Department of Homeland Security immediately," Pelosi spokesman Drew Hammill said Tuesday in a statement.
Photo: ehpien via Flickr