Senate Panel Grills Trump's EPA Pick Over Energy Ties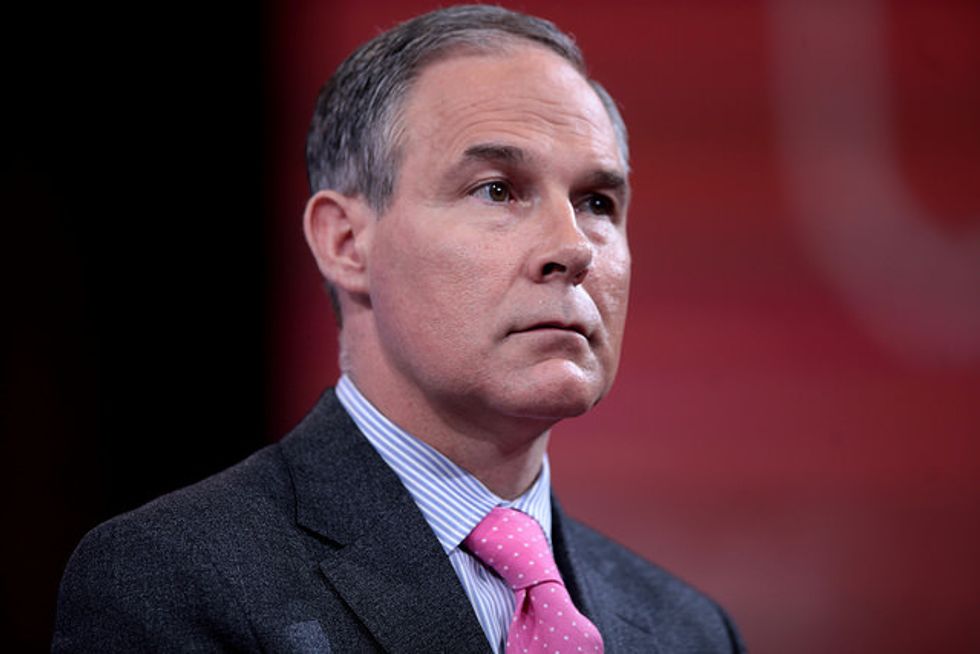 WASHINGTON (Reuters) – Democratic Senators quizzed Oklahoma Attorney General Scott Pruitt, President-elect Donald Trump's choice to lead the Environmental Protection Agency, over his energy industry ties during a contentious confirmation hearing on Wednesday that was briefly interrupted by protesters.
Pruitt, 48, is a climate change skeptic who sued the agency he intends to run more than a dozen times as Oklahoma's top lawyer. He also chaired the Rule of Law Defense Fund, a group of conservative attorneys general that vehemently opposed a number of EPA regulations.
Both his opponents and his supporters believe his record indicates he will aggressively carry out Trump's campaign vows to slash EPA regulation in order to boost industry, including U.S. oil and gas drilling and coal mining.
"Why are folks so concerned?… We're concerned that we won't be fine with the environment," said Democratic Senator Tom Carper of Delaware. "You joined in a dozen or more lawsuits… going after the EPA. That's why you have the kind of concern you're witnessing here today."
In prepared remarks that were interrupted by protesters shouting "There is no planet B", Pruitt said he would seek to ensure environmental rules were effective without hurting development.
"Environmental regulations should not occur in an economic vacuum. We can simultaneously pursue the mutual goals of environmental protection and economic growth," he said. He added that he would seek to give states more authority to regulate their own environmental issues.
Under questioning, Pruitt also said he would recuse himself from ongoing cases against the EPA if required to do so by the EPA's ethics commission.
Trump has promised to refocus the EPA on its core values of protecting air and water quality, while scrapping many of President Barack Obama's initiatives to combat global climate change by targeting carbon dioxide emissions.
Pruitt has said he believes climate change exists, but that the debate over what is causing climate change is not yet settled. U.S. government agencies said on Wednesday that world temperatures in 2016 hit a record high for the third year in a row, creeping closer to a ceiling set for global warming.
INDUSTRY TIES
For weeks, environmental groups have campaigned to urge lawmakers to block Pruitt's nomination, saying he is doing the bidding of energy companies and industry groups that have contributed to his election campaigns.
During the hearing, Democratic Senator Jeff Merkley of Oregon showed a blown-up image of a letter Pruitt sent to the current EPA administrator several years ago opposing regulations limiting methane emissions from the energy sector, which he said had been written by Oklahoma company Devon Energy.
Pruitt responded by saying the letter was not sent on behalf of any one company but on behalf of an entire industry that is important to the state's economy
New Jersey Democratic Senator Corey Booker later asked Pruitt if he had sent similar letters of behalf of Oklahoma citizens affected by pollution, citing statistics showing the state has among the highest asthma rates in the country.
"Did you even file one lawsuit on behalf of those kids?"
Republicans on the committee meanwhile focused their questions on how Pruitt will work to avoid pollution crises like the lead contamination crisis affecting Flint, Michigan, and criticized the Obama administration's climate regulations.
Asked what would be his guiding philosophy as EPA administrator, he said: "I believe that the role of the regulator is to make things regular. Public participation, cooperative federalism…is central to restoring confidence and certainty to those that are regulated."
He said he would also support the U.S. renewable fuels program, which requires biofuels like ethanol to be blended in gasoline, but said the program needed some tweaks.
Several conservative groups and political action committees supported Pruitt in advance of the hearing, including the PAC Freedom Works, America Rising Squared, a registered nonprofit backing conservative issues, and the National Association of Manufacturers.
Pruitt's hearing is one of a series of sessions to vet Trump's senior appointees since last week. Trump's pick for Secretary of State, former Exxon Mobil CEO Rex Tillerson, was questioned by lawmakers last week. His choice for Energy Secretary, former Texas Governor Rick Perry, is scheduled to testify on Thursday.
(Reporting By Valerie Volcovici; Editing by Richard Valdmanis and David Gregorio)
IMAGE: Attorney General Scott Pruitt of Oklahoma speaking at the 2015 Conservative Political Action Conference (CPAC) in National Harbor, Maryland. Flickr/Gage Skidmore