Senate In Spotlight As U.S. On Brink Of Possible Default
@AFP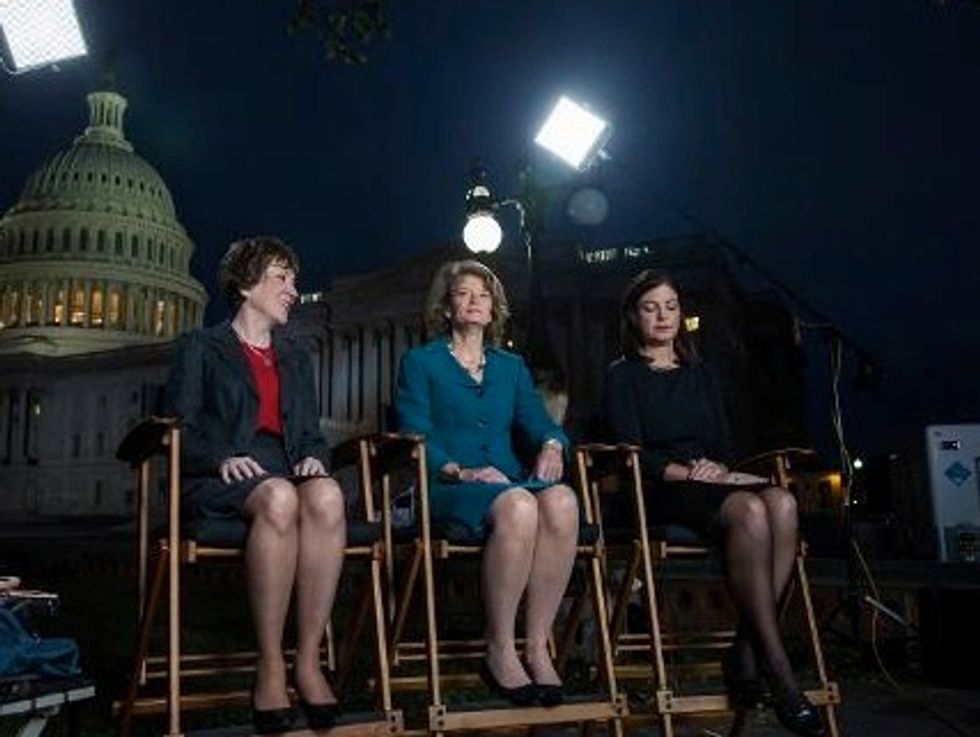 Washington (AFP) – U.S. lawmakers embarked on another day of high-stakes political brinkmanship Wednesday, battling to scrape together an eleventh hour deal to protect Washington's battered financial standing.
At midnight (0400 GMT), the U.S. economy will sail into uncharted waters and the Treasury will no longer be able to guarantee it will be able to meet its obligations and avert a devastating debt default.
The only way to avert this peril, which could send global markets into turmoil and threaten another recession, would be for Congress to agree to raise the U.S. government's $16.7 trillion debt ceiling.
The Senate was to reconvene to try once again to hammer out a compromise, but a parallel effort in the Republican-led House of Representatives collapsed in chaos on Tuesday.
"I think right now it's going to be the Senate because last night it fell apart in the House," Republican Senator Kelly Ayotte told CNN, warning it would be "unacceptable" to miss the midnight deadline.
Conservative members from the Tea Party movement in the House have thwarted votes on the debt ceiling and on passing a budget, demanding concessions from President Barack Obama.
Obama's Democrats have refused to allow Republicans to hold the budget and debt ceiling votes to "ransom" with attempts to defund or delay the president's landmark Obamacare health insurance reform.
The stand-off has forced the U.S. federal government into a partial shutdown, and if it continues past midnight it would put the United States in a position where it might not be able to pay its debts.
Markets have been watching the mess carefully, but have not panicked, most traders assuming that Washington will scrape together a deal before triggering global financial calamity.
The Fitch ratings agency underlined the seriousness of the situation by putting the U.S. government's AAA credit rating on a downgrade warning, and European markets slid in morning trade.
Hopes for an exit strategy rest with talks between Senate majority leader Harry Reid and Republican minority leader Mitch McConnell.
The Senate was not due to go into session before midday (1600 GMT), but Capitol Hill was awash with rumors of an early announcement of a compromise deal to raise the debt cap.
But anything the Senate, which has a Democratic majority, approves, must still go to the House, where Republican Speaker John Boehner has been unable to control his restive caucus.
With the Tea Party to his right insisting on standing firm, Boehner has thus far proved unwilling to use minority Democratic votes to pass even an interim budget or a temporary debt ceiling hike.
Despite the dangerous impasse, Obama said he still expected the issue would be resolved in the end.
"My expectation is that this gets solved, but we don't have a lot of time," he told an ABC television affiliate in New York on Tuesday.
"What I'm suggesting to the congressional caucus is to avoid any posturing … do what's right, open the government and make sure we pay our bills."
On Tuesday, in what was essentially a wasted day, House Republicans floated a plan to extend U.S. borrowing authority until February 7 and re-open the government until December 15.
The draft bills would have constrained aspects of Obama's signature health care law and stood no chance of passing the Senate.
Boehner instead tried to use the measures to corral his Tea Party faction and pressure the Senate, but in the end was unable to amass enough Republican votes to even put the measures on the floor.
Senators were nevertheless optimistic that Wednesday would see an outline of a deal, albeit one which would require Democrats to make a minor concession on Obamacare.
Republican Representative Scott Rigell said he expected Boehner would eventually break with the hardliners and call a vote.
"I am absolutely confident of this. The speaker will do whatever is required to preserve the credit rating of the United States of America, and I will support him in that effort," he told C-Span.
Major world powers have been left looking on in dismay, unable to do anything to protect their own economic interests, with many deeply invested in US Treasuries — hitherto seen as a safe haven.
China and Japan, which between them hold $2.4 trillion in U.S. Treasuries, have expressed alarmed and annoyance.
AFP Photo/Andrew Burton