Senate Leaders Reach Deal To Avoid Homeland Security Shutdown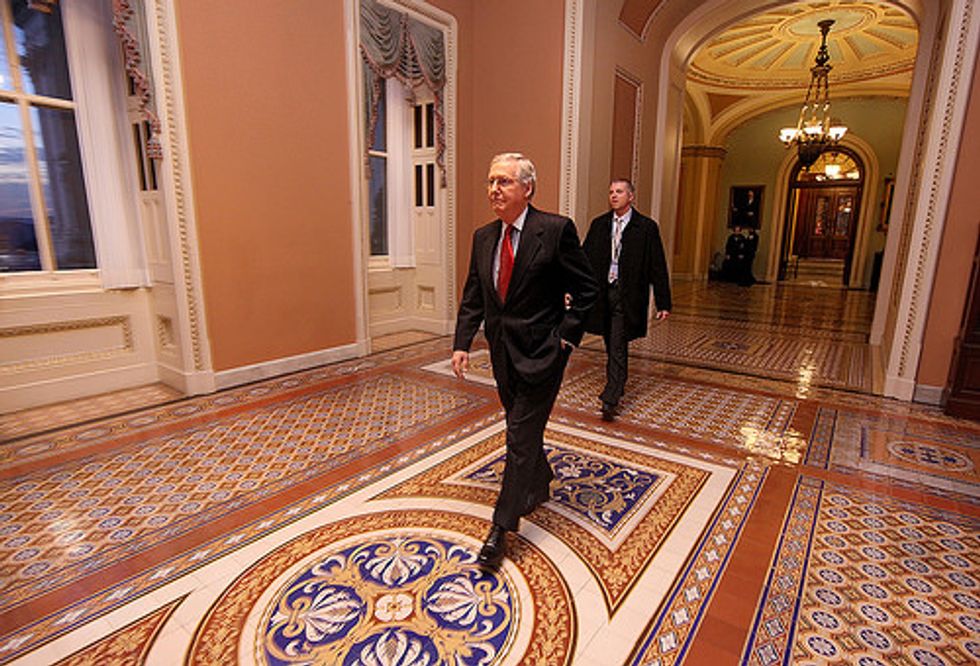 By Christi Parsons and Lisa Mascaro, Tribune Washington Bureau (TNS)
WASHINGTON — Senate leaders moved toward a deal Wednesday to avoid a shutdown of the Department of Homeland Security, sidestepping a fight over immigration policy, as President Barack Obama headed to Miami to make the case for his policies before a powerful constituency — Latino voters.
Money for Homeland Security has been tied up for weeks as congressional conservatives sought to block the department's budget unless Democrats agreed to a measure repealing Obama's executive actions to shield from deportation several million immigrants who are in the U.S. illegally.
Funds for the department, which oversees immigration and border security, among other duties, will run out Friday night unless lawmakers act.
Senate Majority Leader Mitch McConnell (R-KY) has been anxious to avoid even a temporary shutdown of the department, fearing the political risk. On Tuesday, he offered to move ahead with a no-strings-attached bill to provide funds, and on Wednesday, Senate Democrats agreed not to block his plan.
Meanwhile, in a town hall meeting in Miami hosted by Telemundo, Obama is expected to defend his plan to stop the deportation of immigrants who came to the U.S. illegally, an executive action he says is necessary to encourage a large population to come out of the shadows, work and pay taxes.
One of the president's top priorities, said White House press secretary Josh Earnest, is "reforming our broken immigration system."
Another priority is to begin shaping the issues of the 2016 presidential cycle. Democrats hope that a large Latino turnout in their favor, which they enjoyed in 2008 and 2012, will help them again. The immigration issue is key to that, as well as to the standoff over the Homeland Security budget.
Under McConnell's plan, the Senate would vote to provide money for the department and act separately on Obama's policy. Even if both houses passed a repeal measure, however, Obama could veto it.
The contours of a compromise in the Senate began to take shape Wednesday.
Senate Democrats, meeting privately over lunch, decided they would not block McConnell's offer of an unencumbered funding bill for the department.
A key procedural vote to open the debate was quickly being arranged for Wednesday afternoon.
"This isn't a time for games," said Senate Minority Leader Harry Reid (D-NV).
Progress in the Senate, though, still means days of knotty procedural votes unless all senators agree to speed up the process. That seems unlikely because several conservative Republicans who are most opposed to the president's immigration actions would prefer to prolong the fight.
Conservative activists in Washington this week for an annual conference may encourage their representatives to take a hard-line approach.
"We're beginning a pathway here, a process," said Senator Richard Durbin (D-IL), the minority whip. "We're testing the waters of trust."
Even if the Senate is able to wrap up its work, there would still be a question of whether House Speaker John A. Boehner (R-OH), would be willing to bring such a bill to the floor of his chamber, where it could pass with Democratic support. Doing so would deeply anger some Republican conservatives.
Boehner did not commit himself in comments to reporters Wednesday morning.
"I'm waiting for the Senate to act," he said as he emerged from a closed session of House Republicans. "Until the Senate does something, we're in wait-and-see mode."
House Majority Leader Kevin McCarthy (R-CA) told fellow lawmakers to keep their schedules "flexible," a hint that Congress may need to work over the weekend to resolve the standoff.
Florida illustrates the stakes for both parties with Latino voters.
Nationwide, Latinos voted for Obama over Republican Mitt Romney in 2012 by almost three-to-one, according to exit polls, in an election in which Latino voters made up a tenth of the electorate. Obama carried Florida, a key swing state, in both of his elections, largely because of strong margins among Latinos, who make up almost one-in-five of the state's voters.
At the same time, the state has one Republican senator, a Republican governor and Republican majorities in the Legislature, showing that Democrats are far from dominant, said Eduardo Gamarra, a professor of politics and international studies at Florida International University, where Wednesday's town hall will take place.
"There are pockets where the president can make inroads, and where Democrats can make inroads, that will matter in 2016," said Gamarra. "That's clearly what he's trying to do, but it's not an easy lift."
As the president speaks broadly about immigration policy, said Gamarra, he also needs to make a case to a narrower audience that is divided over his Cuba policy.
Obama announced in December that he would begin taking steps to restore diplomatic ties with Cuba and gradually bring an end to a five-decade standoff with the communist nation.
Young Cuban Americans in and around Miami, home to a large Cuban community, are more open to the president's strategy than are their parents and grandparents, Gamarra said, citing repeated polls conducted by the university.
The most ardently anti-Castro members of the community remain a significant force, even if their numbers are dwindling, he said.
"The president is going to really have to sell the Cuba policy in a much more effective manner," Gamarra said. "This is going to be a battleground state again, and the Cuban American vote is going to be important."
Photo: Talk Radio News Service via Flickr