By A Narrow Margin, Senate Panel Clears Tillerson's Path To Be Secretary Of State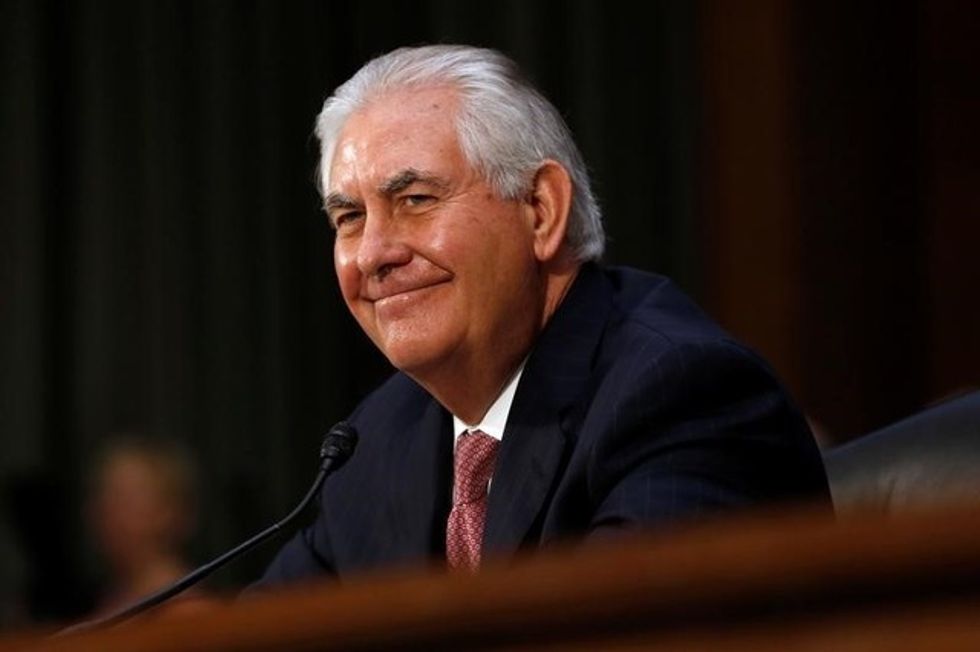 WASHINGTON (Reuters) – U.S. President Donald Trump's choice for secretary of state, former Exxon Mobil Corp Chairman Rex Tillerson, narrowly won approval from a Senate committee on Monday, but is expected to be confirmed by the full Senate.
The Senate Foreign Relations Committee voted 11-10 to approve Tillerson, with every Republican backing the former oil executive and every Democrat opposing him.
His approval by the panel, a victory for Trump, had been in doubt until earlier on Monday, when Senator Marco Rubio, a committee member who had been Tillerson's most vocal Republican critic, said he would back the nominee.
Tillerson's confirmation by the 100-member Senate, where Republicans hold 52 seats, is not expected before next week. Democrats want more time to debate and the chamber may not be in session all this week.
Rubio's backing had been in doubt after his tough questioning during Tillerson's confirmation hearing, focusing on issues including concerns about Tillerson's support for human rights. Rubio ultimately decided he would approve the nominee in deference to Trump, as well as to fill a critical top job.
Democrats said they voted against Tillerson over fears he might lift sanctions on Russia, where he did business for years, questions about his views on human rights and his refusal to recuse himself from matters related to his former employer during his entire term as the top U.S. diplomat.
Tillerson pledged to recuse himself only for the year required by law.
Amid Democratic anger over allegations that Russia interfered in the 2016 presidential election, Tillerson also raised committee hackles by saying he did not know Exxon Mobil lobbied against sanctions on Russia while he was running the company.
Senator Ben Cardin, the committee's top Democrat, said Tillerson's "business orientation" and responses at his hearing "could compromise his ability as secretary of state to forcefully promote the values and ideals that have defined our country and our leading role in the world for more than 200 years."
The Senate confirmed only two of Trump's Cabinet nominees on Friday, his Inauguration Day, a relatively low number among recent presidencies.
Democrats have been unable to block any of his choices because they changed Senate rules in 2013 to allow nominees to be confirmed with just a majority, not 60 votes. Instead, they have used Senate rules to slow the confirmation of nominees they say hold extreme views, are unqualified or have not completed ethics disclosures.
(Reporting by Patricia Zengerle; Editing by Lisa Shumaker and Peter Cooney)
IMAGE: Rex Tillerson, the former chairman and chief executive officer of Exxon Mobil, smiles during his testimony before a Senate Foreign Relations Committee confirmation hearing on his nomination to be U.S. secretary of state in Washington, U.S. January 11, 2017. REUTERS/Jonathan Ernst