Senate Probe Finds NRA Knowingly Served Russian Agent's Scheme
@jeisrael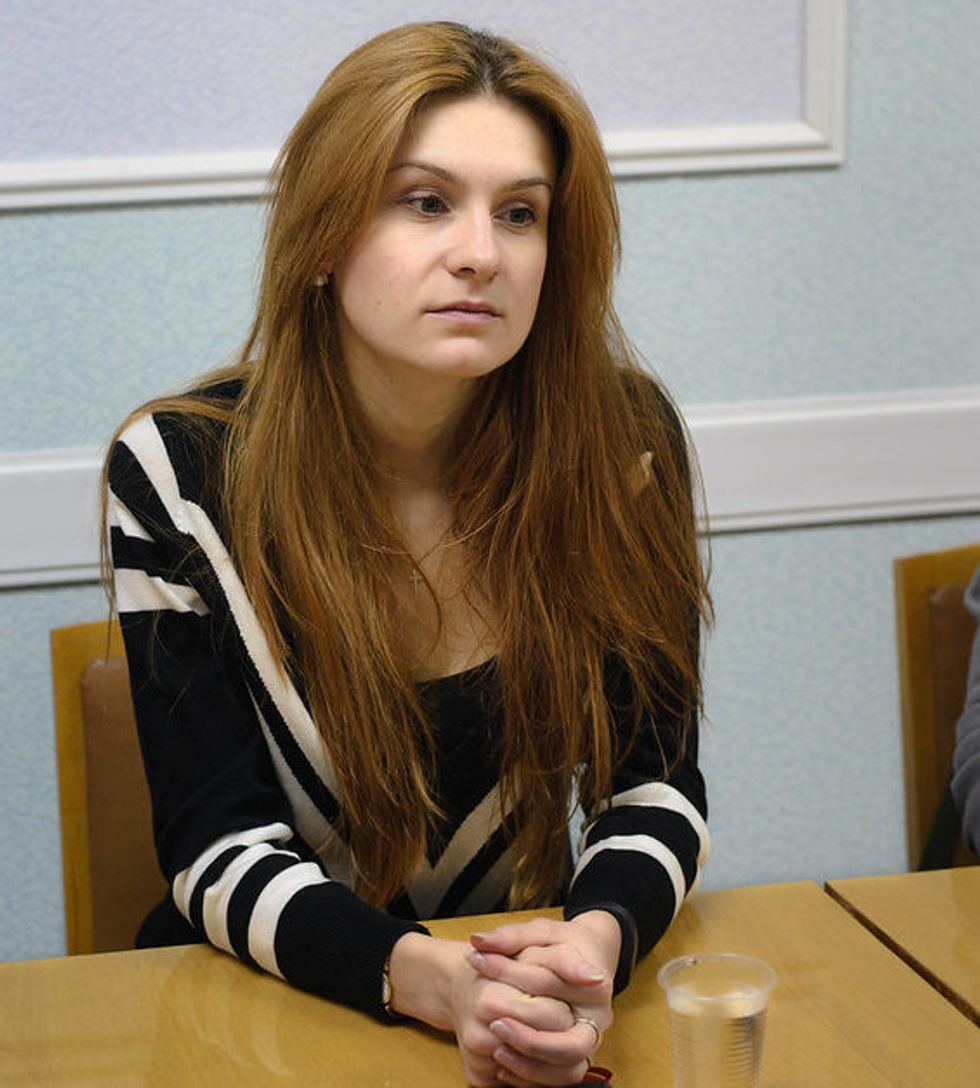 Earlier this year, Maria Butina was sentenced to 18 months in prison after pleading guilty to conspiracy charges. The Kremlin-linked founder of Russia's equivalent to the National Rifle Association's had, without registering as a foreign agent, been working to infiltrate America's NRA and other conservative organizations.
A new report by the Senate Finance Committee's Democratic staff reveals that the NRA knew about Butina's links to Vladimir Putin's regime and welcomed her anyway, offering her access to the conservative movement.
The same, they found, was true of Butina's then-boss, former Russian government official Alexander Torshin — a "lifetime member" of the NRA who was sanctioned by the U.S. Department of Treasury in April 2018.
According to their investigation, "the NRA, its officers, board members, and donors engaged in a years-long effort to facilitate the U.S.-based activities of Maria Butina and Alexander Torshin." They also found that some NRA officials who traveled to Moscow for a December 2015 meeting with Butina's group used the trip for their own business interests, a possible breach of the NRA's tax-exempt purpose.
Sen. Ron Wyden (D-OR), the Finance Committee's ranking member, observed that the officer's "apparent use of the NRA for personal gain fits a larger pattern of reported self-dealing" and suggests the organization may be violating tax laws.
NRA officers' apparent use of the NRA for personal gain fits a larger pattern of reported self-dealing and raises serious questions about whether the NRA broke U.S. tax laws.

— Ron Wyden (@RonWyden) September 27, 2019
The report notes an email sent to two senior NRA staffers in which Butina wrote that the aim of that 2015 trip was "many powerful figures in the Kremlin are counting on Torshin to prove his American connections." She also offered to attendees that she might be able to introduce them to "Russia's highest leader," Putin himself.
NRA leaders were told the trip was needed to prove Torshin's American connections to the Kremlin, and that building relationships with Russians was "NRA business." pic.twitter.com/OAn4rOvZOz

— Ron Wyden (@RonWyden) September 27, 2019
Despite knowing this, the NRA apparently used its own resources to pay for both Torshin and Butina to attend conservative political various events.
Butina repeatedly showed up at 2016 campaign events and even got to ask Donald Trump a question at a 2015 FreedomFest event in Las Vegas.
In a 2016 email, Butina amusingly told ThinkProgress, "I'm sorry to disappoint you, but there is no international conspiracy at work surrounding the organization I founded, 'The Right to Bear Arms.'"
"The Right to Bear Arms and your American NRA are completely separate organizations," she continued. "We have no political or financial ties of any kind. Though we are literally 'comrades in arms' in a shared belief that a right to own a firearm makes people safe."
Published with permission of The American Independent.